Canstar has crowned the winner of its Most Satisfied Customers – Home Lender Award for 2020. Read on to find out which provider won and why.
With a record number of Australians refinancing or switching lenders in the pursuit of a better deal, customer satisfaction may be crucial for lenders looking to hold onto customers and gain new ones.
But what if we told you that a low interest rate isn't at the top of the list when it comes to what influences a homeowner's overall satisfaction with their lender? Canstar surveyed more than 2,700 mortgage-holders through February-April 2020, to find out what factors most influenced their overall satisfaction with their home lender, and which provider on our database had the most satisfied customers.
ING wins the Award for the first time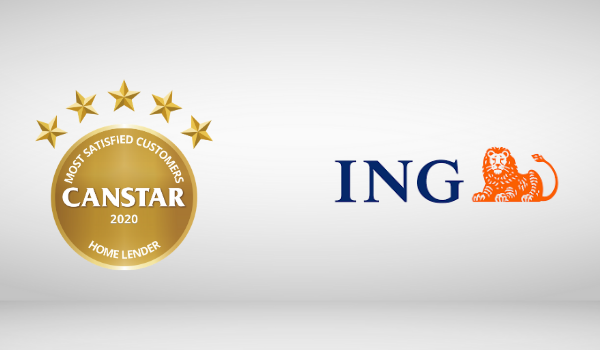 Dutch-owned bank ING has won this year's Most Satisfied Customers – Home Lender Award.
Famous for being the first Australian bank to have no ATMs or brick-and-mortar branches, ING won with market-beating scores from its customers for overall satisfaction, interest rates and the application process. ING also performed strongly when it came to value for money, the settlement process and loan flexibility.
"Over the last 12 months, ING has emerged as a strong competitive force in the home loan market, by pricing its products effectively and working hard to improve its processes for borrowers," Mr Mickenbecker said.
At the time of writing, ING's Orange Advantage home loan comes with an interest rate of 2.64% p.a. (comparison rate of 2.98% p.a.), and offers customers a 100% offset facility, unlimited additional repayments, and fee-free switching for those looking to refinance their home loan with ING.
What were the main drivers of satisfaction for home loan customers?
Canstar's research found that customer service (34%) and value for money (23%) had the greatest influence on customers' overall satisfaction with their home lenders. Loan flexibility was next on around 14%, while perhaps surprisingly interest rates only accounted for approximately 13%.
The areas found to have the least influence on overall satisfaction were the steps at the start and finish of the home-buying journey, namely the application process (10%) and settlement – the stage where the lender assists buyers with completing the transaction (5%).
Canstar's research found that satisfaction regarding home lenders had improved slightly across the board since last year's survey, especially when it came to value for money and interest rates.
That being said, 24% of this year's respondents said their interest rate was "too high", 58% said their interest rate "could be lower but it's okay", and only 18% said their interest rate was "one of the lowest in the market".
"With value for money being such a strong driver of satisfaction, and 82% of borrowers believing that they're paying more than they should be, it's not surprising that ING has performed well, given its well-priced suite of home loan products", Mr Mickenbecker said.
"The other big driver of this outcome has been customer service, and ING has clearly worked hard to ensure that its systems and processes are customer-friendly", he added.
The survey results showed that intention to switch had decreased from last year (13%, down from 17%), and respondents were less likely to have switched providers in the 12 months prior to being surveyed than they were at the time of last year's survey (25%, down from 36%). However, the record-breaking rates of switching among customers since the survey was carried out perhaps demonstrate just how changeable consumer needs and sentiment are in 2020.