In this edited extract from his book, Rules of the Lending Game, Stuart Wemyss outlines the steps involved in the home loan application process from submitting an application through to settlement.
It's important to get pre-approvals before you purchase a property. A pre-approval is when a bank has reviewed your loan application and given you approval to borrow a certain amount, at a certain LVR, before you've found a property. This not only saves you (and your broker) time and stress, but it also puts you in a position of strength compared to other potential purchasers, as you can be reasonably sure your finance will be approved. In addition, lenders can normally settle quicker if they've pre-approved your loan, which is a good "non-cash"bargaining tool. But securing pre-approval is only one part of the application process.
Loan structures, borrowers' personal circumstances and lenders' policies and processes are all different, so no two applications are the same. However, this is a guide to what to expect after you've completed and signed a loan application form and provided all your supporting documents, such as payslips and bank statements
1. Verification
The first step for the bank is to ensure that they have all the relevant information. If there's something unique about your circumstances, they may request additional documents.
2. Conditional approval
Your file will then be sent to a credit assessor and they'll complete an assessment. They may have questions or ask for additional documents. If the loan is outside of their delegated approval limit, they may have to refer the file to someone more senior to approve it. If you're borrowing more than 80% of the property's value, the mortgage insurers may also have to approve it. If the bank is comfortable with your application, it will approve it, conditional upon you satisfying additional items. This might include providing additional evidence or documents. However, the most common conditional item is a satisfactory valuation of the property.
3. Property valuation
The bank will order a valuation on the property or properties that you're using as security. Normally, valuations are completed within two to three days, subject to the valuer being able to gain access to the property, if required.
4. Unconditional approval
Once the valuation has been satisfactorily completed and all other conditional items have been satisfied, the credit department will unconditionally approve your loan and confirm this in writing.
5. Loan documents
After a loan is unconditionally approved, the bank will prepare loan documents and send them to you for signing. Many banks do this electronically these days.
6. Certify ready for settlement
Once you've signed the loan documents and provided any additional documentation (often proof of building insurance), the bank will check everything to ensure it's been signed correctly. If it has, the loan will be certified as ready to settle.
7. Settlement
The bank will book in settlement. If you're purchasing a property, the bank will contact your conveyancer and arrange this. If you're refinancing a loan from another lender, the bank will contact that lender. You don't need to attend settlement – this occurs between the banks themselves.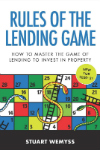 This is an edited extract from Rules of the Lending Game by Stuart Wemyss (Major Street Publishing $29.95), exclusive to Canstar, and republished with permission.
---
About Stuart Wemyss
Stuart Wemyss is a Melbourne-based financial adviser who has over 20 years' financial services experience. Stuart is a Chartered Accountant and is licensed to provide credit, tax, insurance and financial advice. He is the author of Investopoly and Rules of the Lending Game.
Main image source: lola1960 (Shutterstock)