What you don't know about your gutters and your insurance, could cost you, should you ever need to claim. Here's some insight on how your gutters could affect your payout, provided by the team at
Bax Gutter Solutions
.
Blocked gutters can cause serious damage to your property. And, what most homeowners don't know is that that damage may not be covered by insurance. Read on, to find out more.
Dangers posed by blocked gutters
While it may seem like a minor problem, the truth is that blocked gutters can be a real danger to your home.
This is because your drains and gutters are an essential part of your home and its structure. If they're not operating properly, then build-ups of water and moisture can quickly arise.
These build-ups of water can cause rot and rust. In some cases, water can enter your roofing and walls meaning leaks and damp. Left unattended this can result in the collapse of internal roofing.
Not only this but water overflowing from blocked gutters can fall and pool around your home's foundation. Over time this pooling can cause cracks, mould or even significant structural damage.
Unfortunately, it's often not until this damage occurs that homeowners become aware of risks.
Shopping around for a home insurance policy?
Whether you're looking for home, contents or combined cover, you can easily compare from 100+ policies with Canstar.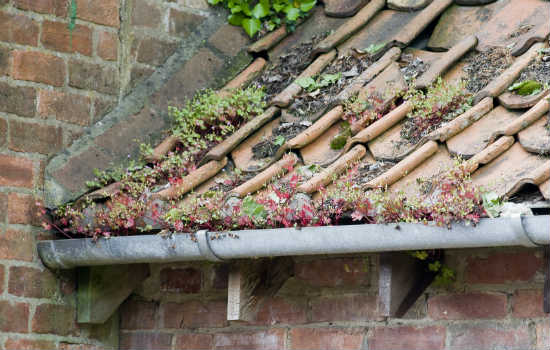 Damage may not be covered by insurance
The worst thing about damage caused by blocked gutters is that it may not be covered by insurance.
This can leave you substantially out of pocket, as repairing water damage can be time-consuming and expensive; especially where portions of roof and wall plaster need replacing.
So, how do insurance providers avoid payouts? The answer should lie in your policy's Product Disclosure Statement. Let's take a look.
For exact details regarding your policy, see your insurance provider's policy information guide.
Example 1: AAMI Home Building Insurance
Your Product Disclosure Statement (PDS) is a financial document which outlines the details of your finance product. Your insurance PDS should cover insurance inclusions and exclusions.
"We cover … Loss or damage to the building caused by liquid leaking, overflowing or bursting from any of the following …. Any drain, fixed pipes, roof gutters or guttering and rainwater down pipes, drainage and sewage systems."
That sounds pretty conclusive, doesn't it? You're covered from blocked drain damage then, right? Well, not necessarily. Because the document also goes on to state.
"We do not cover … wear and tear, or loss or damage by the escape of liquid occurring as a result of a gradual process of leaking, splashing, dripping or overflowing over a period of time when you could reasonably be expected to be aware of this condition."
So if the damage is caused by the escape of liquid occurring as a result of a gradual process of leaking, splashing, dripping and you could reasonably be expected to be aware of this condition, then your claim could be rejected.
Damage associated with blocked gutters often fits this description.
You can read AAMI's full Product Disclosure Statement here.
Example 2: NRMA Home Insurance
Insurance provider NRMA broached the topic of gutter cleaning and insurance claims in a recent article.
Under the heading Roofs and Gutters, the article states.
"Home Insurance provides cover for unexpected events that are outside of your control. It's not designed to cover damage that could be avoided by regular maintenance.
An example of this is roof damage. If your roof hasn't been reasonably maintained and this has contributed to the damage you want to claim for, you might not be covered."
In other words, your insurance claim may not be accepted if regular maintenance, such as gutter cleaning has not been undertaken properly and on a consistent basis.
Under the tips section, this NRMA article advises the following.
"As part of your regular maintenance, especially before storm season between October and March, you should regularly:
Clean your gutters and down pipes – make sure they're free of anything blocking them
Check gutter guards if you have them, and keep them clear
If you're not sure, ask a roofing specialist to help you."
How to cover yourself
The best way to cover yourself is with regular gutter cleaning. This will minimise risks associated with blocked gutters and should protect you should you ever need to make an insurance claim because of leaking or flooding.
You can do this yourself. However, it is important to take the appropriate safety precautions. Every year Australians are injured in falls associated with ladders and cleaning in high places.
Alternatively, you can hire a professional gutter cleaner to do the job for you.
The benefit of using a professional cleaner is twofold.
You'll know the job has been done properly
You will be supplied with a receipt or certificate of cleaning service provided
Should you ever need to claim, that receipt or certificate can be used as evidence of proper maintenance.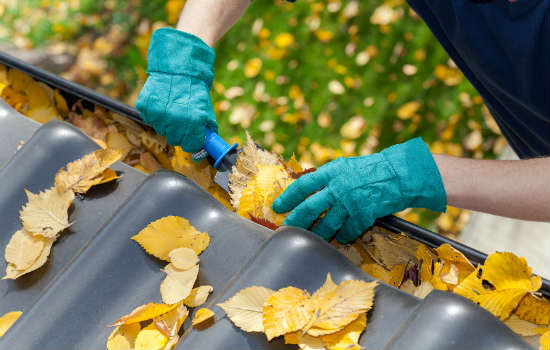 Summary
Blocked gutters pose a real risk to your home.
They can cause damp, leaks, cracks and deterioration. All of which can lead to serious damage to your home's walls, roofing or foundation.
If your gutters are not properly and regularly maintained, then your insurance provider may reject your claim. This is because many insurance companies do not cover damage that could be avoided through regular maintenance.
The best way to prevent damage from blocked drains and the associated insurance implications is with regular gutter cleaning and maintenance.
About the author
Bax Gutter Solutions are a Melbourne-based gutter cleaning service. For all your gutter maintenance needs, contact the team at Bax.