Why nib OSHC student health insurance has won the 2016 Canstar Award for Outstanding Value Overseas Student Health Cover
This year, for the first time, Canstar researched and gave ratings to 5 providers of Overseas Student Health Insurance (OSHC) in Australia. Canstar congratulates nib for winning the 2016 Canstar Overseas Student Health Cover Award.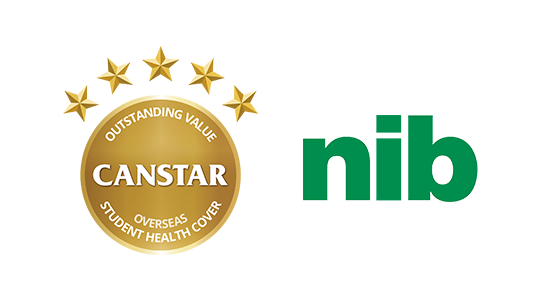 Why nib won Canstar's Overseas Student Health Cover Award 2016
nib won this year's Canstar award for Outstanding Value Overseas Student Health Cover. NIB received a 5-star rating for its 3, 4, and 5 year cover.
Based on the products researched by Canstar, nib offers the cheapest premiums for 4-year and 5-year OSHC cover and offers competitive prices for 1, 2, and 3 year cover. OSHC is different from health insurance for other visitors to Australia in that the premiums must be paid in advance for the entire length of a student's visa. This means that if a person was coming to Australia to study for 4 years, they would need to pay for 4 years' worth of cover before they arrived in Australia.
nib offers the following product features:
In hospital:
They pay 100% of the public rate when you go to a public hospital.
They pay 100% of the bill when you go to a private hospital that has an agreement with nib. (There are more than 460 private hospitals that have an agreement with nib.)
They pay 100% of the Medicare (public health) fee if you are in hospital and see a doctor, have tests or x-rays done, or see a specialist.
Out of hospital:
They pay 100% of the Medicare fee if you go to a doctor. You pay the gap if the doctor charges more than Medicare.
They pay 85% of the Medicare fee for blood tests ("pathology") or x-rays ("diagnostic imaging").
They pay for an MRI if you have a referral from a doctor.
They pay 100% of prosthetic devices on a list approved by the government.
They pay 100% of ambulance fees.
The inclusions above represent a selection of what is covered. Additional conditions may apply to different features. Please ensure that you read the product disclosure statement to determine all the policy options and inclusions for the insurance policy you are considering.
nib began in 1952 and provides health insurance to over 1 million people in Australia and New Zealand. nib is one of Australia's largest health insurers. They have won many of our CANSTAR awards for health insurance over the years.
With nib OSHC insurance, you can receive your OSHC Confirmation Certificate in only 5 minutes.
You can make a claim on your health insurance with the nib mobile app (on the Apple iTunes Store and Google Play for Android) or online. Simply taking a photo of your receipt on your phone and send it to nib with the app or online on your computer. You can also update your policy's details or request a statement with the app or online.
How nib supports the community
nib Foundation: Established in 2008, nib Foundation have contributed over $12 million to support over 80 Australian programs tackling important health issues. Community and charity grants are available.
Charitable contributions: In 2012, nib broke their record by donating over $10 million in one year. In 2008, nib established the MAD (Make A Difference) Committee for employee fundraising and volunteer activities.
Sports: nib sponsors the State of Origin NSW Blues rugby league team, the Newcastle Knights (rugby league), and the Geelong Cats (AFL). nib are the proud sponsor of Perth's nib Stadium and the Hunter Academy of Sport's nib Festival of Sport.
Comments from nib on winning Canstar's OSHC Award
For a little extra information, Canstar conducted a quick Q&A with nib in relation to types of common claims and the process of obtaining OSHC.
Q: How far in advance of arriving in Australia should students start to organise their insurance cover?
A: Students are required to show evidence of a compliant Overseas Student Health Cover as part of their Student Visa application; this is typically significantly in advance of their potential arrival date.
Q: How do students typically organise their health cover?
A: We have found that students prefer to use an Education agent in their country to facilitate the entire visa application submission which can be often overwhelming for the student. This process includes, amongst other requirements, providing information and organising letters of offer from educational institutions in Australia and information and the purchase of OSHC from an approved OSHC provider.
Q: Are there any particularly common types of claims that you see?
A: The most common type of low cost claims under our OSHC products includes GP visits, Emergency Department visits and Pharmaceuticals. The typical high cost claims involve Hospital In-patient admission for pregnancy and birth related conditions, amongst other things.
Q: It's interesting that cover for a couple is more proportionally expensive than cover for a single. Why is that?
A: Our experience indicates that benefit utilisation on couple and family policies is significantly higher than singles, this is typically driven by, but not limited to, costs associated with pregnancy and birth related services.
Canstar congratulates nib on its outstanding achievement. Further information on the Award, methodology and star ratings results can be accessed here.
If you are in the market for an overseas student health cover policy, see our comparison table snapshot below to preview the policies currently available to the market. Please note that this table has been formulated for a student with a 1 year study visa in NSW.
Sponsored products are paid advertisements and do not include all providers. Canstar receives a fee for referring you to the advertiser. Canstar is not giving you advice in relation to sponsored products.
Products displayed above that are not "Sponsored" are sorted by Star Rating and then alphabetically by company. Canstar may receive a fee for referral of leads from these products. See How We Get Paid for further information. If you decide to apply for health insurance, you will deal directly with an insurance provider, and not with Canstar.
Consider the provider's detailed product and pricing information before making a decision to purchase a policy. The products displayed on this page do not include all providers and may not compare all features relevant to you. View the Canstar Overseas Student Health Cover Star Ratings Methodology and Report. The rating shown is only one factor to take into account when considering products.
The Star Ratings in this table were awarded in March, 2017 and data is as at that date, updated from time to time to reflect product changes notified to us by product issuers.