The news is not good! The worldwide burden of cancer has risen to an estimated 14 million new cases per year, a figure expected to rise to 22 million annually within the next two decades. In Australia, cancer is now the leading cause of death, partially due to our ageing population.
Types of Cancer and number of deaths
Globally, WHO advises that the main types of cancer in 2012 were:
lung (1.59 million deaths)
liver (745 000 deaths)
stomach (723 000 deaths)
colorectal (694 000 deaths)
breast (521 000 deaths)
oesophageal cancer (400 000 deaths)
What risks lead to Cancer?
WHO also advises that approximately thirty percent of cancer deaths are due to the five leading behavioral and dietary risks: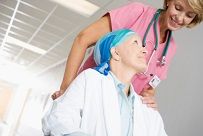 high body mass index,
low fruit and vegetable intake,
lack of physical activity,
tobacco use and
alcohol use
"Australia has one of the world's highest cancer incidence rates, third in the world behind Denmark and France, largely because of our ageing population," says Cancer Council Australia spokesperson, Terry Slevin.
"Australians are living longer than previous generations, thanks to improved infection and cardiovascular disease control. Unfortunately cancer is a disease that is more likely to affect us later in life, so the longer Australians live, the more cancer cases we see."
This news makes lifetime health cover (LHC) more of a pressing issue; with cancer becoming more likely as your life goes on, it's important to compare health insurance and potentially put in place private health insurance as early as possible.
Early detection and prevention of cancer possible
The theme for World Cancer Day 2015 is "Cancer, Not Beyond Us", which puts the focus on the things that all of us can do to help beat cancer – from early detection and prevention through to quality of life for cancer survivors and access to treatment worldwide. It's also worth checking out the terrific mobile app created by the Cancer Council to complement its iheard website, to help consumers sort cancer fact from fiction.
"We get asked all sorts of questions about cancer – everything from whether lipstick will give you cancer to whether you can cure yourself with baking soda," says Cancer Council spokesperson Mr Slevin. "We want to help Australians separate scientific fact from fiction. The message is simple: to lower your cancer risk, don't smoke, do eat a balanced diet and be active, avoid harmful UV radiation and limit your alcohol consumption."