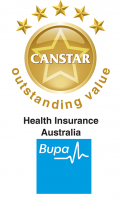 Bupa has won the National Outstanding Value – Health Insurance award for 2014. We had a chat with Bupa to find out more.
Australians are spoilt for choice when it comes to choosing a health insurance product. So much choice can make it difficult though, so CANSTAR makes the process easier via its annual Health Insurance Star Ratings report. This year, to determine which providers offer outstanding value for money, CANSTAR analysed more than 26,000 quotes across some 707 eligible health insurance products from 22 health insurance providers, measured against 13 demographic profiles.
CANSTAR is pleased to congratulate Bupa on winning, yet again, the national outstanding value health insurance award, as well as scooping state awards for Extras in Queensland and New South Wales, as well as Package awards in Victoria, Tasmania, and the Northern Territory.
In addition to providing an outstanding-value mix of features and price for its members, Bupa is also impressively involved in preventative education, with an extensive array of health and wellness information and online tools, not to mention apps.
User-friendly Apps can Equal Personalised Service
As an example of a user-friendly and useful app, Bupa's FoodSwitch has apparently been downloaded more than half a million times over the past two years, with Vegemite the top-scanned product.
"FoodSwitch was designed to help Australians make easy, smart health decisions when buying food. The crowd-sourcing element that lets consumers enhance the experience by adding new products has been a real winner" said Dr Stan Goldstein, Bupa?s Head of Clinical Advisory.
"Half a million Australians have downloaded FoodSwitch – that's almost the population of Tasmania! And between them they have sent in more than 400,000 photos too."
Another recent app addition to Bupa's stable is MedAdvisor. Launched in June this year, the app is designed to overcome medication non-adherence.
"Failure to take medications as prescribed can have a substantial negative impact on health outcomes by making treatments less effective, increasing the risk of complications or even reducing quality of life," said Bupa Medical Director, Shared Services, Dr Tim Ross.
The new app, MedAdvisor, gives users an automatic list of their prescription medications on their smart phone, tablet, or PC. For each medicine users can view important information such as side effects and effective usage tips. The app reminds users when they're running low and need to fill repeats or see their doctor for new scripts, and can also prompt users when it's time to take each dose.
MedAdvisor also 'talks' directly to the user's pharmacy, so information is kept up-to-date automatically. Users can also order their repeats remotely if their scripts are at the pharmacy, so their medication is ready to collect when they arrive.
Apps aside, Bupa also provide an online health check, tools and calculators and access to programs, research and fact sheets. Really, there's no excuse to lead anything other than a healthy lifestyle!
Not all medical conditions can be prevented though, which is why choosing a health fund that suits your needs is crucial. Click here for some tips and here to view Canstar's latest Health Insurance Star Ratings report.