Canstar has revealed the winner of its first-ever Exchange Traded Funds – Provider of the Year Award. Find out who won and what Canstar's expert researchers factored in when assessing the contenders.
Australians are investing record amounts of money in exchange traded funds (ETFs) – a product category that allows investors to buy into a pool of assets that's listed on a stock exchange, rather than picking individual shares.
In October 2020, the value of all exchange traded products on the country's largest share market, the ASX, grew to an all-time high of $73.55 billion, with the 12-month average number of individual transactions climbing to almost 370,000 during the month. This represents an increase in transactions just shy of 187% compared to October 2019, ASX data shows.
ETFs have been growing in popularity for many years now, but the current combination of record-high household savings and record-low interest rates may partly explain the significant increase in the number of people now investing in ETFs. Of course, the lure of potentially higher investment earnings brings a greater degree of risk than keeping your money in a bank account, but for now it seems many investors are prepared to dive in.
If you're considering investing your money in an ETF, one of the decisions you will face is which ETF provider to invest with. Canstar Research has assessed a range of providers across the market and has revealed which one it found to offer outstanding value to Aussie investors.
Exchange Traded Funds – Provider of the Year Award 2020: Vanguard
Vanguard is the winner of Canstar's first-ever Exchange Traded Funds – Provider of the Year Award. The US-based investment firm has been operating in Australia since 1996 and has $164 billion in assets under management as of 30 September, 2020. It currently offers 28 different ETFs to Australian investors, across a range of sectors and asset classes.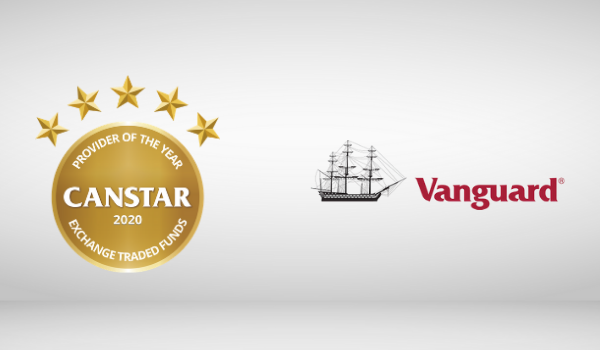 "Vanguard had competitive ETFs available in all investment categories we assessed, but its strength particularly came through in Global Equities," Canstar's Ratings Manager, Josh Sale, said.
"Vanguard offers a range of ETFs providing broad exposure to the US share market, with extremely competitive management fees from as low as 0.03% per annum," he said.
The features Vanguard offers to investors also played a part in its win, including some services unique to the provider.
"Through its website, investors have a comprehensive suite of resources at their disposal," Mr Sale said.
"For example, Vanguard allows for side-by-side comparisons of ETF options, gives a thorough explanation of each ETF's underlying assets, and enables investors to analyse historical performance returns of both the fund and benchmark dating back to when the ETF was established".
In addition, Vanguard was the only provider assessed to offer investors the ability to buy and sell ETFs directly through its website.
"This could be an attractive option for a new investor who does not have an existing relationship with a broker," Mr Sale added.