Many retailers are refusing cash to try to protect against the pandemic but is that legal? Plus we explore what contactless payment options are available in Australia.
So much for "cash is king". You can barely give away notes and coins these days as growing numbers of retailers demand payment by card only. This is a new situation in Australia – and it goes hand in hand with a raft of changes to daily life we're experiencing as a result of the COVID-19 pandemic. But as it turns out, not only are retailers well within their rights to refuse cash, they could be doing us all a favour.
Retailers are free to set payment terms
Cash may be legal tender, but according to the Reserve Bank of Australia (RBA), notes and coins don't have to be used in transactions. The retailer is free to set the terms of payment, and refusing to accept cash is not against the law.
In fact, the Currency Act sets out restrictions around when you can use cash. A retailer can knock you back if you try to pay more than $5 using only 5c, 10c or 20c coins. Even if you've saved a collection of $1 and $2 coins, the most you can pay in a single purchase is $10 or $20 respectively.
An exception to this rule is when you're paying off a debt. The RBA says that if you have absolutely no other way to clear the slate, a store owner is pretty much obliged to accept cash.
Don't put your money where your mouth is
COVID-19 may be driving the push for card-based payments, but cash has been on the wane for some time. RBA figures show that we use cash for just one in four payments – and these tend to be low value purchases. Those aged over 65 are still big users of cash, relying on notes and coins for around half their payments. That's a concern because seniors are amongst the most vulnerable when it comes to the coronavirus, and chances are the cash they are handling is dirty.
A 2014 study by New York University revealed the grimy truth about cash. The humble dollar bill can be home to around 3,000 microbes. This reflects the way that money gets around, especially lower denominations like $5 and $10 notes, which change hands around 110 times each year on average.
Fortunately, Australia's polymer notes, with their smooth surface, are more resistant to dirt than other types of notes according to the Bank of England. One issue is that paying with cash almost inevitably involves some hand to hand contact so we can't be too careful.
Payments terminals may transmit COVID-19
Avoiding cash may be helpful in terms of hygiene. But it's not the only thing we touch when making purchases. A statement by the Bank of International Settlements (BIS) highlighted that "the (COVID-19) virus survives best on non-porous materials, such as plastic" BIS adds that "debit or credit card terminals or PIN pads could transmit the virus."
This leaves contactless payments as the only touch-free option. One of the downsides is that most debit and credit cards that allow tap and go payments have a contactless limit of $100. For bigger purchases, you still need to enter a PIN. However, this is set to change.
The Australian Payments Network (AusPayNet), the self-regulatory body for the payments industry announced in early April that the contactless limit on some cards and at certain merchants were temporarily increased from $100 to $200. It was originally only meant to be for three months but has been extended to 17 September, 2020. AusPayNet says it will continue to review and make decisions, pending government advice.
It is also worth noting that sometimes additional fees may apply for using tap and go.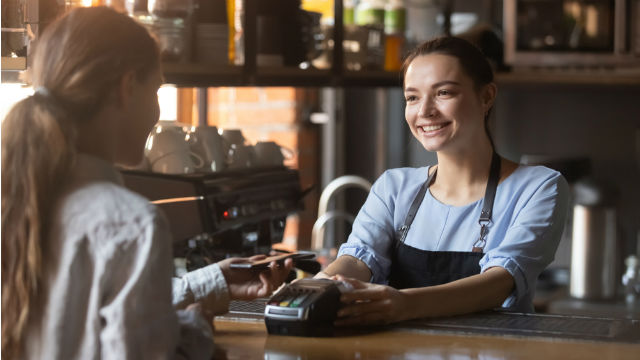 Contactless ways to pay
The good news is that there is a wide variety of other ways to make contactless payments beyond pulling a card out of your wallet. Here are the main choices available.
Digital wallets
Digital wallets or "mobile payment services" store the details of your debit or credit card on your mobile device – typically a phone or a wearable (like an Apple watch). It's a secure and convenient option but there are downsides.
Firstly, it's up to each bank to decide which of its cards will work with different digital wallets – not every card is supported by mobile payment options. You'll need to check with your bank to know if your card is eligible.
Perhaps the main concern in these COVID-19 days, is that the same contactless purchase limits that apply to your card usually also apply to digital wallets (though this is something to check with your particular bank). Retailers can also set their own transaction limits for contactless purchases, and some outlets simply may not have payment terminals that accept contactless payment.
The upside is that installing and using a digital wallet shouldn't cost you anything. With these factors in mind, the main choices for digital wallets include:
Apple Pay – Apple Pay is widely available through almost 100 financial institutions across Australia. To get started, head to the "Settings" of your Apple device, find "Wallet & Apple Pay" and add details of your debit and credit cards. Apple Pay transactions can be authenticated using either Face ID or Touch ID, and as these are unique to you, it's a secure way to pay.
Google Pay – If you're an Android fan, Google Pay can be used on your mobile device or Wear OS smartwatch. To get started, you'll need to install the free Google Pay app from the Google Play store, which requires Android 5.0 or higher. Google Pay is available with a wide range of larger financial institutions, but if you use a smaller bank or mutual check if it's available for your cards.
Samsung Pay – Samsung's mobile payments services platform can be used on a variety of Galaxy devices and Galaxy Watch or Gear wearables. Transactions can be authenticated by your iris or fingerprint, which is a plus for security.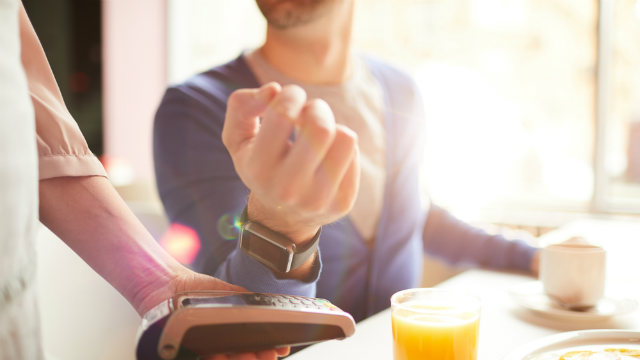 Wearables
Along with Apple or WEAR OS watches, several other digital wearables can be used for contactless payments.
Fitbit Pay – Use the Fitbit app on your smartphone to add your credit or debit card details to your Fitbit, and pay for purchases by tapping your wrist at terminals. The downside of Fitbit Pay is that it is currently offered by just 15 financial institutions across Australia.
Garmin Pay – If you own a Garmin Watch, use the Garmin Connect Mobile app to add details of your credit or debit card, and make contactless payments through Garmin Pay. The drawback is that Garmin Pay is available through just over 20 financial institutions.
Other wearable options include payWave wristbands available through mutuals such as Community First Credit Union and Summerland Credit Union. Westpac has its own wearable – Westpac PayWear, and Bankwest customers can use the Bankwest Halo ring (costing $39) though this involves holding a fist to an EFTPOS terminal to make a payment so it's not entirely contact-free.
It is worth stressing that these contactless options are normally bound by the same PIN-free purchase limits that apply to your debit or credit card.
Digital cards
Digital cards are mainly touted for use as gift cards, but they do provide another form of contactless payment. Many digital cards can be ordered online with the "card" sent to you via email. This can mean no hands other than your own touch the card until you hand it over at the check-out. The drawback is that most digital cards have an upper limit of $200. One exception is the Australia Post Mastercard Gift Card, which has a $500 upper limit, and can be used anywhere Mastercard is accepted.
---
---
About Nicola Field
Nicola Field is a personal finance writer with nearly two decades of industry experience. A former chartered accountant with a Master of Education degree, Nicola has contributed to several popular magazines including the Australian Women's Weekly, Money and Real Living. She has authored several best-selling family-focused finance books including Baby or Bust (Wiley) and Investing in Your Child's Future (Wiley).
Main image source: Michael Leslie (Shutterstock)