At a financially uncertain time for many Australians, Canstar reveals which bank and customer-owned institution offer Award-winning value across their range of everyday banking products.
The economic turbulence resulting from the COVID-19 pandemic has meant that finding a high-value place to keep your money and manage your everyday spending has become a priority for many people. On a positive note for consumers, Canstar Research said that transaction accounts remain highly competitive in the current market, as some institutions continue to remove account-keeping and transaction fees from their accounts.
The move to more cashless transactions caused by the pandemic could also mean that doing your everyday banking with a provider that offers a variety of payment methods, as well as quality online services, has become particularly helpful.
To help consumers who are looking for an outstanding-value provider for their everyday banking, Canstar Research assessed 38 financial institutions and has named the winners of the 2020 Everyday Banking Award.
Providers were assessed based on the price and features offered as part of their transaction accounts and credit cards. You can view the Award methodology for further information on how providers were assessed.
Bank of the Year – Everyday Banking – HSBC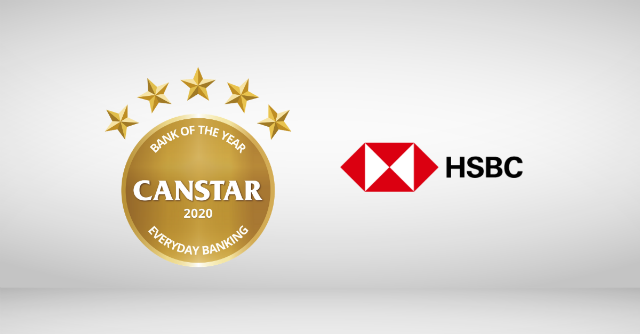 HSBC has won the Bank of the Year – Everyday Banking Award for 2020, off the back of an outstanding transaction account performance and a competitive credit card offering.
Canstar Research noted that HSBC's fee-free Global Everyday Account stood out for the "exceptional" benefits it provided to customers, including up to $50 cashback a month on eligible tap-and-go purchases. It also offers customers the ability to transact and save in multiple currencies.
In the 2020 Transaction Account Star Ratings, the Global Everyday Account received a 5-Star Rating in both the High Transactor and Low Transactor consumer profiles, contributing to HSBC's Everyday Banking Award win.
Looking at credit cards, Canstar Research noted that HSBC's offering was also competitive, with its Platinum Credit Card refunding the $129 annual fee for a relatively modest annual spend of at least $6,000. This card, along with the bank's Platinum Qantas Credit Card, received 5-Star Ratings in various consumer profiles in Canstar's latest Credit Card Star Ratings in April, 2020.
Canstar Research also noted HSBC offered customers the flexibility to choose between earning HSBC Rewards Plus points or Qantas points with the HSBC Platinum Credit Card, which it said was a stand-out benefit.
Institution of the Year (Customer-Owned) – Everyday Banking – Qudos Bank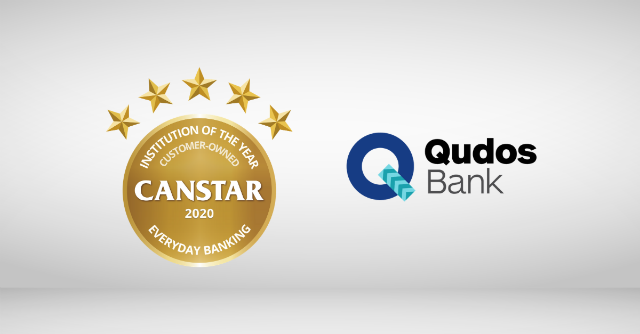 Qudos Bank has won this year's Everyday Banking Award for customer-owned institutions. Canstar Research noted that unlike many of its competitors, Qudos Bank's everyday General Savings Account does not require customers to deposit their salary in order to avoid account-keeping fees. This provides a benefit, particularly for those who may not use their account very often, Canstar Research said.
Qudos' General Savings Account allows customers to earn interest if their balance is high enough, and also comes with a range of ways for customers to spend and access their funds, including via a Visa debit card, Apple Pay and Google Pay.
Looking at Qudos' credit card offering, Canstar Research said its Everyday Banking Award win was supported by its Lifestyle Credit Card's 5-Star Rating in the Low Fee profile. In addition, the team noted the Qudos Visa Platinum Credit Card allows customers to earn one Qantas point per dollar for the first $2,500 worth of eligible purchases on the card each month, before reverting to 0.5 points per dollar. This card performs well for consumers who regularly spend around $2,000 a month on their credit card, with the rewards value able to cover the annual fee for those consumers, Canstar Research said.
Main image source: Josep Suria (Shutterstock).