Introduced in 2015, the Mazda CX-3 has been described as one of the most compact SUVs on the market.
Built using the same base as the Mazda 2 passenger car, this small SUV is currently the second best-selling vehicle in its segment behind the Mitsubishi ASX, with sales of over 60,000 in Australia from 2015 t0 2018, according to Chasing Cars.
It is currently available in both front- and all-wheel drive, and in a choice of petrol and diesel engines. The current model range starts with the entry-level Neo Sport, then steps up to the Maxx Sport, sTouring and finally to the top-spec Akari and Akari Limited Edition models.
Mazda CX-3 price
According to Eagers Mazda, the 2019 Mazda CX-3 ranges in price from $22,260 to $39,900 to purchase new, depending on the model and your chosen specs.
2019 Mazda CX-3 Pricing

2.0-litre, manual (FWD)
2.0-litre, auto (FWD)
2.0-litre, auto (AWD)
1.8-litre diesel, auto (FWD)

1.8-litre diesel, auto (AWD)

Neo Sport

$22,260
$24,260

Maxx Sport

$24,200
$26,200
$28,200

$28,600

sTouring

$28,390
$30,390
$32,390

$34,790

Akari

$33,500
$35,500
$37,500

$39,900

Akari Limited Edition
$36,000
$38,000
Source: Costs shown in the table above have been provided by Eagers Mazda as at 5 March 2019. Price excludes on-road costs (e.g. registration, CTP and stamp duty).
Based on averages taken from car listings on carsguide.com.au in the last six months, the cost of a used Mazda CX-3 starts from $15,380 for a 2015 entry-level model to a maximum of $39,843 for a 2018 top-of-the-range model.
Used Mazda CX-3 Prices 2015 – 2018

Model year

Minimum price ($)

Maximum price ($)

2018

19,888
39,843

2017

17,990

32,950

2016
17,977

28,990

2015
15,380

26,450
Source: Prices shown in this table are based on averages taken from car listings on carsguide.com.au as at 2 May 2019. Minimum price is for the entry-level model and maximum price is the top-of-the-range model available in each year. These costs are an estimate only. The price of a used vehicle will depend on a range of factors such as the car's specs, accident history, odometer reading and current condition.
Mazda CX-3 specs
Mazda Australia states there have been a number of features added to the 2019 Mazda CX-3, including a new front grille, along with 18-inch alloy wheels and a rear tail-light combination in the sTouring and top-spec Akari models. All models now also come with a centre console and armrest, an electric handbrake and a reversing camera.
Some key highlights that come as standard with the entry-level 2019 Mazda CX-3 Neo Sport include:
16-inch steel wheels
Halogen headlights
Power folding mirrors
7-inch colour infotainment touchscreen
Keyless ignition
Reverse camera and rear parking sensors
Autonomous Emergency Braking (forward and reverse)
Bluetooth hands-free phone and audio capability
Traction and stability control
Front seatbelt pre-tensioners (device used to pull passenger and driver firmly into their seats to get maximum protection from the front airbags)
Cruise control
What are the experts saying?
Kez Casey from Caradvice.com.au rated the 2019 Mazda CX-3 range 7.5 out of 10, saying:
The CX-3 isn't designed to be a family hauler or a rock-crawling go-anywhere tough guy. It exists as a stylish alternative to regular hatchbacks and behaves much like one, with a few extra 'active' flourishes to keep it on trend. Unabashedly urban and with a more premium feel than most of its mainstream competitors, the CX-3 seems likely to hold its position as Australia's second-most-popular small SUV (behind the fleet favourite Mitsubishi ASX). It may not feature a laundry list of updates for its mid-life update, but adds enough subtle yet worthwhile features to warrant keeping it on your shopping list.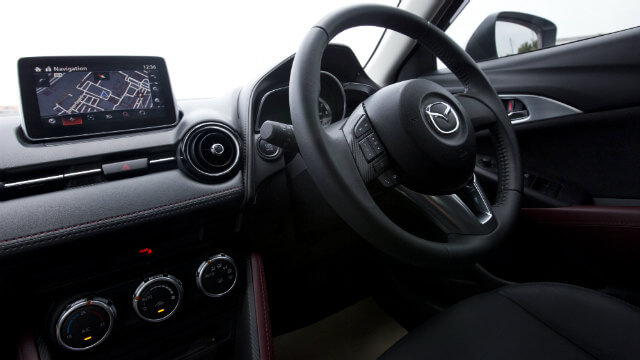 Jake Williams from Chasing Cars also gave the 2019 Mazda CX-3 range a 7.5 out of 10 rating, saying:
Overall, the 2019 changes are a worthy update, with the CX-3 keeping the good, and improving on many niggling issues in the previous car – though we're still waiting for that Apple CarPlay/Android Auto update, which should be retrofittable later this year. Ignoring that oversight, the CX-3 will continue to find itself many fans in Australia.
Cameron Kirby from WhichCar provided this review of the 2019 Mazda CX-3 range:
With buyers flocking to the small SUV segment the CX-3 has a tough ask ahead of it as convincing new contenders like the Toyota C-HR and Hyundai Kona encroach on its turf. While the styling tweaks keep it looking fresh, the real gains here are found in the improved equipment and value, and the greater sheen of polish to an already good dynamic package. Sadly, this update hasn't quite ironed out the NVH (noise, vibration and harshness) issues.
Cover image source: nitinut380(Shutterstock)