A trip to the movies isn't always cheap.
Here are five ideas that could see you catching the latest blockbuster without busting your budget, leaving you with more to spend on popcorn
.
A good movie can make our lives richer but for regular movie-goers, it can leave our finances poorer. For families especially, a trip to the cinema isn't always a cheap day out. At Hoyts for example the one-price-fits-all of up to $20 per person at a number of cinemas can see a family of four fork out $80 to catch a movie – and that's before hitting the candy bar.
A Lux (Hoyts) or Gold (Village) session with all the creature comforts can cost up to $42 per person, raising the tab for mum, dad and two kids to $168. It can be a Titanic-sized expense that sees you decide to stay home alone.
If you're a movie lover, a cinema reward program can trim the expense. Cinebuzz, the loyalty program for Event cinemas, lets you earn points that can be redeemed for tickets as well as giving members ongoing discounts. It's a similar deal with Hoyts Rewards, though with the advantage that the program is linked to Qantas Frequent Flyers, letting you earn a minimum of one Qantas point per $2 spent at the movies.
Even if you only head to the cinema once or twice a year, it's still worth being discerning and making sure you don't spend more money than you need to. Here are five ways you could potentially pocket generous savings at the box office.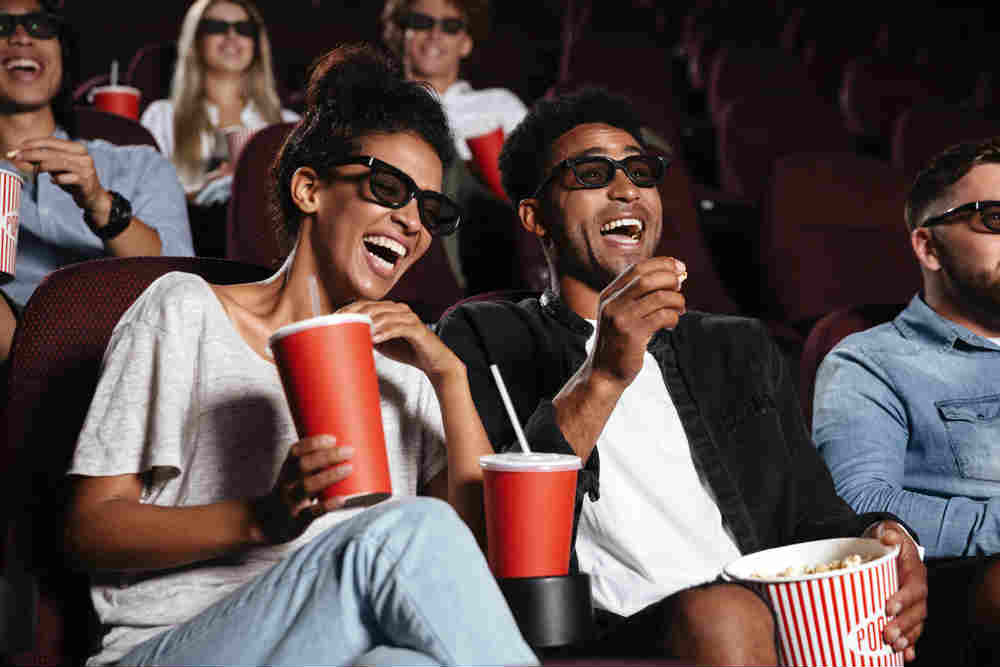 1. Cash in your frequent flyer points
Qantas frequent flyer (FF) points can be used to pay for tickets and treats. It costs 4,000 points to pay for approximately $20 worth of tickets or candy bar purchases, and you'll need to spend at least $20 to pay with your points. Be sure to have your FF card and PIN handy.
The downside of this option is that you won't get much bang for your frequent flyer buck. A family of four can use 16,000 points just to catch the latest movie. For the same number of points you could catch a business class flight from Sydney to Melbourne – a trip that can cost $903 one-way.
2. Tap into your telco
If you're a Telstra customer, the Telstra Plus loyalty program offers points-based rewards plus membership perks including cut-price movie tickets. Up for grabs are child movie tickets for $11.50 and adult tickets from $12.50 at Event Cinemas and Village Cinemas. Head to the movies after 5pm on Saturdays and public holidays and pay $15.50 per ticket, or make it a gold class experience and pay $32 on Thursdays (a saving of $10 off the regular price). Detour via the candy bar for a free upgrade on a popcorn and drink combo.
Along with regular discounts, Telstra Plus members can pick up a 10 movie voucher pack for $90 to be used at either Event or Village cinemas. The deal ends 26 December, 2019.
If you're with Optus, check out the Perks program. It includes discounted movie tickets for Hoyts cinemas, starting at $12.50 for an adult ticket or $27 for the Lux option. Booking fees will also apply. There are only a certain number of tickets allocated at Optus Perks prices and once that has been reached you won't be able to purchase tickets at the Optus Perks price.
3. Put memberships to work
Motoring associations can be a great source of savings at the cinema. RACV members can score up to 30% off the standard ticket price at Village, Hoyts or Palace cinemas. You'll need to pre-purchase tickets online or at an RACV store. Or use your membership to pay just $9 for a Monday movie at Village. The offer isn't available on Victorian Public Holidays and school holidays.
NRMA members can save up to 35% at Event Cinemas when tickets are pre-purchased online, and in Queensland, RACQ offers savings of up to 40% at Event and BCC Cinemas.
Motorists aren't alone in offering savings for movie patrons. Plenty of other member-based organisations offer box office bargains. If you're a union member take a look at any discounts you're eligible for.
The Australian Services Union, Community & Public Sector Union, and the Shop, Distributive and Allied Employees' Association (SDA) are just some of the unions offering discounted movie tickets to members. In some cases, it's possible to save 50% off standard ticket prices.
Members of National Seniors Australia can also score discounts of up to 33% on pre-purchased movie tickets.
4. Check what your insurance offers
Don't overlook companies you hold insurance policies with. They can also offer discounts at the cinema. For example, AAMI customers can save through AAMI's Lucky Club. Pick up $20 Gold Class tickets (Monday to Wednesday sessions) at Village or Event Cinemas – that's less than half the regular cost of $42.
Health insurance funds can be a good source of discounted cinema tickets. So check what your policy offers. As a guide to what's available:
AHM offers 2-for-1 tickets at HOYTS, available every Thursday night after 5pm.
Medibank members plus a friend can take in Thursday movie screenings at select Palace Cinemas for just $12.50. For seniors and a friend, it's $9.50 a ticket. Buy tickets online or present your Medibank card at the box office. Medibank Priority members can save 10% on first-class cinema tickets at Palace Platinum.
Bupa members can save up to 25% at Event Cinemas and Hoyts.
myOwn members with AIA Vitality can save up to 50% off Hoyts movie vouchers.
5. Download the Choovie app
Choovie is a mobile app for movie buffs. It lets you rate films, buy tickets online, and importantly, it can help you score super cheap tickets by identifying empty seats that are available for a last minute bargain. Or throw the maximum ticket price you're willing into the app and see what's available.
Recent deals with Choovie included tickets to the latest Terminator movie for $7.25. Choovie is free to download – you'll need iOS 10.0 or later, or Android 4.2 and up.
With all these budget-friendly options available, the days of paying full price tickets may be gone with the wind. It could make a trip to the movies an affordable experience that leaves you thinking "I'll be back".
---

About Nicola Field
Nicola Field is a personal finance writer with nearly two decades of industry experience. A former chartered accountant, who holds a Master of Education degree, Nicola has contributed to several popular magazines including the Australian Women's Weekly, Money and Real Living. She has authored several best-selling family-focused finance books including Baby or Bust (Wiley) and Investing in Your Child's Future (Wiley).
Main image source: Africa Studio (Shutterstock)