You may love a wedding as much as the next person, but that phase where it feels like another friend is getting married every second weekend can be a taxing time, especially on the bank balance.
Gone are the days where you could send the happy couple off with a new toaster. Modern couples usually live together before getting hitched, so have often already accumulated everything they do and don't need.
Nowadays, it tends to be all about the cash. Some couples feel pressured to compete with the other extravagant, Insta-worthy weddings out there and they don't always come cheap, so can decide they'll benefit the most from a monetary gift to help pay for their big day or subsequent honeymoon. It's common for the modern couple to either set up a wishing well or an online gift registry, meaning whatever you spend will be out in the open.
So, how much do you spend? We've broken it down to cover the most likely scenarios you will be faced with as a wedding guest, whether you have a wishing well or gift registry to tackle, a destination wedding before you or if the couple is tying the knot later in life.
What is a wedding wishing well & how much should I contribute?
A wedding wishing well is a fancy donation style box or other contraption (think bird cage, suitcase) used to collect money for the happy couple.
The money you place in a wedding wishing well typically goes towards the couple's honeymoon, new home deposit or just offsets the exorbitant cost of their big day. Given the expenses of hosting a wedding, some experts say you should be looking to contribute between $100 and $300 depending on your relationship with the bride and groom, among other things.
Just a few years back, $50 a head per guest was the norm, but that has doubled now, according to wedding planner of 16 years Paula Barham, who heads up the Wedding Planners Association of Australia.
"It's minimum $100 a head," she said.
"A lot of couples these days are borrowing money to pay for their wedding and they have an expectation. It's like a transaction. Guests can be specifically told not to buy gifts."
Paula noted that weddings in capital cities cost couples between $120 and $170 per head, while in regional or rural areas, it is rarely more than $70 a head. Some guests aim to pay roughly what it costs them to eat and drink, but it can be hard to work it out and, thinking it awkward to put $60 or $85 in a wishing well, they round it up to $100.
"Recently I heard a guest at a wedding say that people had better pay at least $100 at her wedding a few months later," Paula said.
"15 years ago you would never hear someone say that out loud… my experience is that many people aren't embarrassed now to say that is what they expect."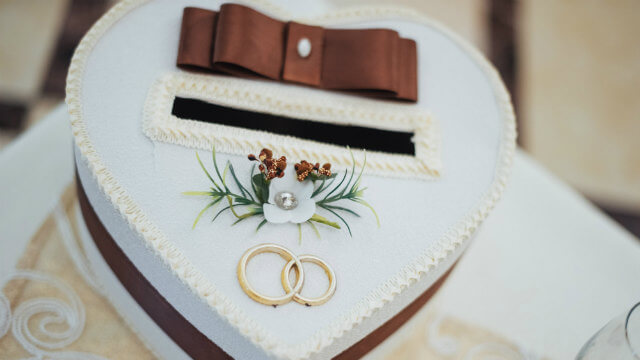 If you're a close friend or family member, Paula said to budget for more, around $250 to $300 per couple. And don't buy a gift when the couple wants cash, even if your choice is thoughtful and meaningful in your eyes.
"A friend recently went all out with a very thoughtful gift, a photo of the beach where the groom proposed set in beautiful glass," she said.
"It was really pretty, not too out there, but they weren't impressed because they had an expectation of cash. Really, it should be a celebration with your friends, not expecting them to pay for your wedding… The truth is, when there's no expectation and you don't feel any pressure, you want to give more."
Bear in mind that some wishing well platforms may charge you and your guests a fee for using the service. For example, some providers may charge you a 'one-off' fee to set up or close the wishing well, or charge guests a percentage fee on top of their contribution. It's worth reading the fine print and checking what fees apply.
What is a gift registry & how much should I spend?
More and more couples are directing guests to online gift registries, where they can either choose from a range of gifts to buy outright or contribute part of the funds toward more expensive "goal" items the couple have their eyes on.
Department stores like Myer and David Jones offer registries, where we found through crunching some numbers that most items tend to cost between $80 and $150. There are also a number of online specialist wedding registries – popular examples include The Wedding Nest, My Gift Registry and Wedding List Co.
How weird is it that people wrap wedding registry gifts? Like, the couple knows what they asked for at Williams Sonoma right? Don't they have to feign surprise when they open it and are like, "Omg! These stemless wine glasses! Had no idea!"

— MAREN MORRIS (@MarenMorris) June 21, 2018
The Wedding Nest founder Katie Burt said the average item on her site was around $350 in cost, due to being mainly "contribution" items. Dinnerware, bed linen and framed prints were popular on her registry, but couples will often include an additional wishing well option for people wanting to donate cash.
She said couples usually spend an average of $150 to $250 on her site and singles between $80 and $150.
"Couples are more conscious of receiving gifts they actually need or want and would find useful," Katie said.
"As a guide, we usually recommend your total registry value is $80 multiplied by the number of guests, so a wedding of $100 should have an $8,000 registry."
Exceptions to the rule: Destination weddings & older couples
Katie said couples with destination weddings generally understand guests have had to spend on travel and accommodation so expect less on gifts. They may set up wishing wells only, which are options for guests who want to gift a bit extra, or those unable to make the trip but still wanting to contribute.
Meanwhile, the entrepreneur said she has found couples getting married later in life tend to be less demanding.
"Couples from an older age bracket generally expect less from guests, especially if this is a second wedding," she said.
"It's not unheard of for these couples to have a wishing well that allows money to be allocated to a charity."
If the couple getting married has already attended your wedding, you can always be guided by the amount they spent on you.
Marketing professional Monika, 31, had a run of friends' weddings in 2015 and featured as a bridesmaid at several.
Single at the time, she had to cover costs by herself.
Source: Wall Street Journal
"I normally spent $150 to $200, to cover the per-head cost of the reception at least," she said.
"But it also depended on my relationship to the person and whether the wedding was a destination one."
For destination weddings, she took travel distance and expense required into account when spending on gifts.
"I gave differently for a big destination wedding I went to, as I paid to travel to and stay in a resort in Mauritius, so it's fair to say my attendance was the gift. I did give a small present though," she said.
"I also went to a couple of weddings in Bowral and the Hunter Valley, where I paid for accommodation but still ended up gifting around the $150 to $200 mark."
Monika said she had heard horror stories around some over-the-top expectations from wedding couples on how much guests should spend on gifts and travel, but hasn't personally been too put out or unable to attend because of cost.
"It's hard because you never truly know anyone's financial situation, but I think it's just expected that you fork out the money for a mate's big day."
Cover image source: Jayme Burrows
Thanks for visiting Canstar, Australia's biggest financial comparison site*