Businesses with five or less employees rank low cost banking and online banking as the two most important features financial institutions can offer, a Canstar survey has found.
The survey of 800 small businesses, ranging from sole traders to organisations with 200 employees, examined which banking products and services business owners valued most highly.
Canstar Research Manager Mitchell Watson said the survey findings showed that as businesses grow their needs adjust.
"A sole trader and a business with 1 to 5 employees noted that low cost banking and access to online banking as their most important factors," Mr Watson said.
"These are two factors which help manage their overheads through cost management and ease of day-to-day management of their banking needs."
He said once a business reached a size of 50 employees or more, then all business banking factors considered had a similar level of importance.
"This shows that at that business size their banking partner does need to go past just standard banking products and start to focus on providing additional services, for example a dedicated relationship manager or the offering of business insights on the businesses industry and competitors," he said.
The survey's findings also suggested there is a relationship between the size of the business and the need for more banking products and bespoke services.
Businesses with 11 to 20 employees were twice as likely to have a business loan than those with less than five employees.
And businesses with more than 20 employees were more than three times as likely to have a dedicated relationship manager – an industry specialist from a bank – than a business with less than 10 employees.
While less than 25% of the businesses surveyed had access to an overdraft facility, more than half used business credit cards, with that number jumping to about 70% for businesses with more than 20 employees.
Canstar's 2018 Bank of the Year – Small Business Award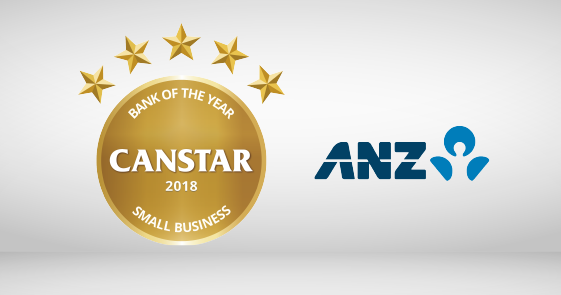 So, which financial institution is leading the pack when it comes to fulfilling the needs of small businesses?
Out of eight institutions assessed, ANZ has been named the winner of Canstar's 2018 Bank of the Year – Small Business Award, which acknowledges the institution that provides the strongest combination of products and services for small business customers.
The Small Business Award considers each institution's range of business banking products that are considered in Canstar's Business Banking Star Ratings and also the range of additional products and services provided to the small business market.
Canstar's Business Banking Star Ratings compare the price and features of a range of banking products for businesses, including savings and transaction accounts, credit cards and loans.
Products that offer business customers a combination of price and features that place them in the top 10% of the market are recognised by being awarded a 5-Star Rating for Outstanding Value.
Canstar Research also factored in a review of each institutions term deposit offering over the past six months. This was a new addition to Canstar's review reflecting the diverse nature of how businesses interact with their institution and the changing deposit interest rate market.
Beyond products, this award also considered a range of other services offered by financial institutions such as the branch network, availability of dedicated relationship managers, functionality of online banking platforms and point of sale terminals.
Canstar Research found one of ANZ's key strengths was in business lending, where it received a 5-Star Rating for business term loans across three different types of security (commercial, residential and unsecured) and on commercially secured overdraft.
ANZ's Business Advantage account received a 5-Star Rating for high transactors (100 transactions per month) in Canstar's Business Savings and Transaction Account Star Ratings.
Canstar Research also found ANZ offered a large range of business credit cards, providing customers plenty of choice.
For businesses revolving a balance on their credit card from month to month, ANZ offered a Business Low Rate card with an interest rate on purchases of 12.99% and a $100 annual fee.
As for businesses paying the balance in full each month, ANZ's Business Black now offers uncapped rewards points with 1.5 points per dollar for the first $10,000 spend in each billing period and then 1 point per dollar thereafter.
The Business Black card also received recognition for its combination of price and features in Canstar's Business Credit Card Star Ratings where it received 5-Stars for Outstanding Value, with features such as complimentary travel insurance and business concierge service adding to the benefits that can be unlocked by using this card for your ongoing business expenses.
ANZ's high-performing product line-up was supported by a large network of branches and a wide-reaching network of ATMs, allowing consumers easy access to their business banking facilities.
It also offered a network of dedicated relationship managers, a comprehensive online business banking platform and a proprietary mobile merchant facility for retail businesses called ANZ BladePay.
Running on Android, BladePay aims to simplify the payment experience by allowing orders to be taken directly from the terminal, coming with the option to split bills or payments and having a built-in barcode scanner.