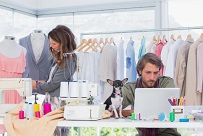 Running a small to medium sized business (SME) is an intensive and full-time role. With a high level of day-to-day pressure, there isn?t always time to take a step back and look at the bigger picture.
National Australian Bank (NAB)
has developed 10 top tips for SMEs to help keep your business on track this year.
1. Refresh your business plan
Updating your business plan (once you have found it!) can help to provide you with focus for the year ahead, and help you identify commercial opportunities and priorities.
2. Manage your cash flow
For many businesses, monthly cash flow volume will rise and fall during the year. Developing a cash flow forecast will help you to predict upcoming cash surpluses or shortages to help you manage your business.
3. Grow your online presence
The online space continues to grow and could be another important revenue stream for your business. A well-maintained website and social media presence can be a cost-effective way to market your services and products, so do your research and consider what your online presence should look like.
4. Get tech savvy
Using the latest technology is becoming vital for small to medium sized enterprises, so speak to your banker and research the best offerings for your business. Consider utilising portable mobile payment devices, cashless payment options and other mobile online tools to get ahead.
5. Keep quality records
Central to business success are good quality bookkeeping records that reveal your true position at month end. This will help you understand your current debt position, associated obligations and profitability of your business.
6. Never stop learning
The best businesses never stop learning and adapting, so keep tabs on your competitors, on consumer sentiment and shopping preferences, on the economy in general and on innovation.
7. Develop a winning collection plan
Healthy businesses stay on top of their collections. Collecting debts efficiently can boost cash flow and help you meet your commitments for the year.
8. Never lose sight of the outside world
Keep on top of what is happening in the wider world around you to identify and make the most of opportunities. A business that looks internally may only see cost challenges. Externally is where the customer sits and where the growth could be found.
9. Stay close to your banker
Talk to your banker and always provide them with an honest appraisal of your business. Your banker can better support you and your business if they are across all the facts. Many financial institutions have excellent education resources for their business clients.
10. Go forward with a positive mindset
Make it a priority to be on the lookout for opportunities to grow in 2014. Successful businesses adapt and are willing to turn challenges into opportunities. Keep in touch with your relevant organisations, such as COSBOA and any relevant industry associations.
Small business and stress can often go hand-in-hand; make this year a positive one for your organisation.