By Alan Greenstein, CEO, Zagga.
The Australian alternative finance (Alt-Fi) market is booming, and if there's a category leading the charge it's Peer-to-Peer (P2P), or marketplace lending.
In 2017, the Australian Alt-Fi market grew by 53%, making it the second largest Alt-Fi market in the Asia Pacific. Figures from 2016 showed P2P – combining personal lending, business lending and real estate lending – made up 57% of the entire Asia Pacific Alt-Fi market.
So what is P2P? How does it work? And why are both investors and borrowers increasingly looking to P2P as part of their investment strategy or to meet their funding needs?
What is P2P or peer-to-peer lending?
P2P (or peer-to-peer lending) is an online marketplace, bypassing the traditional credit providers (banks, building societies or credit unions) by directly matching investors, who become the "funders", and borrowers.
Funding comes from investors, who can be individuals or entities, and can be used by borrowers for a variety of reasons, including personal loans, business funding, or property construction or development.
Traditionally, if a business or consumer needed a loan, they would turn to the banks and keep their fingers crossed, with few secure alternatives if the loan was declined. P2P launched in Australia in 2012 and there are now many different P2P lenders offering an alternative to banks for a range of borrower and loan types.
There are lots of options when it comes to selecting a P2P marketplace. Some focus on smaller value consumer lending, some on larger value business lending. Some P2P lenders offer secured lending while others offer unsecured lending. Essentially, not all P2P lenders are the same – there are lots of variations to suit different needs – so it's worth doing some research to understand the different options available.
Key questions to ask when comparing P2P options:
Is the lender licensed?
What licenses do they hold?
What is the target market – consumer, business, property or other lending?
How are investments structured, for example, does the platform pool funds with others?
How transparent is the P2P platform with their rates, fees and terms?
For a borrower, what are the interest rates and fees associated with the loan?
For an investor, what are the likely returns and ongoing fees?
How do I get a P2P loan?
The next step to get a P2P loan is to register as a borrower or an investor on the P2P platform. While the online registration process tends to be relatively simple, security is a key part of the process for most P2P platforms.
This includes ID checks and full compliance with many of the same requirements as banks, including Anti-Money Laundering and Counter-Terrorism Financing.
As with any application through a traditional funding channel, borrowers on P2P platforms also have to undergo a credit assessment which contributes towards determining borrower rates and investor returns.
Matching investors and borrowers
This is where the really interesting part kicks in – the matchmaking.
All P2P lenders manage the matchmaking process differently. Some leave it entirely up to the borrower and lender, opening up available loan opportunities to an auction-style or 'marketplace shopping' scenario. However, we're increasingly seeing technology play a key role.
At Zagga for example, we use a bespoke algorithm that matches investors with borrowers based not only on the particular information provided by a potential investor about their risk profile and investment preferences, but also based on individual investor behaviour.
Once a match is made and both parties are happy, many P2P marketplaces will draw up the contracts and manage all administration.
While all P2P platforms are slightly different, this simple video provides a good overview of what to expect from the process:
P2P for investors
For investors, P2P lending can offer higher returns compared with other investment classes. Rates and returns are calculated differently across platforms depending on their funding profile and business models, so it is a good idea for investors to research these upfront.
At Zagga we expect our loans to offer an average return of 8.0% p.a., although we have instances where returns have been substantially higher at 12% pa, for our investors, given the specific circumstances of each loan.
Choice is also key, with investors able to choose to fund all or some of the loan amount. With most P2P lenders, investments are based on approved loans to creditworthy borrowers.
P2P lending can also provide regular monthly cashflow for the duration of the loan term, subject to the terms of the investment of course. It can also, in some cases, provide the opportunity for portfolio diversification, while retaining absolute control over which loan, how much and what borrower types to fund.
Pros of P2P for investors
Returns – returns can be higher than other investment classes which may make P2P lending an attractive part of a diversified investment portfolio.
Choice – investors can choose what loans to invest in based on their personal preferences, and risk can be spread by contributing smaller amounts to a variety of loans.
Cons of P2P for investors
Timing – investors may have to wait a while for the right loan to come along, and there'd be no interest earned during this time.
Security – not all marketplace lenders offer secured lending, which means an investment may be at risk if the loan defaults.
Some other questions for investors to consider include:
Is the loan secured and if so, how?
How are repayments structured and how long will it take for the investment to be fully repaid?
Are there any management fees involved or fees on investments or repayments?
What happens if the borrower defaults – will the P2P lender take any action to recover the investment and what costs may be involved?
Does the P2P lender accept retail investors, or do you need to meet the classification of a wholesale/sophisticated client?
Is there a minimum investment amount and are you comfortable investing that amount?
How much information about the borrower and loan does the P2P lender share with potential investors?
What is the duration of the investment and can you withdraw my investment at any time?
P2P for borrowers
The overall appeal of P2P for borrowers tends to be the ease and speed of the application process, as well as the flexibility of the credit policy, loan terms and loan assessment. P2P interest rates tend to be loan-specific and based on risk and borrower strength.
Loan purpose, type of security and location, loan size and loan to valuation ratio (LVR) are all factors that may contribute to how a P2P lender will calculate the final interest rate. As circumstances differ, so do the interest rates offered; these can vary quite significantly from lender to lender and between P2P lenders and banks.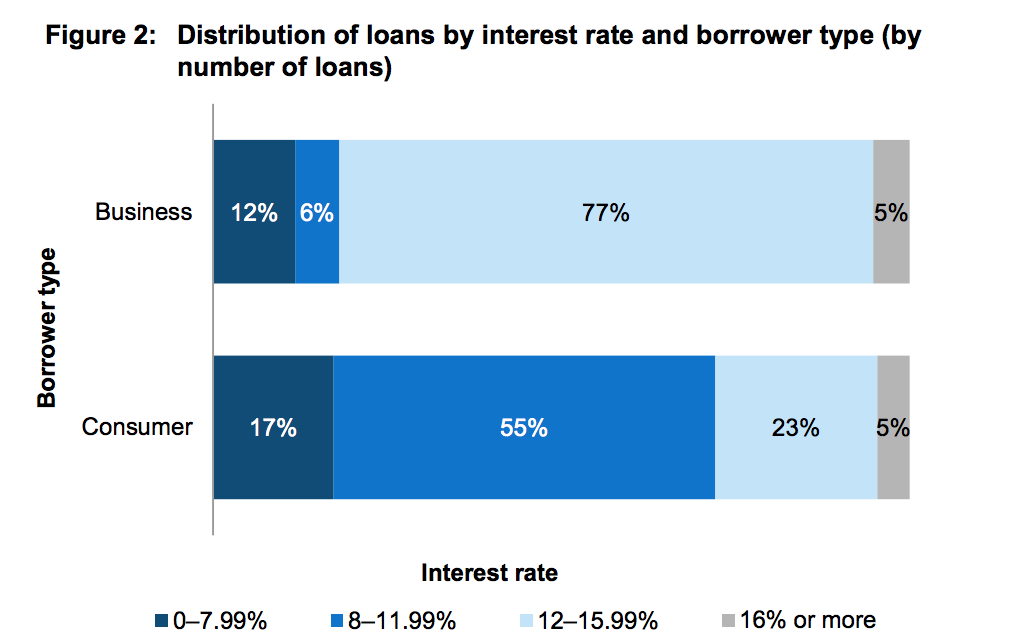 Borrowers will also likely be subject to a fee charged by the P2P platform to facilitate the loan. These fees differ from platform to platform so borrowers need to check these carefully upfront.
Pros of P2P for borrowers
Competitive rates – rates offered by the peer-to-peer lender are usually tailored to the borrower's situation and credit strength, which means they can be lower than those offered by the banks.
Ease – borrowers can apply anytime, anywhere online, and while P2P platforms still require the same types of information as a traditional bank, applications are quick and funds can often be released within days.
Cons of P2P for borrowers
Fees – many marketplace lenders will charge different fees which can make it difficult to compare like-for-like.
Loan term – marketplace lending is currently intended to solve short-term financing needs so the loan term options are generally much shorter than those offered by the banks.
It's clear that the P2P market is growing rapidly. ASIC's recent survey of marketplace lending providers reported the level of borrowers and amount borrowed doubled between 2015/16 and 2016/17. P2P offers a real alternative to traditional funding and investments, so whether you're considering a loan or looking at opportunities for your investment portfolio, it might just be worth taking a closer look at P2P.
Alan Greenstein is the CEO of Zagga – a new, alternative investment platform in Australia, connecting wholesale/sophisticated investors with quality, creditworthy borrowers via an online marketplace.