Gold has had a great run over the past 12 months, but will this continue?
Gold is well and truly back on the investment radar this year, with the price rising above $A2,200 per troy ounce in 2019. In the year to the end of October, gold rose more than 25% in Australian dollar terms, nearly doubling the return of the local sharemarket.
The rally has sparked a surge in demand for gold, including in Australia, where The Perth Mint has seen a substantial increase in the number of people investing in gold through its multitude of investment solutions.
Why has gold rallied this year?
The rally in gold over the past twelve months began with the rise in sharemarket volatility seen during the last quarter of 2018, with the ASX's All Ordinaries index losing almost 15% of its value in that three-month period. That decline helped drive demand for gold, an asset which has traditionally held or increased in value during volatile times and as such is often regarded as a "safe haven" investment.
This year gold prices have continued to trend higher, despite a recovery in many stock markets. Gold's steady rise this year has been driven by factors like:
A plunge in global bond yields has been good for gold, as lower government bond yields tend to encourage investors to seek alternative safe haven assets, including gold.
Interest rate cuts in the United States and in Australia, with the local cash rate cut to an all-time low of 0.75% in October 2019. Gold generally performs well when interest rates are low.
Escalating geo-political tensions in the Middle East.
Continued concerns about the US-China trade war.
What is the outlook for gold over the next year?
Given how far the gold price has risen in the last year, a period of consolidation or sideways movement would not be unexpected.
Over the medium- to long-term, the gold price is likely to be supported by a number of factors, with current market pricing suggesting markets will remain in a low to negative real yield environment for some time to come.
That will likely be positive for gold, while the potential for equity market declines and a slowdown in economic activity will also drive safe haven demand and could support rising gold prices.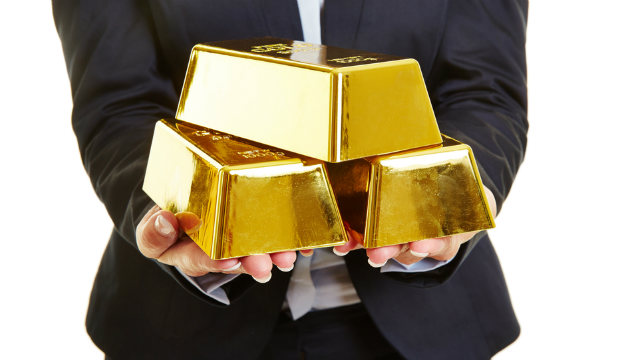 The role of gold in your portfolio
There are a number of reasons investors may choose to own gold in their portfolio. These include:
Strong long-term returns: The price of gold in Australian dollars has risen by approximately 9% per annum since the start of the 1970s.
Outperformance in low real interest rate environments: Gold has historically risen by 20% on average in years where real interest rates (rates after allowing for inflation) are low, outperforming other assets in the process. This outperformance is driven by the low rates themselves, which motivate investors into hard assets like gold.
Hedge against equity market risk: Gold has historically been the highest-performing single asset class in years where the Australian sharemarket has fallen, as investors turn to gold as a way of protecting and growing wealth in such environments.
Currency diversification: Gold provides currency diversification for Australian investors, who will benefit from any fall in the value of the AUD.
Australian investors face a unique challenge as they attempt to protect and build wealth in the next decade. Sharemarkets are exposed to a high degree of risk, with a number of economic indicators highlighting the fact that the global economy is weakening, with recession risks unlikely to disappear anytime soon.
Meanwhile, most central banks including our own are back in easing mode, meaning traditionally low-risk assets such as cash and bonds are likely to deliver low or even negative returns in the coming decade.
In such an economic environment, gold should continue to find favour.
---

About Jordan Eliseo
Jordan Eliseo is Senior Investment Manager at The Perth Mint. Jordan is a precious metals and market analyst, with almost 25 years experience working in financial markets.
Main image source: itti ratanakiranaworn (Shutterstock)