One of the worst weeks on the ASX in recent years has ended, and Domino's Pizza is one of few companies to escape unscathed.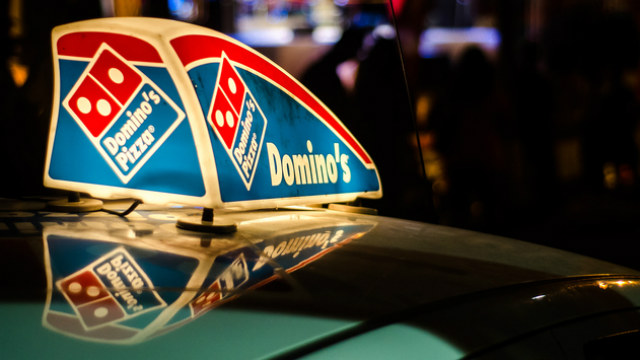 The fast-food chain rose by 3.1% this week – the only stock on the ASX200 to experience a rise of more than 1%. For comparison, last week's biggest winner, Sirtex Medical (SRX) rose by 18.4%.
This rise is likely due to the impending release of its first-half profit results, with analysts from Morgan Stanley expecting a net profit after tax growth of 13.9%, rising to 27.9% in the second half.
"Investors shouldn't be alarmed by relatively soft first-half profit growth relative to the approximate 20 percent full-year profit growth guidance," Morgan Stanley analysts said.
Top 5 Winners and Losers of the ASX200 (05/02/2018 to 09/02/2018)
Winners
Losers
Rank
Change (%)
Rank
Change (%)
1
Domino Pizza Enterprises (DMP)
3.1
1
Beach Energy Ltd (BPT)
-14.5
2
Fortescue Metals Group (FMG)
0.9
2
Lynas Corporation (LYC)
-13.6
3
Aconex Ltd (ACX)
0.5
3
Tabcorp Holdings Ltd (TAH)
-12.7
4
Shopping Centres Australasia Property Group (SCP)
0.5
4
Platinum Asset (PTM)
-12.5
5
Sky City Entertainment Group (SKC)
0.1
5
Origin Energy (ORG)
-12.3
Source: Canstar Research, February 8, 2018
Data source: Market Index
It's been a horrible week all round for Aussie traders, with big falls on Monday (1.5%), Tuesday (3.3%) and Friday (1%) on the ASX200.
This was largely led by a significant downturn in the US, where the Dow Jones experienced record falls.
"It's been a tumultuous week in equity markets all around the globe this week with the US coping it's highest point drop in history in overnight trading on Monday," said Canstar's General Manager of Wealth Josh Callaghan.
"This led to our local market taking a hit on Monday which it has not yet recovered from closing the week at 5,838, down 283 points or 4.6% from the open on Monday.
"None of the main sectors escaped the carnage this week despite some strong numbers coming from the start of the reporting season, particularly in the finance sector from both NAB and AMP.
"Both companies bounced back stronger than the rest of the market off the back of the good news."
At the other end of the scale, Beach Energy experienced the biggest share price drop of 14.5%. Another energy company, Origin Energy, fell by 12.3%.
Tabcorp's fall of 12.7% this week came amid the release of the company's financial results, which missed financial expectations, largely due to costs associated with an $11 billion merger with Tatts.
Origin Energy, meanwhile, flagged a $533 million hit on its half-year results following a $360 million impairment on its Ironbark gas field.