Left your Christmas shopping to the last minute, with no time to get to the shops? Not a problem – select Express Post or a Courier Service and avoid the crowds and the stress.
There's no denying that some of us like to leave our Christmas shopping to the last minute – the year seems to fly by and suddenly it's December again and we're wondering whether we really want to brave the shops. Maybe Aunt Grace would be happy with some of our half-used bath bombs and a chocolate bar from the service station…?
Give Aunt Grace something better. Get online, select Express Post or a Courier Service, and continue life as normal while you wait for your gifts to arrive.
If you need some guidance before you just jump online looking for presents, one easy principle is to go to the online stores of the places you would normally have visited in person. That way, you know they have a store in Australia – so you can roughly estimate what your online shopping shipping times could be.
Shipping by Christmas: When can you expect it to arrive?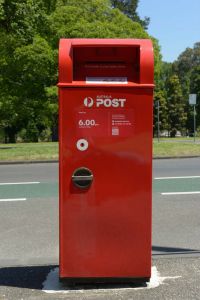 When it comes to shipping by Christmas, whether it's a gift for loved ones or plain old self-gifting, Australia Post has issued the following guidelines:
Within Australia shipping: Varies by choice of postal method (Parcel Post, Express Post, or Courier Post). See their Christmas postage guide for opening hours and delivery dates. Final date for deliveries already in the postal system: 24 December.
International shipping: Varies by country. Check AusPost's international postage guide.
The AusPost website maintains that they can achieve the following delivery times, not accounting for the December rush:
Domestic letters: 2-6 business days (Regular), 1-4 days (Priority), 2-6 business days (Registered), or next business day (Express)
Domestic parcels: Same day (Courier Post), next business day (Express Post), or "2+ days" (Parcel Post).
International post: 1-2 business days (Courier, metro areas), 2-4 business days (Express, metro areas), 6+ business days (Standard), 10+ business days (Economy Air up to 2kg), 30+ business days (Economy Sea over 2kg)
Please note that the final dates for posting Sea Mail parcels for guaranteed Christmas delivery have now passed. These final sea shipping days happen as early as mid-August to late September for most overseas destinations.
Case Study: Will it get there?
I did all of my Christmas shopping online through several different retailers in November 2015, using the Express Post option for everything, and the results were impressive. The online shopping shipping times I experienced varied from next-day delivery to 4 business days. Not quite the "next business day" guaranteed by AusPost, but not dreadful, either.
However, many other customers were not similarly pleased with Australia Post's achievements. Retail customers and businesses alike were raging over delayed and downright missing deliveries through AusPost (SMH, Dec 2015). Customers overran the AusPost Facebook page last Christmas with complaints of letters taking weeks to arrive – or not arriving at all.
Alternatives to traditional post
Should you be considering alternatives to posting your mail the normal way?
Canstar Blue researches and rates customer satisfaction in Courier Services For Small Business, so it might be worth checking out their September 2016 ratings for some of the brands they rated highly.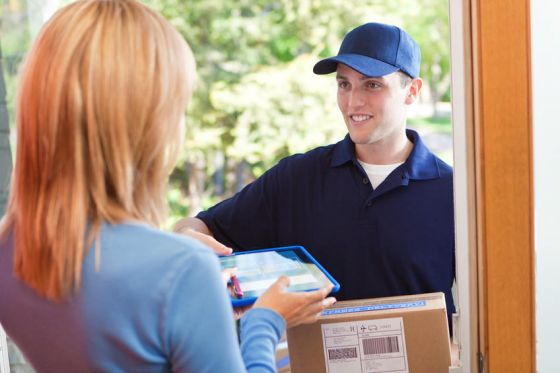 And of course, there are alternatives to posting gifts – such as sending an international money transfer to your loved ones overseas. That way, they can buy what they really want for Christmas – and make the most of the Boxing Day sales, too.
Compare International Money Transfers
Why we love shopping online
These days, shopping online for Christmas just makes sense. A 2015 survey by ING showed that 43% of Aussies do their online shopping on the go using their smartphone.
Just remember, come July 2017, we'll be paying GST on more of our online shopping than ever before. So enjoy this year's Christmas shopping online – before the tax hits hard.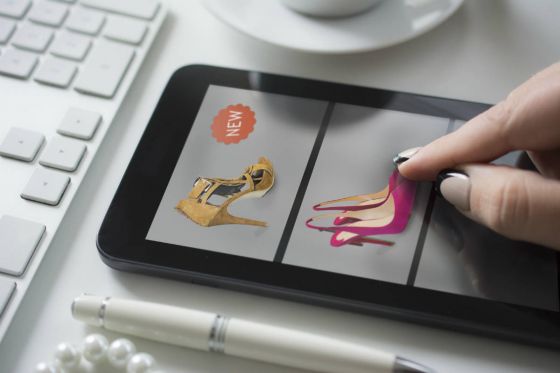 And we do everything else online as well, because it's just so much more convenient for our busy lifestyle. Want to check that you have the funds in your bank account before you purchase a teddy bear to send to your nephew in the UK? You can do that from the mobile banking app on your smartphone, with many financial institutions.
A recent Canstar Blue survey of more than 3,500 Australian adults found that 90% of respondents use online banking. Even the seniors are getting in on the act! 86% of 60 – 69-year-olds with internet access were using online banking.
Compare Mobile Banking Apps & Online Banking
This advice is general and has not taken into account your objectives, financial situation, or needs. Consider whether this advice is right for you. Consider the product disclosure statement (PDS) of any loan before making a purchase decision. For more information, read Canstar's FSCG.