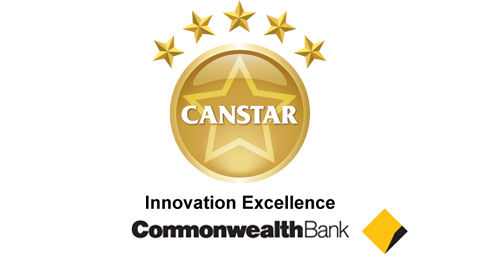 Each year CANSTAR highlights financial innovations within Australia that we believe represent excellence in their field. An innovative product should be a first in the market – even perhaps open up a new market. The degree of innovation should also be sufficient to have a real impact for both consumers and competition. And, of course, something that?s truly innovative can?t help but have that "wow" factor and the overall impact the product could have.
In 2015, CANSTAR is please to congratulate Commonwealth Bank for winning an Innovation Excellence award for an extremely useful new feature: Cardless Cash.
What is the product?
Cardless Cash is a first-of-its-kind service in Australia allowing CommBank customers to withdraw up to $200 per day in cash at most CommBank ATMs without using a card, simply by using the CommBank app on their smartphones.
Cardless Cash addresses a common customer need by providing easy access to cash in situations when it?s needed most – a lost or stolen card, or the simple act of leaving a wallet at home. Cardless Cash even allows a loved one to collect the cash. This function can provide assistance to a friend or family in emergency situations and takes the mobile wallet concept to the next level.
From the CommBank app, customers can select "Cardless Cash". The app will generate two secure codes and point customers to the nearest ATM for collection. Customers then have up to 30 minutes to key in those two codes at the ATM to collect their cash.
Standout features
The standout features that caught the eye of the CANSATR team were:
• Free. Cardless Cash is available to all CommBank app customers free of charge.
• Easy. The feature on the CommBank app is clear and easy to use, especially for first-timers.
• Wide Appeal. CommBank was first to leverage an app-based solution, opening up the functionality to all CBA customers and the largest ATM network in Australia – over 3,000 CommBank ATMS across the country from day one of the service.
• Secure. When the Cardless Cash is requested and secure cash code and cash PIN sent directly to the customer?s phone, customers have 30 minutes to get to the designated ATM and pick up the money. CommBank says of 70% of withdrawals are completed in less than 30 seconds, showing how fast and convenient the service is.
CANSTAR?s verdict …
The majority of Australian adults have a smartphone; it makes sense that this device should also double as a means to withdraw cash from an ATM.
Commonwealth Bank was first to market, integrating its Cardless Cash feature into its CommBank app. This elegant technology certainly gave the CANSTAR researchers the "wow" factor and we predict both a wide take-up and wider rollout across the industry.