Unlike consumers, Australia's most senior finance executives are overwhelmingly optimistic about the future.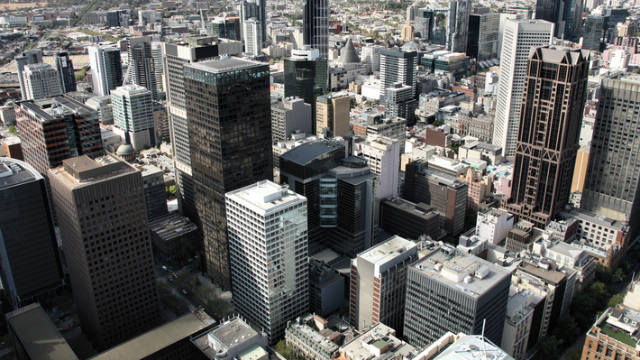 Based on their survey of chief financial officers (CFOs) from major Australian listed companies, Deloitte's CFO Sentiment Report for the first half of 2017 has found that:
83% of CFOs were "optimistic about the financial prospects of their companies"
25% were more optimistic than they were 6 months ago
"Confidence amongst CFOs continues to improve alongside the positive fortunes of the global economy," the report said.
"While uncertainty still exists, Australia's most senior finance executives remain comfortable in the face of the challenges it presents.
"Risk appetite is up, innovation and technology – from blockchain to automation – remain keys to productivity improvements, and workforce wellness has emerged as an important focus."
The Deloitte report also found that, following initial and serious concern in the wake of Donald Trump's election, CFOs had relaxed their expectations regarding the impact of this event on their businesses.
Over two-thirds of CFOs now believe that their business will be unaffected by Donald Trump's election in the short run
Nearly half of CFOs don't think any impact will be felt over the longer term
In terms of overall certainty levels reported by CFOs, the findings were still significantly positive, with 73% of respondents reporting "above normal" to "very high" levels of uncertainty.
However, this was a slight decrease from the record high 78% in the second half of last year.
Additionally, 93% of CFOs believe that tax reform is key to promoting economic growth, with many CFOs reporting to have lost faith in the possibility of the current government delivering tax reform.
Consumers split on economic confidence
Contrasting with the findings of the Deloitte report, the latest consumer sentiment figures from the Westpac-Melbourne Institute has found that Australian consumers are less confident when it comes to their finances and the economy.
July marks the eighth month in a row that this index has been below the 100-point mark (96.2), indicating that a majority of respondents are not confident.
Additionally, the survey found that:
More than half of all respondents reported their finances being worse than they were a year ago
The same number expected economic conditions to go downhill in both the next 12 months and over the next 5 years
Overall index scores were below 90 points for individuals earning <$60,000 a year, but above 100 points for those earning >$80,000
Overall sentiment differing based on political preference
Respondents to the survey were, as per usual, split by political preference when it came to their overall sentiment:
Coalition voters had an overall consumer sentiment index of 110.1
Labor voters had an overall consumer sentiment index of 94.4
Greens voters had an overall index score of 91.2
Other/undecided voters scored only 86.4
While supporters of the party currently in power usually register a higher level of confidence than Opposition supporters, the fact that even Coalition supporters are only slightly above the 100-point mark is cause for concern.
Speaking to The Australian, Westpac consumer economics specialist Matthew Hassan said that overall sentiment was being heavily affected by those who didn't vote for one of the two major parties, saying that "swing voters and minor party voters are considerably more downbeat".
Mr Hassan said consumer sentiment is typically stronger when the government is clearer about the direction of the economy.
"What is lacking is an economic narrative. It is not clear what the new growth drivers will be," he said.
Sentiment disparity potentially due to wage growth disparity
It's possible that the coinciding increased business confidence and lukewarm consumer confidence could be due to a huge gap between corporate profits and wages.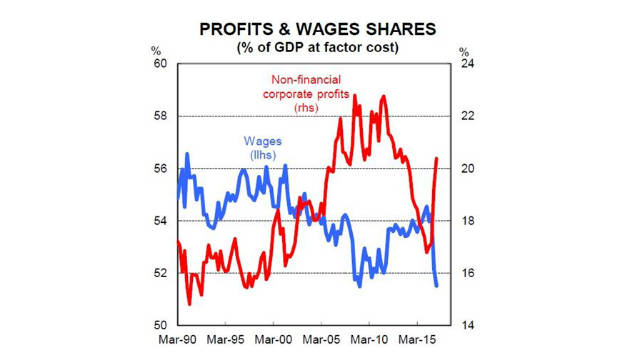 Source: Commonwealth Bank
As per the above chart, corporate profits have increased significantly over the last year due to boosts to commodity prices – they currently sit at 20.4% of GDP, compared to a low of approximately 17% in recent years.
By contrast, the wages share of GDP has sunk sharply, falling from just over 54% in recent years to match 2009's low point of 51.5%.