2016 kicked off with share market turmoil amidst economic uncertainty. But now, post-federal election, how are businesses feeling?
More than anything else, uncertainty is not good for businesses overall and Roy Morgan's latest business confidence figures showed a pleasing lift in business confidence post the final outcome of the federal election. Business Confidence is now back above the 5 year average (116.7).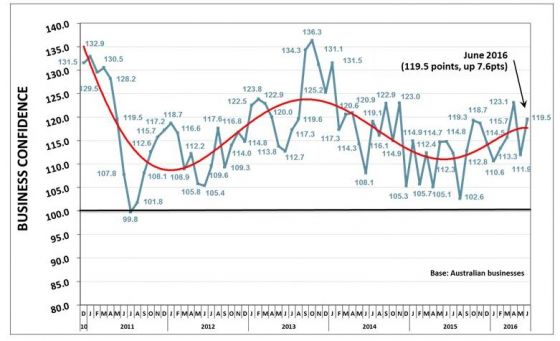 Source: Roy Morgan Business Single Source (Australia), December 2010-June 2016. Average monthly sample last 12 months = 1,012.
The July Sensis Business Index concurred, placing business confidence among SME's at its highest level in five years.
The Index, which reflects the views of 1,000 small and medium businesses from across Australia, also found that perceptions of the economy improved by 14 points this quarter, although they remain negative overall on -8.
"Perceptions of the economy have been negative for some time, and while they remain negative, they have improved to the best level we've seen in two years," said Sensis Chief Executive Officer, John Allan.
"Concern about the economic environment has halved, with only one in twenty businesses now worried, while the number of businesses reporting a lack of work or sales as a barrier to taking on new staff fell from 51% to 38%; the lowest level we've seen since September 2014."
Non-mining recovery is on track
According to NAB's quarterly business survey, economic expansion seems to be on track.
Firms are continuing to suggest quite strong investment intentions for the next 12 months, consistent with the steady rise in capacity utilisation rates, while near-term employment intentions improved and longer-term employment intentions remained relatively solid.
This finding is consistent with business loan search behaviour on CANSTAR's comparison site, with a significantly higher percentage of business loan searches in July being for amounts over $750,000, compared to the monthly average. In July 22.6% of business loan searches on CANSTAR's site were for an amount of $750,000 or more, compared to a monthly average of 16.5%.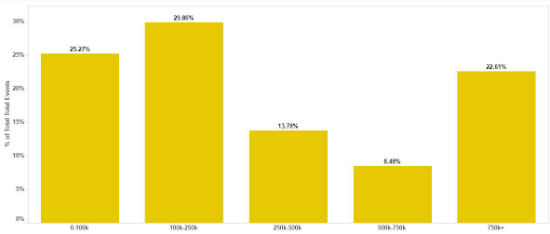 Source: CANSTAR. Based on more than 10,000 unique users on the CANSTAR business loans comparison tables over a 7 month period from Jan – Jul 2016
According to NAB Group Chief Economist Alan Oster, "firms are still quite upbeat about the outlook, albeit not as much as they were last quarter. Firms' expectations for business conditions in 3 and 12 months' time were pared back a little, but are still quite positive. Optimism about the outlook should bode well for the labour market and business investment going forward."
The Survey is also continuing to show very moderate inflation pressures, which is also working to keep wage pressures contained. Firms expect both their own prices and labour cost growth to ease a little further in the coming quarter. According to Mr Oster, "the outlook for business activity in this Survey should make the RBA reasonably comfortable, but the inflation picture raises the possibility of an August cut".
Roy Morgan Research's Thoughts
Industry Communications Director for Roy Morgan Research, Norman Morris, said the end of the long federal election campaign was a primary cause of the business confidence boost in June.
"As it turns out, the Coalition victory was much closer than expected and Business Confidence in July may 'take a hit' – especially given the increased size of the crossbench in the Senate," he observed.
"All businesses will have their eyes on the Coalition's promised corporate tax cuts – reducing the corporate tax rate for large businesses to 25% (from the current 30%) over the next decade. The Coalition's election victory means this policy is still on the agenda and the prospect of tax cuts over the next few years should continue to support Business Confidence. Investment certainty is crucial for larger businesses undertaking major projects with substantial investment expenditure.
"Looking at the States shows Business Confidence in June was driven higher by increases in the eastern States of New South Wales, Victoria, Queensland and Tasmania – where it remains the highest in the nation. In contrast, Business Confidence declined slightly in the resource intensive States of South Australia and Western Australia.
"However, the prospects for South Australia are looking up with the SA focused Nick Xenophon Team (NXT) holding the balance of the power in the Senate and already advocating for policies favourable to SA. The SA economy faces a challenging 18 months given the troubles surrounding steel manufacturer Arrium, currently in administration, and the impending closure of the Australian automotive industry over the next 18 months."