Micro-investing apps are becoming more and more popular. Raiz (previously Acorns Australia) was one of the first ones to hit our shores. We delve into exactly what Raiz is and how it works.
What is Raiz?
Raiz is a micro-investing app that allows you to automatically invest your spare change into a diversified portfolio of exchange traded funds (ETFs). Raiz is about investing small amounts of money on a regular basis and accumulating wealth over time, without affecting your lifestyle. It can be thought of as the digital equivalent of a coin jar.
How does Raiz work?
The app has been designed and built to ensure for the optimal user experience. Once you download the app, Raiz will ask for some personal details in order to suggest an investment portfolio combination that matches your nominated risk profile. Raiz is linked to the user's bank account and credit cards upon sign-up. Depending on who you bank with, this should be a fairly straightforward process. However, some financial institutions may require an RSA token for login.
Once the registration is complete, you may elect how much you would like distributions to round up to. The default is for purchases to round up to the nearest dollar, meaning that every time you spend $4.20 on a coffee, $0.80 would also be transferred to your investment account. Once $5 worth of change has been accumulated, it is invested in your elected investment option.
What fees do Raiz charge?
Raiz is completely free to download. Once an account is opened, there are no fees on $0 balances. A standard portfolio account has a monthly fee of $3.50 for accounts with a balance of under $10,000 and 0.275% annually for accounts with a balance of $10,000 and over. You can deposit additional funds at any time to increase your investments, and also make unlimited withdrawals at any time without incurring any fees. There are also no fees for switching investment options.
Where does Raiz invest your money?
Raiz has constructed diversified portfolios using exchange traded funds (ETFs). Raiz offers users the option to invest in five different diversified portfolios: conservative, moderately conservative, moderate, moderately aggressive and aggressive, based on your nominated risk profile.
So you've got some money put aside and want to start investing. Now what? Download our FREE Investing for Beginners eBook:
Raiz Q&A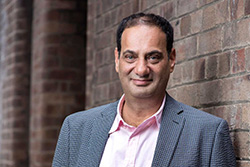 Canstar caught up with George Lucas, CEO and Director of Raiz, for some insight into current user behavior.
Q: What is the benefit for self-directed investors in using Raiz? What advantages does Raiz have over its competitors?
A: Raiz is not an 'either or' product. We expect self-directed investors to use Raiz along with their other saving or investment strategy. Raiz is about investing small amounts of money regularly and learning that you can do this without affecting your lifestyle. However, for the services Raiz provides it is good value. It also allows new investors, who previously wouldn't have been able to start investing because they did not have large amounts saved, to begin investing.
Q: Can you explain how investing the change works?
A: It is a digital equivalent to a coin jar. When you sign up to the full features of Raiz it can monitor the spending on the debit cards or credit cards you link. If you spend $3.50 on one of these cards, for example on a coffee, $0.50 will be invested into Raiz. Raiz keeps track of all these small investments and when they reach $5 or greater withdraws the amount from your linked funding bank account (not your credit card).
The table below displays some of the International Broad Based ETFs available on our database with the highest three-year returns (sorted highest to lowest by three-year returns and then alphabetically by provider name). Use Canstar's ETF comparison selector to view a wider range of products. Canstar may earn a fee for referrals.