Fintech platforms are opening the world of investment to the masses with solutions that combine easy functionality with engaging analysis. One of the current leaders in automated investment right now is Acorns.
Note: as of April 2018, Acorns Australia is now known as Raiz. 
What is Acorns?
Acorns is a revolutionary new automated investment service delivered via an easy to use phone app. It allows you to automatically invest your spare change into a diversified portfolio of exchange traded funds (ETFs). Acorns enables Australians to start early, invest often and reach their financial goals.
The Australian version of Acorns launched in Australia in February and is already reported to have over 50,000 signups. Acorns is about investing small amounts of money on a regular basis and accumulating wealth over time without affecting your lifestyle. It can be thought of as the digital equivalent of a coin jar.
How Does Acorns Work?
The app has been designed and built to ensure for the optimal user experience. Once you download the app, Acorns will ask for some personal details in order to suggest an investment portfolio combination that matches your nominated risk profile. Acorns is linked to the user's bank account and credit cards upon sign-up. Depending on who you bank with this should be a fairly straightforward process. However, some users may bank with a financial institution that requires an RSA token for login.
Once the registration is completed the user may elect how much they would like distributions to round up to. The default is for purchases to round up to the nearest dollar meaning that every time you spend $4.20 on a coffee, $0.80 would also be transferred to your investment account. Once $5 worth of change has been accumulated it is then invested in your elected investment option.
Acorns is completely free to download. Once an account is opened, there are no fees on $0 balances. A monthly fee of $1.25 is charged for accounts with a balance of under $5,000 and 0.275% annually for accounts with a balance of $5,000 and over. Users can deposit additional funds at any time to increase their investments and also make unlimited withdrawals at any time without incurring any fees. There are also no fees for switching investment options.
Where Does Acorns Invest Your Money?
Acorns has constructed diversified portfolios using exchange traded funds (ETFs). ETFs are tradeable securities that can be bought and sold like an ordinary stock. ETFs track an index or a basket of assets. For example, a health care ETF will track the performance of a group of listed healthcare shares. ETFs are a low cost way to deliver a highly diversified investment within a particular asset class or industry group, meaning that the poor performance of a single company or industry will have a negligible effect on the performance of the overall portfolio.
Acorns offers users the option to invest in five different diversified portfolios: conservative, moderately conservative, moderate, moderately aggressive and aggressive.  The conservative option is the lowest risk option with investments primarily made in cash and bonds. It is unlikely that investors in this portfolio will lose money and can expect to experience low levels of volatility but similarly these asset classes traditionally have not delivered high returns. On the other end of the spectrum is the aggressive portfolio which invests primarily in Australian and international shares. This portfolio is more suited for investors with a high risk tolerance who are comfortable with volatility in their portfolio and are looking for higher returns.
Acorns Q&A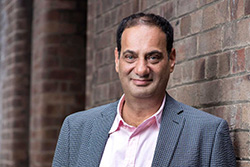 Canstar recently caught up with George Lucas, managing director of Acorns Australia, for some insight into current user behavior.
Q: What is the benefit for self-directed investors in using acorns? What advantages does Acorns have over its competitors?
A: Acorns is not an either or product.  We expect self-directed investors to use Acorns along with their other saving or investment strategy.  Acorns is about investing small amounts of money regularly and learning that you can do this without affecting your lifestyle.  However, for the services Acorns provides it is good value.  It also allows new investors, who previously wouldn't have been able to start investing because they do not have large amounts saved, to begin investing.
Q: Can you explain how investing the change works?
A: It is a digital equivalent to a coin jar.  When you sign up to the full features of Acorns it can monitor the spending on the debit cards or credit cards you link. If you spend $3.50 on one of these cards, for example on a coffee, fifty cents will be invested into Acorns. Acorns keeps track of all these small investments and when they reach $5 or greater withdraws the amount from your linked funding bank account (not your credit card).
Q: What is your business expansion philosophy?
A: At the moment Acorns' strategy is to encourage as many Australians to use the app and learn how much can be saved, without affecting lifestyle, from investing small amounts regularly.
Disclaimer
ETFs are considered by ASIC to be complex financial products. Some types of ETF are more complex and risky than others. For more information on ETFs and risks associated with them, see ASIC's Moneysmart website at https://www.moneysmart.gov.au/investing/complex-investments/exchange-traded-products