Although Australia's technology sector is relatively small, there are some heavy hitters making their name here and overseas.
Investing in Technology
| RANK | Company | Market Cap (As of 30/05/19) |
| --- | --- | --- |
| 1. | Microsoft Corporation (MSFT) | $957.39B |
| 2. | Amazon.com (AMZN) | $895.65B |
| 3. | Apple (AAPL) | $816.14B |
As tech companies tend to invest heavily in research and development, they are known for the innovation and inventiveness. The growing competition in this area can also lead to a steady stream of new and improved technologies. While there can be growth opportunities in the tech sector, it is important investors have a good understanding of modern technology and the tech products available before investing.
So when it comes to the tech sector in Australia, here a few companies that have performed well recently and could be worth exploring.
Appen (APX) +116%
Appen is a global company that has been around for more than 20 years. This tech company focuses on training machine learning data through human interactions, essentially helping improve the experience for customers and companies alike.
2019 has seen Appen's share price climb steadily, in fact, it recently hit a record high of AU$27. The sudden rise in share price could be attributed to the falling Aussie dollar as the company earns most of its profits in US dollars. At the time of writing, Appen is up by an impressive 116% year-to-date.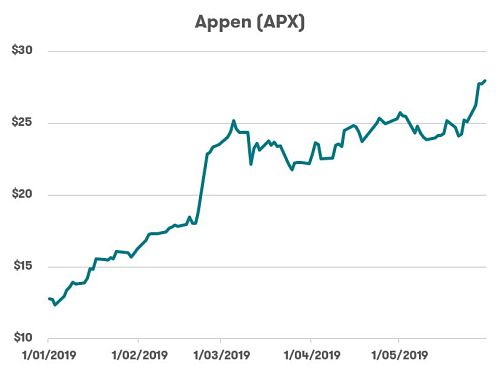 Afterpay Touch (APT) +108%
Afterpay was founded in 2015 when a generational shift in the payment behaviour of Millennials was identified. As millennials were found to be adverse to using credit cards, Afterpay allows users to pay for everyday items in four instalments rather than all up front. For users who pay on time, Afterpay is a free service. The company instead generates revenue by charging retailers for the ability to offer Afterpay to their customers. Today, Afterpay has become more or less a household name in Australia and has millions of customers globally.
Things were a little uncertain for this tech company at the beginning to 2019 with the Australian government looking at introducing stricter regulations on 'buy now, pay later' services, such as Afterpay. However, in February, it was announced that the Senate had knocked back the regulations and the market reacted, boosting Afterpay's share price. At the time of writing, Afterpay is up by 108% year to date and is trading at around AU$25.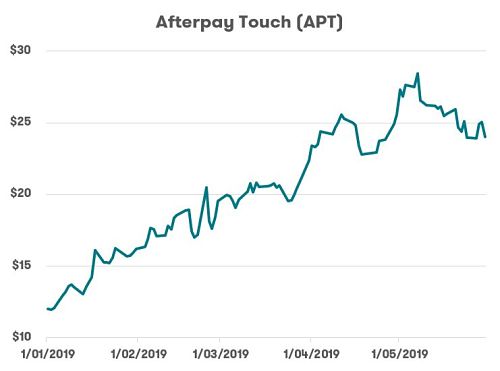 Xero (XRO) +45%
A New Zealand company, headquartered in Wellington, but listed on the ASX, Xero is a cloud-based software platform for small and medium-sized businesses. Xero's platform helps businesses with their accounting and bookkeeping needs and has been embraced around the world – currently boasting 1.8 million subscribers.
Xero has made some significant gains in 2019. The company started the year trading around AU$42 and, at the time of writing, it's trading around AU$60 – that's an increase of 45%.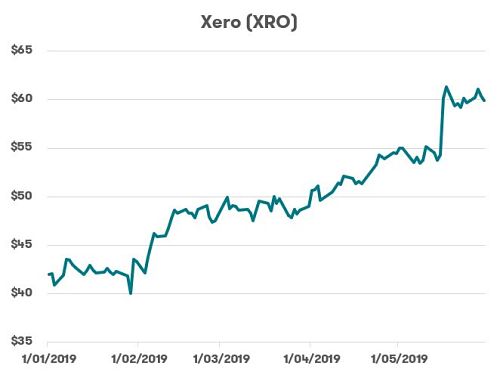 Altium (ALU) +43%
Altium was founded in Tasmania in 1985 and now has offices all over world including in the USA, China, Europe and Japan. This global tech company specialises in providing PC-based software for engineers who design printed circuit boards. Essentially, Altium's software helps companies design new electronic products and systems.
Altium has actually been listed on the ASX since 1999 and was initially trading for around $3. Today, its share price hovers around $30. Altium continued to make gains in 2019. In February its share price jumped by 25% when it was reported that the company had increased revenue by 24%. At the time of writing, the company is up by 43% year-to-date.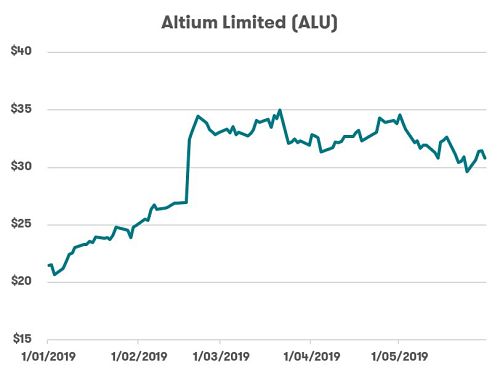 WiseTech Global (WTC) +42%
Founded in Sydney in 1994, WiseTech Global are a developer in cloud-based software solutions and operate across 130 countries. Their flagship product, CargoWise One, is an integrated end-to-end logistics execution platform with the aim of providing businesses with seamless supply chain operations.
So far, 2019 has been a good year for WiseTech, at the time of writing, the company is trading around $24 – up 42% year-to-date.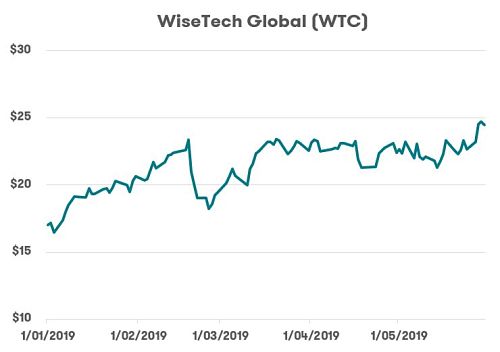 This year has seen a number of stocks boom and reach new heights, which can be quite alluring for some investors. However, it is always best to do your research and bear in mind that past performance is not an indicator of future performance. Check out our article on how to pick stocks.