Because of the lockdowns due to COVID this year, there has been an influx of new traders and investors interested in trading the stock market. Consequently, many newcomers have been asking questions about how to buy and sell stocks, and should they use a stockbroker?
How do you buy and sell shares?
To answer this question, it is important to understand the process of how buying and selling stocks takes place. The two ways you buy and sell stocks is either "off-market" or "on-market". Off-market transactions are associated with company floats, whereby a new company lists on the stock market and you invest via an offer document. On-market transactions, on the other hand, involve buying and selling stocks through an exchange, such as the Australian Securities Exchange (ASX).
The role of the ASX is to maintain a transparent market to enable buyers and sellers to exchange shares in the stocks they want to buy or sell, with each transaction facilitated through an approved stockbroker.
What is a stockbroker and how does a stockbroker work?
There are two types of stockbrokers in the market: full-service brokers and online brokers who are also known as discount brokers.
Full-service advice brokers are typically involved in the process of managing your portfolio and making recommendations about what stocks to buy and sell. Because they are more actively involved with you and your investments, they charge higher fees for their advice, which is usually reflected in the amount of brokerage you will pay.
Online or discount brokers, as the name suggests, are relatively inexpensive, as you make all of the decisions about what to buy and sell, and you simply transact online via the brokers' platform.
Deciding which broker to use really comes down to your personal circumstances. A full-service broker can be more suitable for those who are new to the stock market or for those who do not have the time to research what options to invest in. That said, some traders and investors prefer to place their orders to buy and sell over the phone rather than on the internet. It is also a service appreciated by those who are on the road and away from their desk or computer for long periods.
Full-service brokers will typically provide you with in-depth research that is designed to save you time, while also providing you with access to recommendations and markets both locally and offshore. Because full-service brokers offer personalised investment advice tailored to the investor's investment style, they generally work with clients who have a higher minimum account size, and as such are more attractive to high net worth clients and those who operate a self-managed super fund. That said, there are still some who will accept those with lower account balances.
What type of broker could be right for me?
For those who are more confident in the stock market and have a good knowledge about how to trade, an online broker can be more suitable because it offers greater investor control and more flexibility as to when you buy and sell. It can also save you money, as you are paying much lower fees than you would with an advice broker. That said, all too often I find individuals are drawn to online brokers, as they perceive them as a cheaper option but this may not be the right choice if it costs you more in lost capital and opportunity to make money in the market.
Most online brokers also have a myriad of tools and options available for you to conduct your own research so you can transact online. They also have smaller balance requirements for you set up an account.
Probably the biggest upside of online brokers is that you can monitor your investments in real-time throughout the day although this also has its downside, as it can produce anxiety and buyer's remorse if the trade goes against you. Therefore, if you are unable to manage your emotions, particularly in the early days of trading, this is where the real value of having an advice broker can help.
Regardless of whether you decide to use an advice broker or an online broker, the most important thing to focus on when making a decision is what you need, not what it is going to cost you.
Main Image Source: Gopixa (Shutterstock)
If you're comparing Online Share Trading companies, the comparison table below displays some of the companies available on Canstar's database with links to the company's website. The information displayed is based on an average of 6 trades per month. Please note the table is sorted by Star Rating (highest to lowest) followed by provider name (alphabetical). Use Canstar's Online Share Trading comparison selector to view a wider range of Online Share Trading companies.
---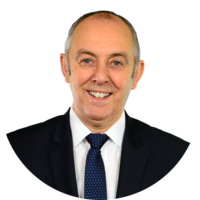 About Dale Gillham
Dale Gillham is Chief Analyst at Wealth Within and international bestselling author of How to Beat the Managed Funds by 20%. He is also the author of Accelerate Your Wealth—It's Your Money, Your Choice.
---
Thanks for visiting Canstar, Australia's biggest financial comparison site*