Chris Brycki shares his top tips to help investors make the most of sharemarket dips and rises.
This year the sharemarket will probably fall 10% at some point. This statement isn't a grand prediction about the state of the economy. Nor is it about the value of shares. It's simply an observation based on every other year – markets never move in a straight line and nearly every year there's a 10% fall (or more) at some point.
However, when it comes to markets, what goes down, eventually comes back up again. And, for both bear and bull markets, there are ways to ensure you're staying firmly on the road to investing success.
What to do when the sharemarket falls
Don't automatically sell
Many investors make the mistake of selling when the market falls. Their fear is that any rebound will take years. That's because people feel the pain of loss twice as much as the enjoyment of profits (known as loss aversion), and will often react without thinking.
However, flight-or-fight thinking is likely to have a negative effect on your returns. Market movements and losses have always been followed by longer periods of gains and recovery. But, if you exit the market in a panic, you risk not being invested when the market rebounds, and it might be too difficult to buy back in at a higher price.
Stay calm and remember that time in the market – not timing the market – is the secret sauce of long-term investing. That's why I recommend a minimum three-year investing timeframe.
Stick to your portfolio strategy
There are certain circumstances where it's appropriate to change your investment strategy. But selling investments at a low point is generally not the way to go. It's a form of market timing and is similar to selling your portfolio. Unfortunately, you'll probably end up selling investments that have fallen the most in price, which will lock in big losses.
For example, if one of our clients switched from a Stockspot Topaz portfolio (our highest growth strategy) to a Stockspot Amethyst portfolio (our most conservative strategy), this would result in selling Australian and global shares and buying Australian bonds. Doing this after a 10% market fall would harm your returns since you would be selling shares relatively low and buying bonds relatively high.
Stocks tend to do well when the economy is doing well. People buy more shares and companies have higher earnings. In contrast, when the economy slows down, investors tend to be attracted to bonds. While bonds have lower returns, they're generally seen as more stable investments and a reliable way to keep your money safe during economic lulls. This is why the price of bonds can go up when the sharemarket falls, and why you could end up buying bonds at a high price if you suddenly switch strategies.
If you have a tendency to get nervous when your investments go down, my best advice is simply not to look at your investment account as frequently. This helps prevent your short-term emotions from overpowering the long-term game-plan.
Top up your investments (if you have the means)
Market dips can be a good time to top up your investments since you're able to benefit from buying shares at a cheaper price. Think of it as a 10% off sale at your favourite store. Hardly something to run from.
Rebalance your portfolio
Rebalancing is another way to take advantage of market dips. Portfolio rebalancing is the process of re-aligning the assets in a portfolio to desired levels. It involves periodically buying or selling assets in a portfolio to remain aligned with your long-term strategy. This can be difficult to do on your own.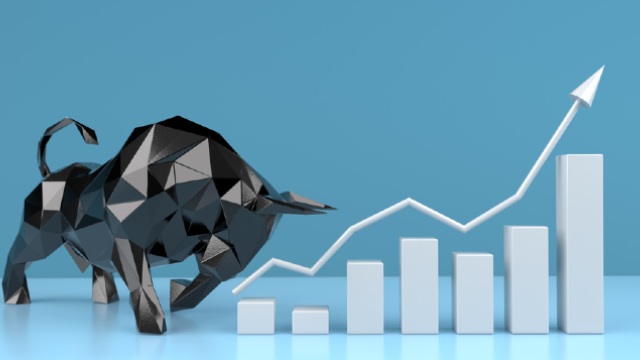 What to do when the sharemarket rises
The sharemarket rising can mean happy days for investors who have stuck out market lows – but can be stressful for those looking to buy in. Here are the best ways to ride this wave.
Stick to your investment goal
If you've reached an investment goal – congratulations! After all, that's the way to grow wealth: have a target in mind, use the right passive investment strategy, and then simply wait.
However, when markets are hot, and you're seeing dollar signs, it's tempting to sell before you've reached that initial goal.
The problem is that nobody really knows where markets are headed next. The overall long-term trend of the market is upwards, but it's difficult to say where the market will be at any given point in time. If you sell today, the market could go even higher next week – and if you haven't reached your goal, and you cashed out, it might be too hard to buy back in.
Conversely, markets can fall at any given point too. If you feel regret at not cashing out because last week you could have made a certain amount, then don't worry. If you've set yourself up with an investment timeframe that matches your goal and risk appetite, it should all work out in the end.
---
Compare Online Share Trading Accounts with Canstar
If you're comparing online share trading companies, the comparison table below displays some of the companies available on Canstar's database with links to providers' websites. The information displayed is based on an average of six trades per month. Please note the table is sorted by Star Rating (highest to lowest), followed by provider name (alphabetical). Use Canstar's Online Share Trading comparison selector to view a wider range of online share trading companies. Canstar may earn a fee for referrals.
---
Keep going with dollar-cost averaging
As the saying goes, "the best time to invest is… regularly." Instead of waiting to save up large lump sums to invest when the market is hot, the recommended approach is to dollar-cost average. It's one of the most powerful ways to get ahead when you invest, and involves investing your money gradually over a few weeks or months.
Investing small amounts regularly over a period of time means you'll buy your investments at an average price over time. That way you get to take advantage of any market dips (and pay a lower price) or gains if markets rise. You'll also get to take advantage of compound returns, which you'll miss out on if you delay getting into the market.
Ultimately, if you have a long-term goal, dollar-cost averaging can reduce anxiety and minimise regret about losing money while you invest, as well as free up brain space from the pain of trying to time the market.
Don't wait to grab a bargain
It's tempting to bag a bargain when the sharemarket drops and technically there's nothing wrong with that. The problem arises when people keep an eye on those line graphs, waiting for the price to drop even further.
There's really no way to know though if the market is going to drop – and if it rises suddenly, you'll have missed out on buying at the bottom.
Overall, the best thing to do in either a hot or cool market is to follow a few simple principles:
Don't try to time the market.
Buy when you're ready to buy.
Dollar-cost average.
Remember, good investing outcomes are the product of the long-term passive approach of buying – and holding – properly diversified assets such as exchange-traded funds (ETFs).
In short, whether the market is up or down, fortune favours those who sit back and do very little.
Main image source: Bankrx/Shutterstock.com
Chris Brycki is the Founder and CEO of Stockspot, Australia's largest online investment advisor. He sits on two Advisory Committees for the industry regulator ASIC, and was previously a fund manager at UBS. He holds a Bachelor of Commerce (Accounting/Finance Co-op Scholarship) from UNSW.
Follow him on LinkedIn.
---
Thanks for visiting Canstar, Australia's biggest financial comparison site*