Opinion: Canstar's General Manager of Wealth, Josh Callaghan
I recently did a presentation titled 'Investing 101' to introduce some of the key concepts of investing to a varied group of professionals. The premise of my presentation was that investing is the intersection of the individual, products and the market as shown below.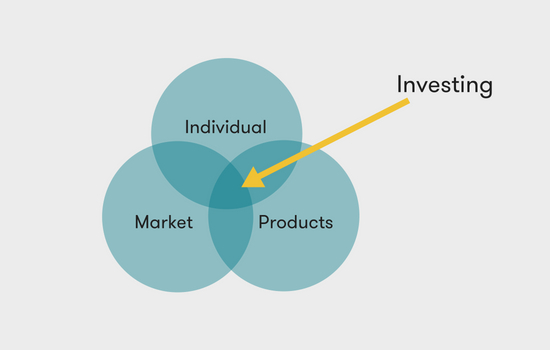 I hope that by breaking it down it will provide a frame of reference to assess the advice your given from a financial adviser and fill you with confidence to take on the world of investing.
These three topics are massive on their own and powerful when combined successfully. I wanted to give you the gist of each of them in a three-part series, starting with the 'Individual'.
Purpose for investing
When it comes to wealth creation we all have different needs, circumstances and objectives. Broadly speaking, the motivation for investing can be grouped into two purposes.
Goal based investing – set a goal and time period, and then back calculate how to get there
Wealth maximisation – setting money aside for the purpose of creating wealth with no specific timeframe
Of course, depending on your circumstances there can be a mix of both. You may be investing towards a particular goal but also have some funds leftover for general wealth maximisation.
Starting out by understanding your purpose for investing should help you determine the key aspects of your investment strategy, that in turn will likely govern how your money is invested.
Investment Horizon and Liquidity
Your motivations for investing will influence your investment horizon – that is, how long you plan to invest your money. This coupled with your personal circumstances will also enlighten the level of liquidity you may need in your investment. Let me explain.
Over the past 20 years* the share market has averaged an 8.5% return, however this blends out the large ups and downs during that time, including the GFC. Knowing your investment horizon helps to inform how many of those big ups and downs you're able to weather.
Consider someone saving for their first home with an investment horizon of five years. The benefit of a high growth asset, such as shares, might be attractive to them as it may maximise the house deposit at the end of the period. However, the risk is that just before achieving their goal, the market hits a downturn which puts them back a whole year in savings. Over the long term these downturns can be overcome by subsequent rallies in the market. If you don't have the time to wait for those rallies it can leave your nest egg significantly depleted.
Side note: This happened to a number of people who were approaching retirement prior to the GFC. Just prior to flicking their retirement savings over into an annuity that would have paid out a certain level of income through retirement, the value of their investments dropped by half. This forced many of them to remain in the workforce for a number of years longer than expected.
The other relevant element in personal circumstances is liquidity requirements. Liquidity is all about how easily you can access your funds. Bank accounts are highly liquid while direct property is not. Understanding how much of your investment you might need in a hurry can help in deciding what mix of products you choose. For example, you may want to keep 10% of your portfolio immediately accessible for any point in time as a 'rainy day' fund for the family or to have the money there for opportunistic investments.
Risk Tolerance
Overlaying the above with your risk tolerance and financial literacy will help you choose investments that don't keep you awake at night.
Risk tolerance is effectively talking about your relationship with money and in particular, your anxiety about it. Generally speaking, the more you can separate yourself from the emotional attachment to the money you're investing the greater the returns available (i.e. higher the risk the higher the returns). However, for some people, seeing their investment portfolio down 20% can cause great unrest.
In fact, one of the reasons that many people are comfortable with property investment is because despite the fact that the value of your investment goes up and down all the time, those movements are not visible. People will generally believe they'll get at least what they paid for their property and many will assume a gain. However, if you had to auction your property tomorrow with no reserve, you may find the current value quite different to what you expect. The fact that people can't see the real-time value of their property allows them a level of peace of mind – ignorance is bliss. Investors in the share market, on the other hand, can't escape the fact that their investments have moved south as it's blasted all over the news and on their broking site.
Understanding these subtleties, among other things, is why financial literacy goes hand in hand with risk tolerance. Humans are naturally risk adverse and don't like seeing their investments going backwards in value. Continually improving your investment knowledge will not only help investors to be comfortable with downward movements but will give them the tools to capitalise on such movements. It's why reading investment books and blogs (such as this one) can be financially rewarding.
Final thoughts
So, before you start investing you should determine your investment goal, risk tolerance, time horizon, liquidity requirements and how much to invest. And bear in mind, a change to any of these elements will impact the others which is what makes constructing an investment strategy so challenging at times.
Taking some time to specify each of these elements will help guide your investment strategy and provide a frame of reference for future investment decisions. Once you have a handle on these, the next step is to consider the investment menu (products) which we'll run through in Part 2 of this series.
Be sure to sign up to our newsletter below to get the next instalment on investment products.
---
About Josh Callaghan
Canstar's General Manager for Wealth, Josh Callaghan, has accumulated more than 15 years' experience in banking and finance, with in-depth product knowledge across retail banking, stockbroking, life insurance, health insurance and superannuation. Josh's experience combined with his passion for new technology and active role in the fintech community has positioned him as a credible thought-leader on the future of finance. Through his work at Canstar, Josh is striving towards a goal of creating a world where building and managing wealth is easy for all consumers.