For many of us, when thinking of investing in emerging markets, it's often China that comes to mind. However, if the impending trade war and news of its slowing economy are making you think twice about investing in the middle kingdom, neighbouring India might be a more attractive prospect.
India is one of the fastest growing economies in the world, with a population that rivals China. It's home to the world's largest democracy, a growing middle class and a number of global companies. We've gathered the facts on India to give you a snapshot on a country you may not have considered before.
Fast Facts
Population: 1.3 billion
GDP: US$2.5 trillion
GPD Growth: 7.1%YOY
Key Industries: Retail and wholesale trade, agriculture, real estate, financials and information technology.
Exchange rate: AU$1 = 50.9862 INR
Stock exchanges:  NSE (National Stock Exchange of India) and BSE (Bombay Stock Exchange)
Growth of India's Stock Market
The latter half of 2018 is shaping up to be a tough one all round. India's stock market, much like the rest of world, rose to great heights in August only to nose dive down in October. The benchmark index of the National Stock Exchange of India is the NIFTY50, and it is comprised of the 50 largest and most actively traded stocks on the exchange. As of 30 November 2018, the 1-year return of the of the NIFTY50 was 3.55%.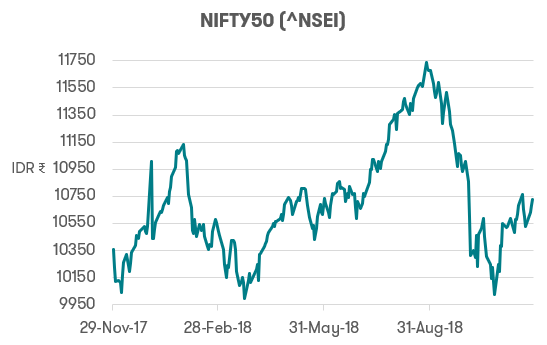 Top 5 Indian Companies by Market Capitalisation*
Tata Consultancy Services
Market cap: 7.429T INR/US$106.6B
Part of the larger Tata Group, TCS is the second-largest IT services provider in the world. They offer IT services as well as digital and business solutions across 46 countries and is headquartered in Mumbai. This year TCS is celebrating its fiftieth year in operation.
In April of this year, the company became the first Indian IT firm to reach US$100 billion market cap. However by the close of session the same day, the stock tipped below the coveted milestone. Nevertheless, it has been a particularly good year for TCS, at the time of writing their share price had risen by 50% in the last 12 months.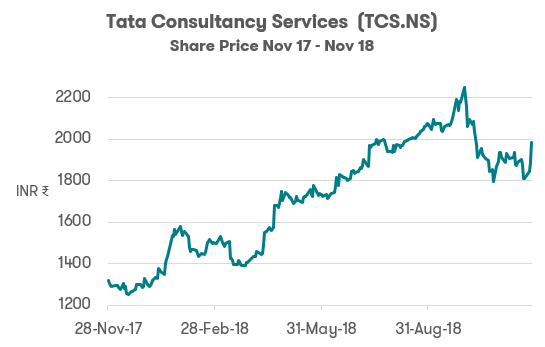 Reliance Industries Ltd
Market cap: 7.018T INR/ US$100.7B
By market cap, Reliance Industries is the largest company in India. This conglomerate owns businesses across the country that engage in energy, petrochemicals, textiles, natural resources, retail and telecommunications.
This year has been an interesting one for Reliance. At the end of the September quarter, Reliance reported a 17.3% rise in net profits – its highest ever. Despite this, their share price fell by 6% soon after. This was attributed to a number of factors including a decline in their earnings before interest and tax, as well as a fall (down 12%) in revenue from their oil and gas segment. Although, at the time of writing their 12-month return was a positive 22%.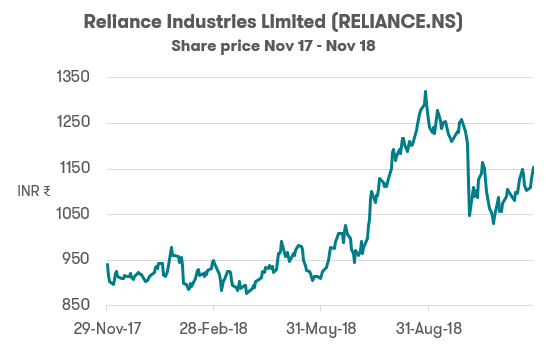 HDFC Bank Ltd.
Market cap: 5.778T INR/US$82.9B
Housing Development and Finance Corporation Bank Limited, more commonly known as HDFC Bank Limited was founded in 1994. To date, HDFC has 4,804 branches and 12,808 ATMs in 2,666 cities/towns across India – making it one of the largest banks in the country.
It has been quite a volatile year on the stock market for HDFC with a rather steady ascent, only to suffer a steep decline in October. Although more recently, it seems to be making a comeback with their share price may be recovering. In fact, at the time of writing, HDFC's share price had increased month to date by 9% and had risen 12.25% over the last 12 months.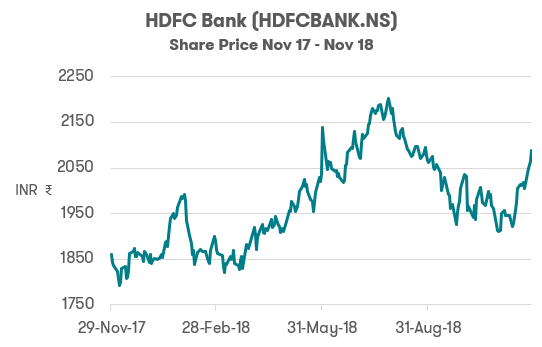 Hindustan Unilever Limited
Market cap: 3.845T INR/US$55.1B
The Indian branch of the British-Dutch company Unilever, HUL is a Fast-Moving Consumer Goods (FMCG) company with 35 brands under its umbrella ranging from cosmetics to packaged foods. It is estimated that on any given day nine out of ten Indian households use a HUL product.
HUL shared some positive figures in their end of quarter two report this year, including a year-on-year net profit of 19.52% and an increase in sales of 11.45%. Although, HUL's stock price seemed have been affected by the global sell off in October these results helped to spur the price upwards. Overall, at the time of writing, HUL's stock price had grown by 37% across the last 12 months.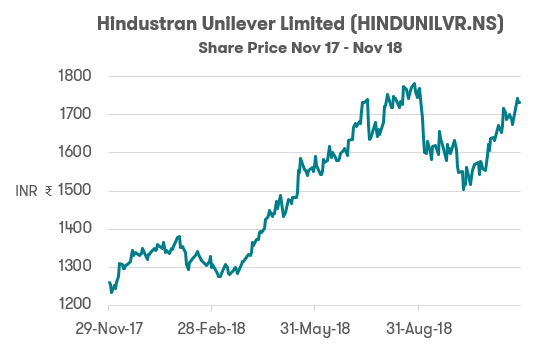 ITC Limited
Market cap: 3.535T INR/US$50.7B
Another FMCG company, ITC started out in 1910 as the Imperial Tobacco Company of India Limited. Since then, the conglomerate has branched out into other industries including food, personal care products, education, information technology and even a hotel chain.
In 2017, ITC share price took a hit due to an increase in the tax rate for tobacco products in India. While the stock initially plunged down roughly 12%, it has since made gains. This year, the share price was trending upwards, although this was disrupted in October, possibly due to the global sell-off. Despite the steep decline, at the time of writing, the company's share price was up 11 % over the last 12 months.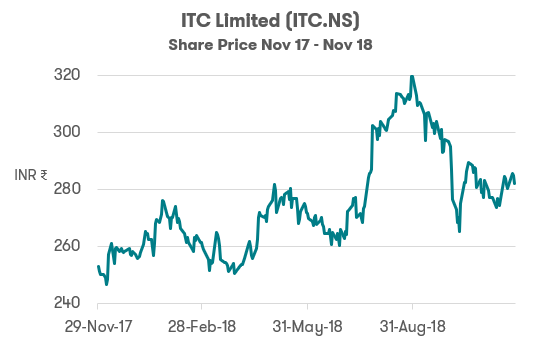 How to invest in India
If you are interested in including India in your investment portfolio there are a few options you can explore. Through an international online share trading platform, you can invest in individual Indian companies. Alternatively, there are some ETFs available that track the Indian share market index.
Before you invest make sure you do your research on the company and the country's political and economic climate. Keep in mind the risks involved with investing in international markets, such as currency risk. Doing your research is key, and you can start by checking out our article of the pros and cons of investing overseas. If ever in doubt, seek professional financial adviser.
For more article like this sent straight to your inbox, sign up to our emails below. 
* Source: Yahoo!Finance.
All figures correct as of 30 November 2018.