If you've made the decision to diversify your portfolio and invest overseas, the next thing you may want to consider is which country to invest in. To help you out, we've taken a look at how the equity markets across the G20 countries have performed in the past year.
Why G20 countries?
The G20's membership base is a mix of advanced and emerging economies. For those unfamiliar with these terms, an advanced economy is a nation with a high level of GDP per capita and typically a significant level of industrialisation. An emerging economy, on the other hand, is a country that is progressing towards become an advanced economy. Generally, emerging market companies and economies have the potential to expand at a faster rate than companies in advanced nations.
G20 countries deliver solid returns in the past year
In the past 12 months, G20 countries have delivered average nominal returns of 6.7% across key equity benchmark indices. From the graph below you can see Argentina (dark blue line) topped the performance list with a seemingly impressive 35.7% return. However, this is largely a reflection of the country's current inflation crisis, which recently hit an annualised rate of 29.5%. In nominal terms, the top three equity markets were in emerging economies including: Argentina, Brazil and Saudi Arabia.
G20 Equity Index Performance in the Last 12 Months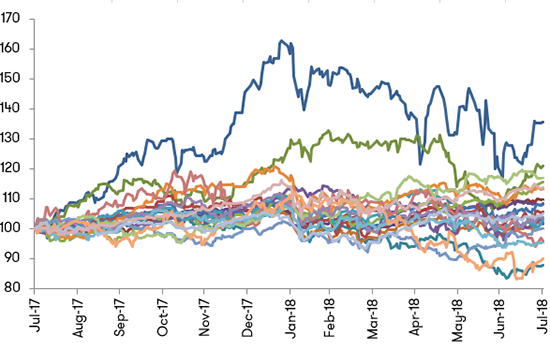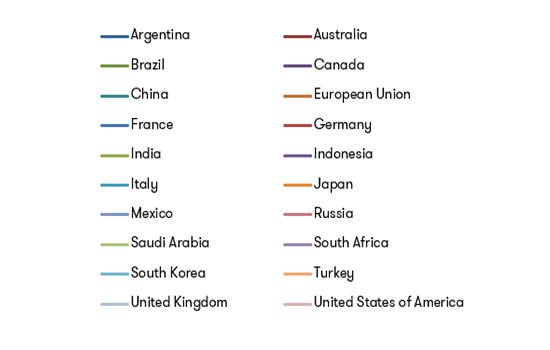 Inflation-adjusted returns show emerging markets still lead the pack
Although, when adjusted for inflation, emerging markets still remained at the top of the pack. Brazil delivered an inflation-adjusted equity return of 14.5% in the past year. The country seems to be making a comeback after years of recession. Saudi Arabia followed Brazil with a return of 14.5%, largely due to the kingdom's major reforms and a jump in crude oil prices.
Inflation-Adjusted G20 Equity Returns in the Last Twelve Months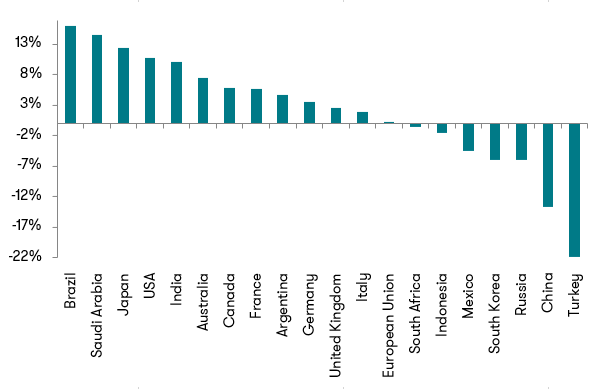 | 1. Brazil 16.1% | 6. Australia 7.5% | 11. United Kingdom 2.6% | 16. Mexico -4.4% |
| --- | --- | --- | --- |
| 2. Saudi Arabia 14.5% | 7. Canada 5.9% | 12. Italy 1.9% | 17. South Korea -5.9% |
| 3. Japan 12.4% | 8. France 5.8% | 13. European Union 0.2% | 18. Russia -5.9% |
| 4. USA 10.8% | 9. Argentina 4.8% | 14. South Africa -0.5% | 19. China -13.8% |
| 5. India 10.2% | 10. Germany 3.6% | 15. Indonesia -1.5% | 20. Turkey -21.9% |
Prepared by Canstar
How did Australia perform?
With inflation adjusted, Australia's market was the 6th best performing G20 equity market. The ASX 200 was up and it saw returns of 7.5% over the past year. This is ahead of all other advanced economies, excluding Japan and the USA. A relatively strong performance in the domestic equity market may have been the result of a continued rebound in commodity prices and a depreciating Australian dollar.
Mapping it out
Looking back on a country's equity returns can be useful, as it might provide an idea of what to expect from your investment. However, it is only one side of the story. When mapping out your next overseas investment, it's worth investigating not only the company you're looking to invest in, but also the country's current economic and political climate. Doing your research is key, and you can start by checking out our article of the risks and benefits of investing overseas. If ever in doubt, seek professional financial advice.
Want articles like this delivered straight to your inbox? Sign up to our newsletter below.