Emerging markets have the potential to present some exciting opportunities for investors, however it's not always smooth sailing. Check out who the top performers were in the past year.*
What are emerging markets?
Possibly the easiest way to explain emerging markets is to compare them to developed markets. A developed market, also known as an advanced economy, is a nation with a high level of GDP per capita and typically a significant level of industrialisation. An emerging market, on the other hand, is a country that is progressing towards becoming a developed market.
Why some investors are drawn to emerging markets
Over the past two decades, emerging markets have established themselves as a significant global growth engine as they have consistently grown faster than the economies of their developed market counterparts. Due to this, investing in emerging markets has the potential to translate into significant returns for some investors. Emerging markets also offer investors diversification benefits as they tend to perform differently to developed markets. They are generally not experiencing the structural headwinds facing the some developed economies including: an ageing population and ballooning government debt.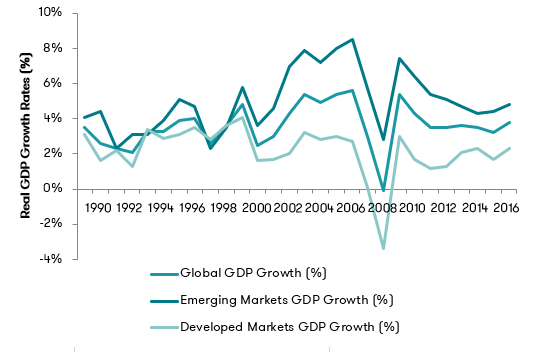 It's not always roses and sunshine
After a stellar performance over the past few years, 2018 may not be as rosy for some emerging market investors. A number emerging market economies have struggled under their foreign debt burden. This may be due to the strength of the US dollar and the increase in US interest rates. This has triggered a decline across the emerging markets space. The performance of emerging markets over the past year is shown below. More specifically, the below graph shows how a $1 investment in August 2017 would have performed in each emerging market during the 12 month period.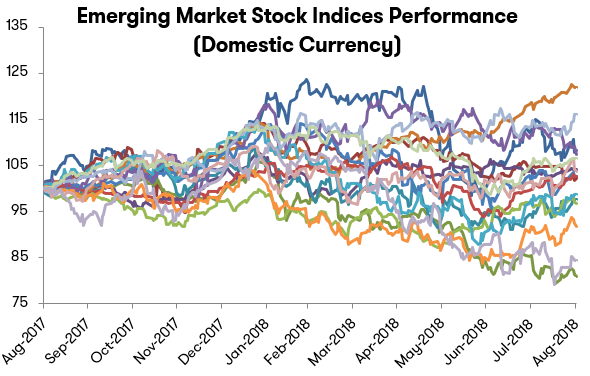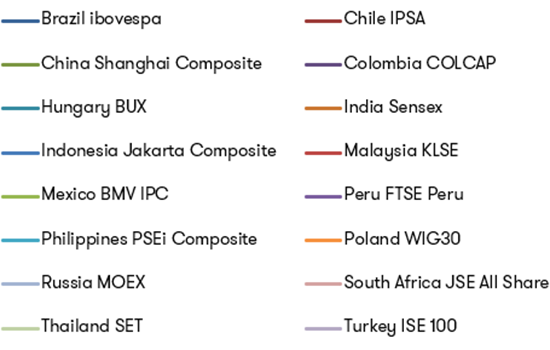 A mixed bag over the past year
Emerging markets were largely a mixed bag over the past year. Despite the turmoil across the space, some countries were able to record positive returns in their key stock market indices (when measured in domestic currencies). However, when an adjustment is made for the change in foreign exchange rates across the space, when converting back into AUD, foreign investors who had not hedged their currency exposure generally went backwards. This was the case particularly in countries experiencing hyper inflation, high external current account deficits and suffering from high levels of foreign debt, such as Turkey and Argentina.
How to invest in emerging markets
For investors considering taking the plunge and dipping their toes into emerging markets, there are several avenues available. Investors may seek to get exposure to emerging markets through broad ETFs. These ETFs track the overall market, for example the iShares MSCI Emerging Markets ETF and the Vanguard FTSE Emerging Markets Shares ETF. Investors can also opt for ETFs that track a particular market, for example the VanEck Vectors ChinaAMC CSI 300 ETF and the iShares MSCI India ETF. The examples provided are just scratch the surface of what's available. There are many products out there, including managed funds that invest in emerging markets. So, make sure you thoroughly research your options to find the right one for you.
Before you invest
The tendency for emerging markets to grow faster than developed markets can make them an attractive investment. However, you should take into consideration the risks involved, and always thoroughly research the country's political and economic climate before you invest. Doing your research is key, and you can start by checking out our article of the risks and benefits of investing overseas. If ever in doubt, seek professional financial advice.
For more article sent straight to your inbox, sign up to our e-newsletter below
*Figures are taken from August 2017 – August 2018
Cover Image Source: newroadboy (Shutterstock)