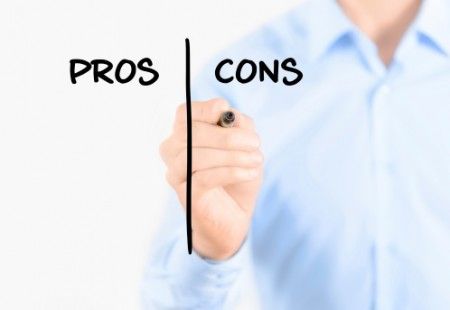 If you're thinking about investing in an exchange traded fund (ETF), it's worthwhile to know both the benefits and risks of doing so.  Like any financial product, its your hard-earned money on the line, so it pays to know what you're buying.  You wouldn't buy a car or a house without checking it out first, would you?
It is also worth noting that ETFs are considered by ASIC to be complex financial products. Some are more complex and risky than others. For more information on ETFs and risks associated with them, see ASIC's Moneysmart website.
Possible benefits of ETFs
One of the major benefits of an ETF is its cost effectiveness. The fund may invest in upwards of fifty different listed stocks, but you only pay one brokerage fee. An ETF may also have lower management fees than an actively managed fund, and are generally structured to be more tax effective than similar products.
The second potential benefit is the diversification ETFs offer, both within a single asset type and in the range of funds available. As mentioned above, an ETF may invest in many stocks; a product which tracks the S&P/ASX 200 for example, may spread your money across the 200 companies which form the index, giving you considerable diversification from a single investment. And with the variety of ETFs on offer, you can either narrow your investment to one specific sector or spread your investment broadly, from international shares to bonds to commodities.
Exchange traded funds also provide all the benefits of stocks. As an investor, you have access to all the features that are available to stock investors, including the option to short or use limit and stop orders, not to mention being able to buy and sell as you wish while the exchange is open.
Possible disadvantages of ETFs
As with any financial product, there are risks associated with exchange traded funds. The fees and taxes applicable to ETFs mean that your return on investment will never exactly match the index it tracks. The buy and sell price of your shares in the fund can also vary from the net asset value of the underlying index, reducing your return.  You can even be pinged by foreign taxes if the fund you invest in is located outside Australia.
Despite the diversification an exchange traded fund offers, this does not make your investment immune to volatility in the market, and you can still suffer losses in a bear market. This risk can increase in line with the specialisation of the ETF is – a fund which focuses on a small niche market is likely to be more volatile than a larger, broader one. There may also be problems of liquidity with the fund, making it difficult for you to buy and sell as you might want.  Finally, if your ETF of choice invests overseas, fluctuations in the Australian dollar can impact your returns.
It is important to remember that this is only a brief overview of the benefits and risks of exchange traded funds.  As with any financial decision, seeking professional accredited advice tailored for your situation is always a smart move.