Facebook, Apple, Amazon, Netflix and Google (FAANG) – the tech giants that in many ways dominate the US stock market. So, how has 2018 treated FAANG stocks so far, and how can you get a piece of the action?
What's the lowdown on FAANG stocks?
Facebook:
The origin story of Facebook is pretty well-known thanks largely to mega movie blockbuster The Social Network.  Since 2010, when The Social Network first hit the big screen, Facebook's monthly users have risen from 600 million to over 2 billion. Although the social media giant has seen some rapid growth, the brand has also been riddled with controversy.
It has been a tumultuous year for Facebook, beginning with the Cambridge Analytica scandal which made headlines around the world. When the story was reported in March, the company's stock price began to take a tumble, but experienced a surge soon after. Although, the scandal likely had a knock-on effect. In July of this year, Facebook reported its quarter two results which projected a slowdown in revenue and users. Upon the release of Facebook's results, the company's shares plummeted 24% in one day. Unlike the stocks previous slump in March, Facebook has yet to recover.
More recently, Facebook CEO Mark Zuckerberg announced the company's plan to invest heavily into the business in 2019. The business will focus on building out new products such as Facebook Watch, Instagram TV and Facebook Marketplace, while also improving cyber security.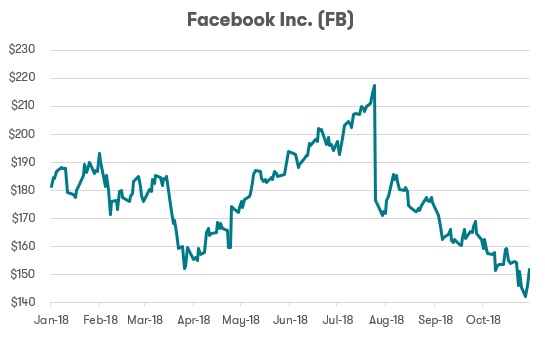 Apple:
Apple was created in 1976 by Steve Jobs, Steve Wozniak, and Ron Wayne. Ron Wayne famously sold his 10% share of the company several years later for USD$800.  As of August 2018, Ron's share would be worth over USD$95 billion. Eeekk!
Apple has had a much more successful year than Facebook. Apple's stock has been on the up and up in 2018. In August, Apple became the first US company to reach the $1 trillion market cap. Upon the news of the company reaching the milestone, its share price leapt forward. Confidence in the brand is evident as Apple's share price has since continued to rise.
Although, the company's shares recently took a tumble with a drop of 7% after-hours. This was likely due to the the company delivering a disappointing forecast for the Christmas period.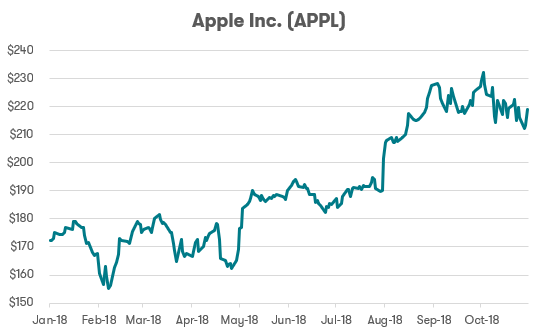 Amazon:
Amazon began as an online bookstore in 1994, and over the past 24 years has become a superstore, selling all things from electronics to pet supplies. When Amazon made its initial public offering (IPO) in 1997, its share price was $18. Today, Amazon's share price is hovers around USD$1,600!
It has been a big year for Amazon. The company's shares made significant gains in 2018, up 38% from the beginning of the year. The online retailer also reached the trillion-dollar milestone, just a few weeks after Apple, and they 'opened their doors' to Australian consumers with the launch of Amazon Australia, in late 2017.
However, October saw the company's share price fall 20% after the company's third quarter results reported slower-than-expected revenue growth and a less-than-impressive forecast for the holiday period.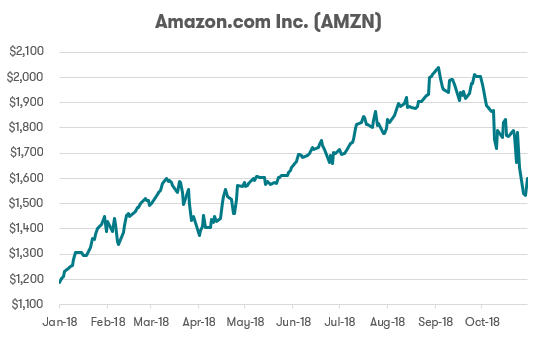 Netflix:
Streaming movies and TV shows feels like a relatively new phenomena, which may lead you to think that Netflix is a newcomer on the share market. In fact, Netflix made its IPO in 2002, 16 years ago! The company launched its streaming service in the US in 2007 and now it's available worldwide.
The company has had a stellar year with their share price increasing by 54%. In January, it was trading at USD$201 and now it's hovering around USD$310. It continues to look positive for the streaming giant.  Recently Netflix shares have soared even more, with the news that the company exceeded many of its quarter three targets and prospects look even more favourable for quarter four. They are estimating an additional 9.4 million net subscribers in quarter four.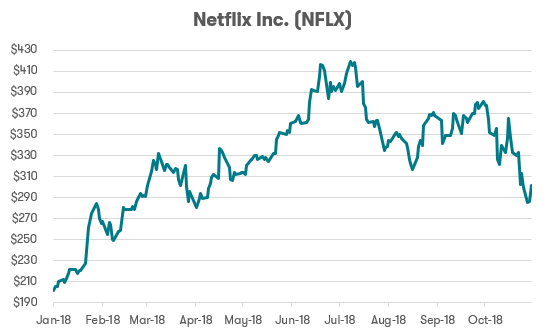 Google:
Google was born in 1998, created in a garage by two Stanford University PhD students, Larry Page and Sergey Brin. When Google made its IPO in 2004, the pair became billionaires virtually overnight. Google officially became Alphabet Inc after a restructure in 2015.
Alphabet's share price hasn't seen the same gains as its other FAANG members. At the time of writing, the company's shares were down 1.8% year to date.  Alphabet's share price has been all over the shop in 2018. In February, it fell 4% after quarter four results reported a profit miss.
Again, in October, Alphabet's shares took a tumble with news of a data breach through Google+, which users were not made aware of. Investors began selling their Alphabet Inc shares, likely due to the fear that consumer confidence in the brand has started to slip. Google has since taken action, with plans to shut down Google+.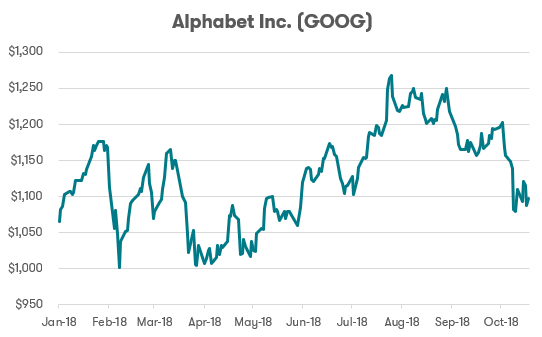 Which platforms let you trade FAANG stocks?
FAANG stocks are traded on the NASDAQ. Aussie investors can get a piece of the action through an international share trading platform, which should provide access to the NASDAQ and several other exchanges, including:
The New York Stock Exchange
The London Stock Exchange
The Hong Kong Stock Exchange
The Tokyo Exchange
Compare International Share Trading Platforms
Take into consideration
When investing internationally, consider the risks involved. Make sure to thoroughly research each investment before you take the plunge, and if ever in doubt seek the help of a professional financial adviser. For some helpful tips on how to choose an adviser, check out this article.
For more articles like this sent straight to your inbox, subscribe to our newsletter below. 
Cover Image Source: mama_mia (Shutterstock)