Despite all the government inquiries of the financial sector in recent years, some outcomes for investors have not improved. Investors, wary of higher costs and poor performance, are now assessing the outcomes of their investments to determine if they suit their needs.
They are finding many actively managed funds continue to significantly underperform their benchmarks over short- and long-term periods – a finding that has been backed by independent research. Those active managers charge significantly higher management fees than those charged by passive managers on exchange-traded funds (ETFs) so it's important that investors shop around.
But first, let's look at the evidence for a shift away from active fund managers.
Many managers underperform
Research from S&P Dow Jones Indices, the SPIVA® Australia Scorecard (SPIVA report), has found that during the first half of 2020, the majority of actively managed funds in all categories (apart from Australian real estate investment trusts or A-REITs) suffered worse drawdowns versus their respective benchmark indices. This Scorecard captures the COVID-19 volatility in March, highlighting that most active managers did not even match market returns, let alone outperform.
Over the longer term too, that trend holds true. The SPIVA report found:
92% of international equity fund managers underperformed the S&P Developed Ex Australia LargeMidCap index over the 10-year period to 30 June 2020.
82% of active Australian equity managers underperformed the S&P/ASX 200 over 10 years.
79% of active bond managers underperformed the S&P/ASX Australian Fixed Interest 0+ Index over 10 years.
73% of Australian A-REIT managers underperformed the S&P/ASX 200 A-REIT index over the decade.
These findings dent the argument that active managers produce superior outcomes through the application of investment management and stock picking. Active managers also claim, because they are active, they can avoid stocks that fall the most in a downturn and therefore minimise losses. The mid-year SPIVA report also brings that claim into question.
Research too by VanEck in 2019, When are fees too high? The potential impact of smart beta to disrupt active Australian equity strategies, found that most Australian active fund managers don't add value because they tend to "hug" market benchmarks. Most Australian equity funds should be charging management fees of between 0.35 and 0.65 per cent per annum given the outperformance they generate, yet many active managers charge at least double that.
Taking advantage of factors
VanEck's analysis showed most of the performance of Australian equities managers can be explained by "factors", which are adopted by smart beta ETFs. For example, 'value' investing involves buying stocks that have low prices relative to their financial fundamentals such as earnings, while 'quality' companies are those with financially healthy balance sheets including strong earnings and low debt.
The 2019 VanEck study predicted that most active managers (or 65%) will likely be disrupted by smart beta because investors are able to achieve the same outcome at a lower cost with smart beta ETFs.
Passive investing has evolved to move beyond market capitalisation index replication, to capturing factors via smart beta strategies which can improve long-term performance.
Smart-beta choice on the ASX
Smart beta ETFs open up factor investing to all Australians. These ETFs are readily available on the ASX and now account for one in four ETFs listed. Their advantages over actively managed funds extend to greater liquidity and transparency, as well as lower costs.
Large and small-cap Australian shares managed funds charge retail investors fees from between 0.5% and 2.5% per year. A performance fee may also be added as an extra fee by a fund manager if the investment return is better than the benchmark or target return.
Small differences in fees can have a large impact on your returns in the long run. An investor putting $50,000 in a managed fund charging a 2.5% p.a. management fee would be paying $1250 a year on fees (assuming of course there is no change in capital value). If the fee was 0.35% on an ETF, that management fee would be much lower at $175.
Given intense competition in the investment management industry and a demand for better investment outcomes given underperformance by some active managers, according to SPIVA, only those active managers who demonstrate identifiable and persistent 'real' alpha will prevail. The difficultly for investors is finding those minority of active managers that consistently outperform. If active managers continue to underperform, then investors will continue to question the fees they are being charged and, inevitably, move to smart beta ETFs.
Main image source: Shutterstock (Imagentle)
---
The table below displays some of the International Broad Based ETFs available on our database with the highest three-year returns (sorted highest to lowest by three-year returns and then alphabetically by provider name). Use Canstar's ETF comparison selector to view a wider range of products. Canstar may earn a fee for referrals.
---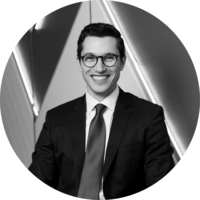 Arian Neiron is the Managing Director and Head of Asia Pacific at VanEck. Mr Neiron joined the firm in 2012 and a year later, he founded and established VanEck Australia's asset management business. Since then, he has overseen the growth of VanEck to be Australia's quickest growing and most successful smart beta ETF providers. In 2018, Mr Neiron was appointed to lead VanEck's Asia Pacific business and as part of that role, he is the Managing Director of VanEck Singapore and Director of VanEck Investment Management (Shanghai). Prior to joining VanEck, he was a partner at boutique asset management consulting firm Sunstone Partners. Mr Neiron has also held roles at Perpetual Investments, Credit Suisse and MLC, where he started his career in finance. He holds a Bachelor of Commerce, Curtin University and a Diploma of Financial Services.
---
Thanks for visiting Canstar, Australia's biggest financial comparison site*