In the perennial debate about the merits of active vs. passive management, the main claim of active managers is that the higher fees they typically charge are justified by their ability to outperform market benchmarks, and by extension, passive funds that aim to track those benchmarks.
The SPIVA Scorecard is a widely-referenced research piece conducted and published by S&P Global that compares actively managed funds against their appropriate benchmarks on a semi-annual basis.
Two key questions S&P addresses are:
How does the performance of actively managed funds compare with broad market benchmarks?

For actively managed funds that outperform in one time period, how do they perform in subsequent time periods? In other words, what is the 'staying power' of top-performing active funds?
Performance
A theme that has emerged over time is that the majority of actively managed funds historically have tended to underperform their benchmarks over short- and long-term periods – a finding that has held true (with some exceptions) across countries and regions.
For example, considering Australian equity general funds at 31 December 2019:
61.5% of funds underperformed the S&P/ASX 200 Index over 12 months

74.5% of funds underperformed the S&P/ASX 200 Index over 3 years

80.8% of funds underperformed the S&P/ASX 200 Index over 5 years
Australian active managers are by no means unique. In the U.S., more than 80% of large-cap funds underperformed the S&P 500 Index over the five years to 31 December 2019, while a shocking 96% of Canadian equity funds underperformed the S&P/TSX Composite Index over the same period.
Underperformance has not been restricted to equity funds. S&P found that 81.4% of Australian bond funds underperformed the S&P/ASX Australian Fixed Interest 0+ Index over the five years to 31 December 2019.
Staying power
Another recurring theme is that those actively managed funds that did manage to outperform in one time period typically failed to do so over subsequent periods.
The SPIVA 'Persistence Scorecard' tracks the 'staying power' of the top active performers over time. This is an important variable to consider, as the ability to consistently outperform is the only credible way to demonstrate that a manager's results are due to skill rather than luck.
In this regard, the recently released SPIVA Australian Persistence Scorecard makes for interesting reading, and shows that most active managers who have experienced strong past performance are unlikely to reproduce this outperformance into the future.
Can you pick an active fund based on its track record?
SPIVA shows that you must be very good (or maybe lucky) to pick a manager who persistently outperforms year after year.
Of the funds that fell into the top quartile (i.e. top 25%) of actively managed funds for the year ending December 2015:
none

of the 107 Australian Equities funds remained top quartile for each of the next four years

only

one

of 58 Global Equities funds remained top quartile for each of the next four years

less than 20% of these 2015 top quartile Australian and Global Equities funds even remained in the top quartile the following year – arguably a worse outcome than the proverbial monkey and a dartboard!
Of the Australian bond funds, only one out of 14 remained top quartile for each of the next four years.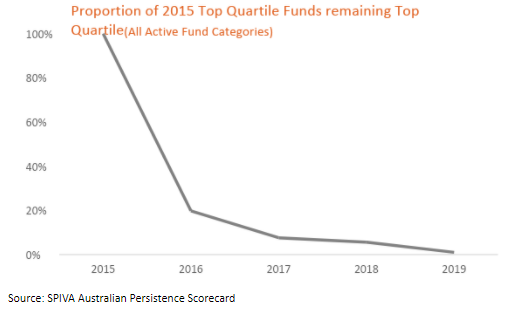 What would have happened if you had picked a top-performing active manager five years ago, or three years ago?
The short answer is, your investment would most probably have underperformed.
SPIVA looked at active funds with strong performance over the 5-year period ending December 2014, and compared this with their performance for the following 5-year period ending December 2019:
of Australian and Global Equities funds that were previously in the top quartile, less than 50% remained in even the top

half

of their peer group for the subsequent 5-year window

of all funds that previously outperformed the benchmark, only 27% outperformed for the subsequent 5-year window. 57% underperformed and 16% were liquidated/closed.
How did active managers fare during the market sell-off in Q1 2020?
SPIVA studies have generally found active managers underperformed the benchmark over time periods of a year or more. Given the extreme market volatility we have been experiencing in 2020, SPIVA recently published results for the first quarter of 2020.
SPIVA found that in the March 2020 sell-off more than half the Australian-domiciled unlisted active funds underperformed the benchmark, debunking the myth that active managers will shine in down markets.
This underperformance was evident across all fund categories, with the exception of A-REIT funds. For example, 61% of funds categorised as 'Australian Equity General' failed to beat the S&P/ASX 200 Index over the quarter.
The figures were better for Australian equities in the month of March, during the worst of the drawdown, where 'only' 51% of Australian Equity General funds underperformed. However, the ability of these active managers to take a defensive tilt during a bear market appears to have had a muted effect, at best, on relative performance.
What is an alternative?
A passive index or rules-based investment approach offers an alternative to actively managed funds. Funds employing this type of approach do not involve active management fees, and so are able to charge a lower (often significantly lower) management fee.
There is a wide range of ETFs available on the ASX that take a passive approach. These include not just broad market capitalisation-weighted funds such as A200, but also ETFs that offer cost-effective exposure to particular geographic regions, industry sectors such as technology or healthcare, or investment themes such as ethical investing or cybersecurity.
Summary
SPIVA's research demonstrates that not only have active fund managers generally underperformed their benchmark over both the long and the short term, but also those funds that did achieve outperformance in a given time period typically have been unable to maintain that outperformance in subsequent time periods. Of course, the reports do indicate that outperformance over passive benchmarks is possible, but reinforce the importance of being highly selective and/or focused on active managers who provide exposures that are less amenable to being accessed passively.
If you're comparing Online Share Trading companies, the comparison table below displays some of the companies available on Canstar's database with links to the company's website. The information displayed is based on an average of 6 trades per month. Please note the table is sorted by Star Rating (highest to lowest) followed by provider name (alphabetical). Use Canstar's Online Share Trading comparison selector to view a wider range of Online Share Trading companies.
---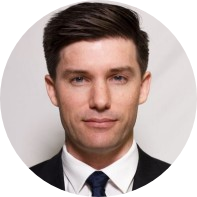 Cameron's responsibilities span supporting all distribution channels and working alongside the portfolio management team. Prior to joining BetaShares, Cameron was a portfolio manager at Macquarie Asset Management, and was responsible for the structuring and management of Macquarie's listed and unlisted structured product offering.