Australian hospital statistics are looking positive, concludes the latest report from the Australian Institute of Health and Welfare.
The majority of emergency department patients are being seen on time, according to the Australian Institute of Health and Welfare (AIHW), which has just released its most recent report into the performance of our public hospitals. That's good news.
Resuscitation patients requiring treatment immediately – almost 100% seen on time
Emergency patients requiring treatment within 10 minutes – 79% seen on time
Non-urgent patients requiring treatment within 2 hours – 92% seen on time
The performance of our emergency departments is a positive indication of not just Australian hospitals, but also our health statistics – the fact that we have a relatively manageable number of emergency situations arising in the population.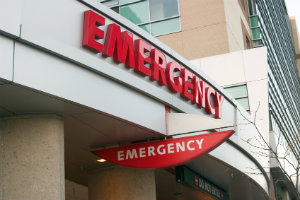 How many patients go to the emergency department?
"There were about 7.4 million presentations to the 290 public hospital emergency departments that were in the AIHW data collection in 2014-15, or over 20,000 presentations each day," said AIHW spokesperson Jenny Hargreaves.
Between 2010-11 and 2014-15, after adjusting for the increasing number of hospitals available, the number of patients coming to emergency departments increased by 3.4% on average each year.
The report also shows that a greater proportion of patients are completing their emergency department visit in four hours or less, from 64% in 2011-12 to 73% in 2014-15.
"About 30% of emergency department patients were admitted to hospital after their emergency department care. For these patients, 47% were admitted in 4 hours or less, and 90% were admitted within 11 hours and 41 minutes," Ms Hargreaves said.
Who uses our public hospitals?
Can I go to a private hospital?

Public hospitals offer free treatment, but this is not the case when patients either go to a private hospital or go to a public hospital but request to be treated as a private patient. Hospital Cover health insurance can help to cover the cost of most hospital-related expenses:
In-hospital treatment by a doctor
Accommodation (staying in a hospital ward for a day or overnight)
Surgery fees for the operating theatre, surgery nurses, etc.
Medical services listed under the Medicare Benefits Schedule (MBS)