This is not about calling time on credit cards. There is still the expectation they will be around for quite some time. But dark forces are amassing and it's going to take an almighty reversal to save the product from a death by a thousand cuts.
The Reserve Bank released its monthly payments data for June, revealing that credit card balances incurring interest were down $1.6 billion for June, following a $1.9 billion decline in May and a $1.1 billion drop in April. That's down a total of $4.6 billion, the equivalent of 16.5%, in three months, leaving $23.2 billion of debt on cards paying interest.
This is great news for Australians who have cleared their stubborn credit card debt. Hopefully it will encourage others to go the same way, as the declining level of debt also has implications for those who continue to owe the bank money.
Bankers will be hoping that the dizzying collapse of these past few months is not a product being sucked into a black hole, but rather the product of unprecedented times. At least unprecedented in the era of the credit card.
Business closures and the shutdown of populations have contributed to the pace of this change, but to assign the credit card malaise to the pandemic is a bridge too far. It may have steepened the slide but the trend was already underway in Australia.
10 years ago, credit card debt incurring interest totalled $34.8 billion, 5 years ago it was $32.5 billion and in pre-COVID February it was $27.4 billion. This is a product moving beyond the maturity stage of its life cycle and sliding off the back of the wave.
Credit cards have faced a perfect storm, even if it has taken time to build.
The Reserve Bank regulated away bloated interchange fees in 2003, making the transactional side of the business less profitable. Cardholders not paying interest on outstanding balances were now contributing way too little towards recovery of the cost base. Card providers' response was to cut back rewards, diminishing product attractiveness – a sure sign of a declining spiral.
A new model came to Australia with the emergence of buy now, pay later, perhaps not playing on an even credit field as the banks believed, but nonetheless appealing to, in particular, the younger generation of spenders. The resilience of these schemes to regulatory reform and potential consumer and retailer backlash is yet to be tested, but they have been embraced by consumers and are stealing away a share of the payments and credit markets from credit cards.
The declining interest rate cycle has provided some insulation at the banks, with interest rates held close to pre-GFC levels, as funding costs and other lending rates tumbled. This has proven surprisingly sustainable. However, those carrying debt on their credit card are now accounting for an ever-larger share of credit card profit. Inevitably, the indebted group were going to react to the interest rate they were paying and the debt black hole they had dug, and were going to look to dig their way out. It looks like that time has come.
One way out for some has come courtesy of the federal government COVID relief programme allowing early release from superannuation. The slide in credit card debt had started prior to this, but this has steepened the descent. Some of the reduction will no doubt be a clearing of limits for the rainy day that could come to some as we enter a deep recession. For those fortunate enough to dodge this bullet, hopefully it will be treated as a one-off opportunity for freedom from credit card debt for all time. "We won't go there again!"
It's too early to be calling for the undertaker, but the model as it now stands is not sustainable, for a few reasons:
The Reserve Bank won't be restoring higher interchange fees.
Airlines will probably trim back rewards coming out of the COVID-19 pandemic.
The banks can't keep squeezing the diminishing ongoing debt lemon any harder.
We have already seen some credit card providers dipping their toes into buy-now-pay-later. If you can't beat them, at least for a segment of the market, join them. Or maybe we will start to see a morphing of the two models. Something has to change.
Meanwhile credit card holders should be going after the best deal they can get. For those in debt, that is an interest rate as low as they can find and an interest-free balance transfer offer to help them clear their debt over two years. For those who pay their owing credit card balance in full every month, it is finding the best rewards after accounting for the annual fee to take full advantage of the subsidy they're being handed, while it lasts.
Cover image source: Slavenko (Shutterstock)
About Steve Mickenbecker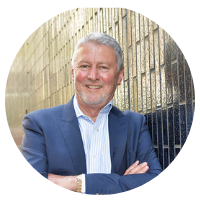 Steve is the Group Executive of Financial Services at Canstar. He has decades of experience in the finance sector and is passionate about helping consumers make informed decisions with their personal finances.