How do BNPL services stack up against credit cards? Canstar crunches the numbers.
This growth reflects the appeal of BNPL. There are no joining fees, no interest charges and, as long as you stick to the provider's repayment schedule, no late fees apply.
In addition, consumers aren't being asked to pay a BNPL surcharge at the checkout. BNPL providers make money by charging retailers a commission – up to 7% – on purchases, but the Reserve Bank has taken the view that retailers can't pass this cost onto consumers (not directly at least). That's quite different from paying with credit cards, which can see shoppers slugged with a surcharge.
It's possible that further down the track retailers may get the green light to pass BNPL costs on to shoppers. For now though, BNPL is a way to make a purchase, take it home immediately, and pay it off over time – potentially with no additional costs.
BNPL up, card debt down
The rise of BNPL hasn't delighted everyone. It's contributed to a marked decline in the use of credit cards. Reserve Bank figures show that in late 2020, total card debt accruing interest stood at $21 billion, down from a peak of $32 billion in mid-2018.
The switch to BNPL is helping Australians collectively save millions of dollars in card interest each year. However, that doesn't mean we're all better off.
A review by money watchdog ASIC found that one in five BNPL users fall behind with their repayments, and face the additional cost of late fees. These fees may be small in dollar value but they add up. In the 2020 financial year, Afterpay earned $68.8 million in late fees – about 14% of its total revenue.
Last year Commonwealth Bank and NAB introduced 0% credit card products as an alternative to BNPL schemes. These cards charge no interest but a monthly fee applies when you have a balance owing or use the card during the month.
So, how does BNPL stack up to credit cards? Canstar crunched the numbers to find out. We assumed a $1,000 purchase across three BNPL options – Afterpay, LayBuy and Humm, and compared the costs to a low rate credit card with an interest rate of 13.87% and no annual fee. Here's how the results shaped up.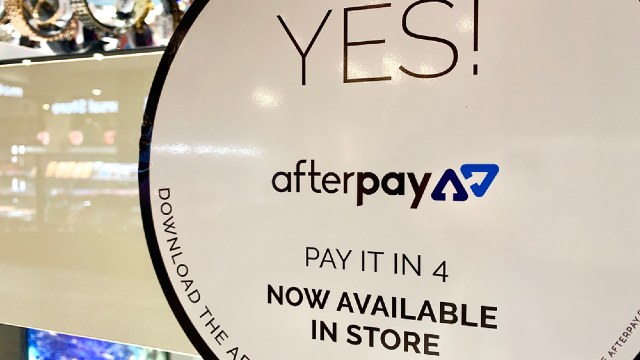 Afterpay
With Afterpay you're required to pay off purchases through four equal repayments – the first at point of sale, followed by three fortnightly payments over the next six weeks. Make all the payments on time and no fees apply. Miss a payment, and a $10 fee is charged. If the repayment is still outstanding seven days later, a further $7 fee is levied. Miss two payments and you'll pay $20 in fees plus a second $7 overdue charge.
By comparison, if you use a credit card, you'll need to make payments of $333.33 each fortnight to clear the debt before interest charges apply. This assumes you start with a clean slate and can take advantage of interest-free days.
Without the benefit of interest-free days, the interest meter is clicking over from day one. To pay the $1,000 debt off in the same 42-day timeframe as Afterpay, you'll need to make fortnightly repayments of $336.88, and wear interest costs of $10.63.
Bear in mind, these card figures assume you have the discipline to maintain the fortnightly payments. If you don't, and instead just make the card issuer's minimum repayments, which can be as low as 1.5% of the balance, the interest cost can potentially go much higher as the debt drags on.
What if I use LayBuy?
LayBuy asks for purchases to be repaid via six equal weekly repayments. Again the first payment is made at the checkout, leaving the balance to be repaid over the remaining five weeks. On a $1,000 purchase that works out to a weekly repayment of $166.67. Late payments incur a fee of $10, with a further $10 charged if the repayment is still outstanding a week later. A maximum of $40 can be charged in late fees on each purchase, so the most you could end up paying for your $1,000 purchase is $1,040.
Putting the same purchase on a credit card would call for four fortnightly payments of $200 to avoid interest charges – again assuming you have the benefit of interest-free days. Without interest-free days, you'll need to pay $201.59 each week to clear the debt in the five-week timeframe, racking up interest of $7.96 in the process.
How about Humm?
Our third BNPL option – Humm – requires no upfront payment. Instead, the full price of a purchase is repaid either through five or 10 fortnightly repayments. To pay off a $1,000 purchase you'll need to pay either $200 each fortnight if you select the five fortnights (10 weeks) option, or $100 per fortnight if you opt for the 10 fortnights (20 weeks) option.
A late payment fee of $6 applies when you miss a Humm payment plus an extra charge of $30 each time Humm has to chase up an outstanding payment. These fees matter because if you're a repeat late payer, the cost of falling behind with Humm can really add up. For example, two missed payments and two collection fees add up to $72 on the five fortnight option and $112 on the 10 fortnight option.
On our credit card option, a timeframe of either five or 10 fortnights will mean you won't get the benefit of interest-free days, so you're going to cop interest charges no matter which timespan you select.
To repay the debt over five fortnights, you're looking at paying $203.19 off the card every two weeks, which will bring the interest cost to $15.97. Choose the longer timeframe of 20 weeks, and the fortnightly payments drop to $102.94 but as you're repaying the balance over a longer period, interest charges jump to $29.41.
The verdict
Stick to a BNPL repayment schedule, and no further charges will apply on your purchase, making it a good value option. The same can apply to credit card purchases as long as you clear the debt before interest charges apply. The catch is that you'll have to work out for yourself how much to pay each week or fortnight to achieve this. Unlike BNPL, your card issuer won't explain the regular repayments needed to avoid unwanted costs. Instead, you'll only be asked to pay off as little as 1.5% of the card balance each month. Stick to these, and interest charges can rapidly escalate.
Additionally, annual card fees can also apply. The credit cards used in our calculations didn't charge an annual fee.
The picture is less rosy if you don't, or can't, stick rigidly to your BNPL provider's schedule of repayments. Repeatedly missing BNPL payments can potentially see late fees overtake the interest you could pay on a credit card.
It pays to think carefully about the BNPL repayment schedule you're signing up for. Opting for a longer payment period may sound appealing as it will lower the regular payments. However, it also makes it harder to foresee any unexpected bills that may crop up, possibly leaving you strapped for cash and unable to make a repayment. When that happens, buy now, pay later can quickly become 'buy now, pay more'. To make the most of BNPL, be honest with yourself about how well you can stick to the repayment schedule, and avoid the temptation to overspend.
Cover image source: Gabriela Ciofu (Shutterstock)
This article was reviewed by Editorial Campaigns Manager Maria Bekiaris before it was published as part of our fact-checking process.
---
Nicola Field is a personal finance writer with nearly two decades of industry experience. A former chartered accountant with a Master of Education degree, Nicola has contributed to several popular magazines including the Australian Women's Weekly, Money and Real Living. She has authored several best-selling family-focused finance books including Baby or Bust (Wiley) and Investing in Your Child's Future (Wiley).