Are you in the market for a new car? While the look, feel and price of your new ride may be at the forefront of your mind, what about the safety rating? The ANCAP rating of a car can help you understand its safety standard as an indicator of the level of protection it may provide in an accident, which can also impact your insurance premiums.
Over 1,100 people died on Australian roads in 2020, according to data from the Bureau of Infrastructure and Transport Research Economics (BITRE). This is approximately three people every day. Jerome Carslake, Manager of the National Road Safety Partnership Program, told QBE insurance that most car accidents are the result of a momentary lapse in judgement or attention, and that the best way to avoid a car accident is by "taking responsibility, being courteous and cautious and using common sense".
Mr Carslake said if you also choose to buy a vehicle with a five-star safety rating, curtain airbags and added safety technology you are "far more likely to survive than in a car without".
So, how does your current or future car rank for safety, and what exactly does it take for a vehicle to achieve a coveted five-star ANCAP safety rating?
Let's buckle up and take a ride through the ins and outs of car safety ratings in Australia.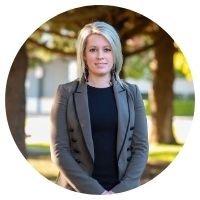 Q&A with ANCAP's Rhianne Robson
Canstar spoke to the Director of Communications and Advocacy at ANCAP Safety, Rhianne Robson, about ANCAP's car safety ratings and why these ratings are an important consideration for those looking to buy a new car.
What is ANCAP?
The Australasian New Car Assessment Program, more commonly referred to as ANCAP Safety, is Australia and New Zealand's independent vehicle safety authority. Since 1993, ANCAP has published safety ratings for thousands of new vehicle makes, models and variants.
These independent safety ratings are used to compare the relative safety between vehicles of similar size and have become a factor in vehicle selection for private and fleet buyers.
ANCAP is supported by each of the motoring clubs around Australia and New Zealand, together with the federal, state and territory governments and some insurers.
What are ANCAP car safety ratings?
ANCAP safety ratings are published for a range of new passenger, sports utility (SUV) and light commercial vehicles entering the Australian and New Zealand markets, using a rating system of zero to five stars. These star ratings indicate the level of safety a vehicle provides for occupants and pedestrians in the event of a crash, as well as its ability — through technology — to avoid or minimise the effects of a crash.
The more stars, the better the vehicle has performed across ANCAP tests. To achieve the maximum five-star ANCAP safety rating, a vehicle must achieve the highest standards in all tests and feature advanced safety assist technologies. Care must be taken when comparing results for different vehicles across different categories as only those vehicles of similar mass can be correctly compared.
The 'Rating Year' datestamp is the easiest way to tell how current an ANCAP safety rating is. With testing criteria improving over time, ANCAP recommends looking for a vehicle with the maximum five-star ANCAP rating and the latest datestamp.


With 95% of the new car market now rated, it is rare to find a vehicle that doesn't have an ANCAP safety rating.
Why are ANCAP car safety ratings important?
ANCAP's car safety ratings play a role highlighting the differences in safety performance for new vehicles, so consumers can factor in this information when they are shopping for a car.
ANCAP works closely with new car brands bringing new models to the market, helping identify areas for improvement with an ultimate goal of vehicles securing a five-star safety rating. Through this process and various public education campaigns and advocacy activities, ANCAP has seen marked improvements in the physical structures and safety specifications of vehicles across the country.
To encourage continuous improvement, ANCAP is also making it increasingly difficult to achieve five stars. Pleasingly, car brands – in the most part – keep meeting the more stringent standards. However, some brands do fall short, and when they do, the market responds accordingly. For example, as a result of ANCAP ratings, some mainstream car brands have either withheld or removed models from sale that have failed to meet the safety standards or improved their specifications.
How are ANCAP car safety ratings determined?
ANCAP safety ratings are determined based on a series of internationally recognised, independent crash tests and safety assessments. These include a range of destructive physical crash tests, an assessment of on-board safety features and equipment and performance testing of active collision avoidance technologies.
Vehicles are evaluated against four key areas:
1. Adult Occupant Protection (AOP)
This area considers the level of protection offered by the vehicle to adult occupants seated in the front and second row in the most common types of serious injury crashes. Safety is measured by the car's ability to protect passengers against multi-directional impacts (e.g. front and side impacts) and whiplash, as well as the ease of emergency access in the event of an accident.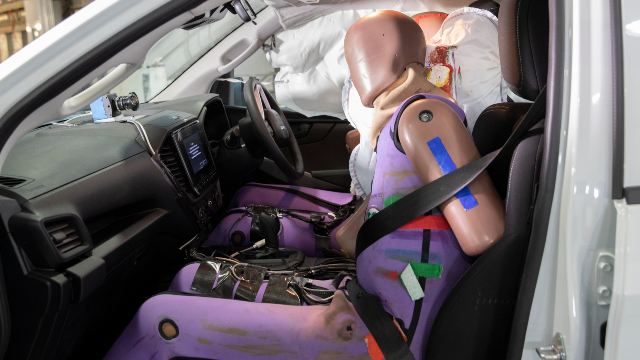 2. Child Occupant Protection (COP)
ANCAP evaluates the level of protection a vehicle offers child occupants seated in appropriate child restraints in the rear seats. Safety is also assessed by a vehicle's ability to effectively accommodate a range of child restraints.
3. Vulnerable Road User Protection (VRU)
This area assesses the design of the front of the vehicle to minimise injury risk to a struck pedestrian. In addition, vehicles are also assessed for their ability to actively avoid or mitigate impacts with pedestrians and cyclists.

4. Safety Assist (SA)
ANCAP evaluates the presence and effectiveness of active safety technologies fitted to the vehicle that assist the driver in preventing or minimising the effects of a crash. Some of the safety assist technologies assessed from 2020 include:
Speed assistance system (SAS) – technology to assist the driver in managing appropriate speeds using onboard cameras and/or the vehicle's map-based GPS location
Autonomous emergency braking (AEB) – technology used to detect the speed and distance of objects in a vehicle's path, and to automatically brake if the driver does not respond, to avoid or minimise the severity of the crash.
Automatic emergency steering (AES) – technology to help a driver safely steer a vehicle into a clear adjacent lane to avoid a crash.
Lane support system (LSS) – these systems include lane departure warning (LDW), lane keep assist and emergency lane keeping (ELK) technologies that help alert the driver if their vehicle is leaving a lane without indication, and bring the vehicle back within the lane if the driver fails to respond.
A range of tests and assessments are conducted within each area specified, with vehicles required to meet minimum score thresholds for each star rating level.
The overall star rating of a vehicle is limited by its lowest-performing area of assessment. To achieve the maximum five-star ANCAP safety rating, a vehicle must perform to the highest level across all crash tests and assessments.
What physical crash tests are conducted?
There are a number of crash tests conducted by ANCAP to simulate the most common types of crashes on the road. In all tests, dummies are used to measure the forces and likely injuries a driver, passenger or vulnerable road user (e.g. pedestrian or cyclist) may sustain during a crash.
Some of the crash tests conducted from 2020 include:
Frontal offset test – simulates a head-on crash with another vehicle travelling at the same speed.
Full width frontal test – simulates a head-on crash with another car of the same mass and travelling at the same speed, as well as impacts with rigid structures.
Side impact (MDB) test – simulates two cars colliding at a 90 degree angle (commonly referred to as a T-bone collision).
Oblique pole test – simulates a vehicle colliding with a fixed object such as a tree or pole at an oblique angle (e.g. 75 degrees)
Far-side impact tests – evaluates occupant-to-vehicle and occupant-to-occupant interaction in the side impact and oblique pole tests.
Pedestrian protection – estimates likely head and leg injuries to child and adult pedestrians for impact at various locations on a car, such as the front bumper, bonnet and windscreen.
Whiplash test – assesses likely head and neck injury from rear-end impacts.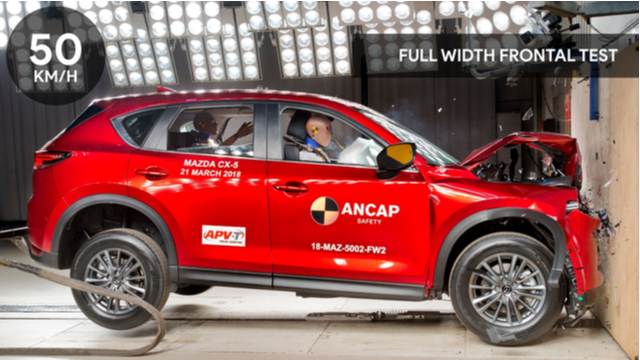 How long does it take to analyse ANCAP test results?
ANCAP testing is a very detailed process that involves a number of different labs around the country, as well as overseas. Where possible, ANCAP aims to assess and publish a rating at the time the vehicle launches onto the market. This enables the car brands to include the ANCAP rating in its marketing materials for consumers and fleet buyers to factor it into their decision-making.
What are the next safety features ANCAP will look to test?
ANCAP's current road map looks ahead to 2025 where additional requirements will be introduced focusing on Child Presence Detection (to avoid leaving a child unattended in a locked car), AEB Head-On (testing the effectiveness of crash avoidance or mitigation through autonomous braking in head-on scenarios), and Powered Two-Wheeler Impact Prevention (assessing a vehicle's ability to avoid a crash with a motorcycle through AEB and lane support systems – LSS).
Where can you find a car's ANCAP safety rating?
ANCAP safety ratings are available for over 760 new vehicle models. To find a car's ANCAP rating, you can visit the ANCAP website.
---
Where can you find used car safety ratings?
If you are looking to buy a second-hand car and that particular model is not listed under ANCAP's new car safety ratings, you may need to look to Australia's Used Car Safety Ratings (UCSR), which are overseen by the Vehicle Safety Research Group (VSRG) and investigated by Monash University Accident Research Centre.
UCSRs provide Driver Protection ratings (from one to five stars – one being very poor and five being excellent) that show how well a vehicle protects its driver from death or serious injury in a crash. UCSRs are available for a select number of vehicles, generally models that are at least three years old, whereas ANCAP safety ratings apply to new vehicles.


While ANCAP car safety ratings are determined based on the results of a series of independent crash tests and safety assessments, UCSR are calculated using data from millions of police reports of actual on-road crashes in Australia and New Zealand that involve fatalities and serious injuries.
The vehicle's mass, structural design and body, and the safety features fitted to the vehicle, such as airbags and the types of seat belts, are taken into account when determining these safety ratings, according to Monash University. The Driver Protection ratings overall score is also adjusted for factors such as driver gender and age, type of road user, speed limit at the crash location, number of vehicles involved and the year and location of the crash.
Monash University said additional safety ratings are calculated to estimate the injury risk the vehicle poses to other road users in a crash, and the likelihood of being involved in a crash taking into account fitted crash avoidance features. These additional ratings are used alongside the Driver Protection rating to determine whether a vehicle is considered a 'Safer Pick'. Vehicles identified as a 'Safer Pick' provide good protection to their own driver, cause less serious injury to other drivers, pedestrians, cyclists and motorcyclists in a collision, and have a lower risk of being involved in a crash in the first place, Monash University said.
The 2020 Used Car Safety Ratings report found that, on average, newer car models provide drivers with better protection from injury in a crash based on structural improvements and the fitting of various safety features.
For more information on used car safety ratings and the most recent ratings report, you can visit Monash University Accident Research Centre, or the website of your local motoring club (e.g. RACQ, NRMA, RACV or RAC) or state transport department.
Can car safety ratings impact car insurance premiums or cover?
In an article for Canstar on the safest new and used cars, PD Insurance Communications Manager, Kristy Sheppard, said that while the safety rating of a vehicle can have a significant influence on how your car insurance premium is calculated, it is not a 'golden ticket'.
Ms Sheppard said insurance companies generally follow a multi-layered process to determine policy pricing and will differ in what factors they take into account to work out the premium. Some aspects that insurers may factor in when determining a car insurance premium include the vehicle type; where the car is located; the driver's age, gender and driving history; how the vehicle will be used; and if the car has any modifications or accessories.
The safety rating of your vehicle may also impact whether you can take out car insurance with certain providers. For example, RAC WA no longer insures vehicles manufactured from 2012 and beyond with an ANCAP safety rating below four or five stars. The insurer said it decided to apply this rule to help reinforce the importance of driving a vehicle with a higher level of safety.
Other considerations
While the safety rating of a vehicle is an important consideration when purchasing a car, it is not the only factor to take on board when narrowing down your options. Some other things worth considering include the purchase price and approximate ongoing running costs of the vehicle, fuel consumption, safety feature inclusions, and whether the car body type (e.g. sedan, SUV, ute, hatch), optional extras (e.g. sunroof, leather upholstery), fuel type (e.g. petrol, diesel, hybrid, electric) and transmission (automatic or manual) will suit your needs.
You may also want to take into account what insurance costs may be payable for the car you choose (as sports or luxury cars may carry higher premiums), as well as what type of car insurance you may want to purchase.
Cover image source: ANCAP (supplied)
---
If you're in the market for a car insurance policy, check out the table below which includes some of the car insurance policies on Canstar's database for each of a 25-29, 30-39 and 40-49 year old male driver in NSW without an extra driver under 25 years old, with links to providers' websites. The results are sorted by Star Rating, then by provider name (alphabetically). Check upfront with your provider and read the PDS to confirm whether a particular policy meets your needs before deciding to commit to it.