About 8 in 10 Australians use social media regularly, but just over one fifth of all businesses have a social media presence! It's time to get onboard with social media marketing – so here's a beginner's guide from Canstar.
According to MYOB, only one third of all Australian businesses now have a website (31%), and even less have any social media presence (22%). These figures get a bit more promising when only looking at small and medium-sized enterprises; according to MYOB, roughly 50% of SMEs have a social media presence.
We were surprised to find the number of businesses getting online were so low, when 94% of businesses now have internet access. (And of those, 99% have high speed broadband, according to the ABS.)
Clearly, social media remains an area where there is a significant gap for businesses to fill.  Social media is also an easy way to get your business online if you don't yet have a website. Canstar has reported before on why businesses need to be mobile-friendly, and social media is by nature mobile-friendly.
Compare Business Transaction Accounts
Why every business needs social media marketing
Social media doesn't show any signs of disappearing – about 8 in 10 of people in Australia now use social media regularly (79%), and 59% of people access social media every day, with over a third checking social media more than 5 times every 24 hours.
This is an increase of 10% from 2016, according to the Sensis Social Media Report for 2017.

So if you run a business and you don't have a social media presence, that's a heck of a lot of potential customers you're missing out on.
The benefits are real. Sensis's 2017 report showed that 56% of consumers pay attention to ads they see on social media (Sensis, 2017), and 64% of consumers trust a brand if it does social media well.

According to MYOB, having a social media presence results in increased sales and exposure for businesses:
Increased sales: Around 1 in 3 businesses reported an increase in revenue and income from having a website (37%) or social media (33%).
Increased sales online: 28% of businesses with a social media presence and 32% of businesses with a website reported that they have had greater success selling products and services online, which are both sizeable increases from 12 months ago.
Increased customer base: More than half of all businesses saying that having either a website (50%) or social media presence (54%) generated more customer enquiries and leads.
When it comes to having a social media site, 67% of Gen X business owners said that they have seen increased interactions with customers, while 60% of businesses in retail and hospitality felt that their social media presence increased their appeal to younger audiences.
Social media advertising is therefore becoming more important, with 26% of small businesses and 35% of medium-sized businesses now using social media advertising in 2017, a solid increase from last year (20% and 27% respectively).
The below comparison table allows you to compare electronic business transaction actions, sorted by our star ratings (highest -lowest).
If your business needs some encouragement to get online and find their clients in the 'interwebs', here are our best tips for how to grow your business through social media marketing.
Which social media platform does my business need to be on?
It depends on two things:
Where your customers are hanging out, and
What type of products and services your business offers
The majority of social media users continue to live on Facebook, but there are many other platforms that are more popular with younger people. Find out whether most of your customers are Baby Boomers on Facebook or Gen Zs on Snapchat, and try to be on the platforms that are most relevant to your customers.
Secondly, your choice of social media depends on which platforms are best suited to promoting your business's products or services. Do you need to share…
Photos of products or your store?
Videos of events, advice and tips, or music?
Links to your website?
Shopping e-commerce buttons?
Direct social media advertising?
What you need to be able to share affects which platform could be right for your business. Here's the main social media platforms summarised in terms of what they are good for sharing:
Platform
Good for…
Facebook
Ads, shopping, photos, videos, animated GIFs, website links
YouTube
Videos
Twitter
Website links, photos, videos
Instagram
Photos, videos (60 seconds only)

(Does not allow shopping or links to your website)

Snapchat
Photos, videos
Pinterest
Ads, shopping, photos, website links

(Great for reaching women customers)

Periscope
Videos
LinkedIn
Website links, photos, videos
Tumblr
Ads, photos, videos, website links, blogs
WeChat (China)
Ads, shopping (in-built e-wallet payment system allows instant sales), booking appointments,

ordering food, photos, videos, animated GIFs, website links

(China's equivalent of Facebook)

QQ (China)
Shopping, website links, blogs
QZone (China)
Photos, videos
LINE (Japan)
Photos, videos, surveys and polls
Baidu & Baidu Tieba (China)
Ads, search engine
Weibo (China)
Website links, blogs
Facebook
With more than 2 billion users as of June 2017, and more than 94% of social networking users being active on Facebook in 2017 (Sensis), it's still important for your business to be there.
From photos of your products, to videos telling your customers how to use your products and why they need your services, to instant shopping through Facebook's e-commerce system, to sponsored ads, Facebook offers a wealth of promotion opportunities.
YouTube
YouTube reaches more viewers aged 18 to 34 than any TV network. Why would you save up for TV advertising?
With 1.5 billion logged-in users per month as of June 2017, and even more users who are not logged into their account, YouTube definitely needs your attention.
If you have any form of recording device, start brainstorming short clips that you could film to highlight your business. It could be anything – a promotion of your products, an interview with your salespeople about their favourite time of day in the store, your analysis of current market trends, or a vlog of the latest event you held.
Google
It is still free to put your business on all of Google, including customers finding your company address using Google Maps. This is vital for businesses with a physical store or office location.
So why wouldn't you? It remains the easiest way to get the most exposure through the world's largest search engine.
A social media profile on Google+ may not be as valuable, with just 10% of social media users (Sensis).
Instagram
Instagram now has 700 million active monthly users and 400 daily active users as of April 2017, and according to Sensis, 46% of social media users are on Instagram. You are still limited to posting photos and videos on this platform, but it may be the easiest way to find your youngest customers online.
In 2017, Instagram stories and takeovers have been popular in the first half of this year. For example, for a hair salon, one of the hairdressers will be in charge of posting pictures and videos for the day on the Instagram story. Brands might even have a celebrity or public figure take over their page.
Snapchat
Snapchat was only launched in 2016, but it already has an estimated 150 million active users as of June 2017, and 40% of social media users are on Snapchat (Sensis). Snapchat is limited to posting photos and videos, but again, it is the place to be for young customers in Gen Z.
Twitter
Twitter has 328 million active monthly users as of April 2017, or 32% of social media users (Sensis). You can still post very short snippets of info or links to your website, as well as photos or videos. Twitter is viewed as a way for people to follow the brands and celebrities they admire.
LinkedIn
LinkedIn remains one of the world's largest spaces for sharing content, with 500 million active users as of April 2017, and 18% of social media users (Sensis). Many people read posts about market trends or other news on LinkedIn rather than through a dedicated news outlet or other social media platforms.
Are my customers using social media?
Almost definitely, depending on their age. Customers in most age groups use social media, but according to Sensis's 2017 data, 99% of all young customers aged 18-29 years are on social media.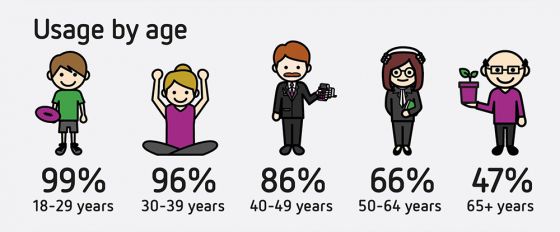 The below comparison table allows you to compare business savings accounts for online savings accounts with a balance of $50,000, sorted by our star ratings (highest -lowest).
Compare Business Savings Accounts
What do people want to see on a business's social media profile?
Almost a quarter of people are deliberately using social media to follow brands or businesses in 2017 (24%), according to Sensis. Most of those are looking for discounts (54%) and competition giveaways (48%) from the brands or businesses they follow.
People who intentionally go to a business's social media profile may be looking for one of several things:
What a café or restaurant looks like inside
The menu for a café or restaurant
The product list for a store
Sales or promotions
Competitions that are running
Pictures of the products, especially when new things are released
Upcoming events
Pictures of customers using the services provided or testimonials from customers, e.g. 'before and after' pictures for hair and beauty salons
Information about the business during holiday periods I.e. Hours that they are open/closed on public holidays
People who view your social media advertising or sponsored posts, on the other hand, may be looking for anything, so the audience is quite different. The ability to shop direct from Facebook can be a significant factor in whether people engage with social media marketing.
Compare Business POS & E-Commerce Options
More help with social media marketing
For a more detailed introduction to social media, you can check out the resources provided for small businesses by the Queensland Government's Department of Business and Industry. Resources include:
Using Facebook to market your business
Using YouTube to market your business
Using Twitter to market your business
Using a blog to market your business
Using location-based marketing to market your business
Using coupon websites to market your business
Optimising your website for mobile devices
If you do your social media marketing right, the online word-of-mouth can bring more money to your business. Despite the fact that only 22% of Australian businesses use social media, more than half of them have said that it makes doing business easier.
MYOB CEO Tim Reed says that size is no barrier to using social media. "We would encourage SMEs to continue to use innovative tools for their business and a social media presence is helping make life easier for many. Creating a social media presence and using it to interact with customers is a simple, innovative step that can help your business succeed."
Whether the money is coming to you through your ecommerce website or through customers walking through your shop doors, you need great value transactions account to put the money in, and a great value savings account to grow your business savings.
 Compare Business Transaction Accounts
 Compare Business Savings Accounts