Woolworths has upped the collectibles stakes by offering shoppers a chance to win a trip to Disneyland, in a move that's expected to give customers a similar dopamine rush to what smokers get when they light up.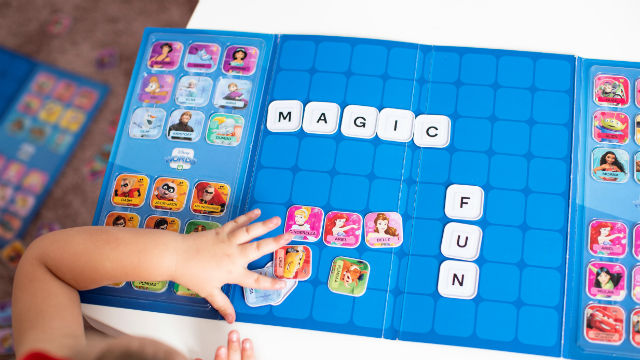 And it's this dopamine hit from the thought of winning that could lead some shoppers to spend more than they usually would, behavourial economist Dr Brendan Markey-Towler says.
Woolworths' highly anticipated new collectibles range 'Disney Words by Woolworths' launched today. The collection consists of 36 tiles picturing popular characters from Disney animated movies, such as Aladdin, Frozen and Toy Story on one side and a letter or symbol on the other side.
Shoppers will be able to collect a tile for every $30 spent in store or online, similar to Coles' Stikeez collectibles where one miniature plastic fruit or vegetable can be picked up for every $30 spent.
Woolies customers can use the tiles for word games, purchase various matching collector's items and score bonus tiles.
Shoppers will have a chance to win one of 10 VIP trips for four people to the Disneyland Resort in California if they find the exclusive 'Disneyland' castle tile, in a promotion reminiscent of Willy Wonka's Golden Ticket from the famous children's book Charlie and the Chocolate Factory.
Dr Markey-Towler, a behavioural economics expert at the University of Queensland, said the idea of winning a major holiday from a collectibles promotion would give a person's brain a dopamine hit while they're spending.
"It changes the shopping experience from being just a necessary routine and instead elevates it into the realm of goal-oriented behaviour, which creates dopamine hits," he said.
"Dopamine is the same neurochemical transmitter that's activated and released when we smoke, drink, access social media and get a text message."
Dr Markey-Towler said this may lead some customers to buy more than what they need.
He said adults and children will be drawn to the campaign because of the "sweet deal" of an ultimate family vacation overseas.
"Find me an adult that wasn't raised on Disney," he added.
"We know that these schemes, where you have a very small chance of getting a huge amount if you only spend a little, are hugely successful. That's what we call the lottery."
While he expects Woolies' campaign to be popular, he said it was probably not a big enough splash to break people from their routine entirely and result in large numbers of regular Coles shoppers making the switch.
Woolworths posted a slightly softer than expected 1% lift in net profit in its half-year results last week, while Coles' half-year results showed sales slowed in the final months of last year despite rolling out more Little Shop campaigns.
Coles has previously said its inaugural and "highly successful" Little Shop campaign, which consisted of 30 mini plastic grocery items such as Weet-Bix and Vegemite, helped lift its first quarter sales by 5.8% to $7.6 billion.
Woolworths partly blamed its poor sales at the start of its first quarter on a "competitor continuity program".