High-profile authors, sporting stars and politicians are auctioning off precious items in a bid to raise much-needed funds for Australians, firefighters and wildlife impacted by the devastating bushfires across the nation.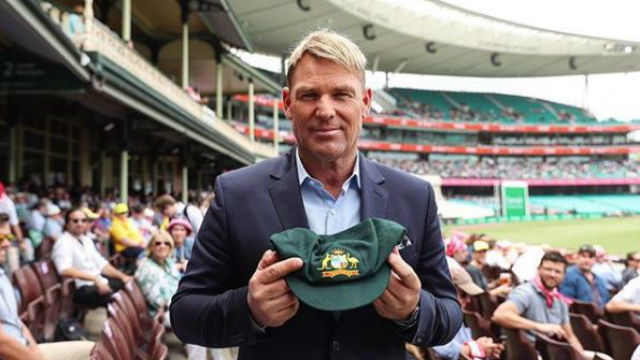 Local and international celebrities have garnered support and donated generously to Australian charities and organisations working hard to help those affected by the bushfire emergency.
Comedian Celeste Barber broke the record for the biggest charity campaign ever hosted on Facebook by raising more than $45 million for the NSW Rural Fire Service in a matter of days.
Banks, the government and the Australian Red Cross has also helped by providing financial assistance to communities with special grants, emergency accommodation and waiving of fees and charges on loans.
The Commonwealth Bank won an auction to buy Shane Warne's "baggy green" cap, worn throughout the Australian cricketer's 145-match Test career for Australia, for $1,007,500. Proceeds will go to the Australian Red Cross Disaster Relief and Recovery Fund.
"CBA will take the baggy green on a national tour to raise additional funds for communities devastated by bushfires before it becomes a permanent exhibit at the Bradman Museum in Bowral, NSW," the bank said in a statement. "Cricket fans across the country will have the opportunity to view or take their picture with the cap during the tour, with further details to be released soon."
If you're looking for a slightly different way to show support for your fellow Australians, there is also an auction movement well under way across social media, with profits going towards bushfire relief efforts. Here are just some of the items and experiences up for grabs.
Tayla Harris' footy boots
AFLW player Tayla Harris listed a pair of her well-worn footy boots for auction, with all proceeds going to the Red Cross' disaster relief initiative.
I'm auctioning off these boots to raise money for the Australian Red Cross Disaster Relief to help those effected by the bushfires!!! 🔥
I wore these boots in the 2014 women's exhibition game – Melbourne v Western Bulldogs. please bid generously 🙌🏼https://t.co/76UuICVSUQ pic.twitter.com/NyhvJ68WV2

— Tayla Harris (@taylaharriss) January 2, 2020
Authors for Fireys
High-profile authors and public figures are auctioning off signed copies of their books and sneak-peeks at manuscripts, sometimes in combination with an experience and other memorabilia. All donations will go towards Victoria's volunteer emergency and fire services organisation, the Country Fire Authority.
Twitter is being used as the "auction room" for #AuthorsForFireys. Interested buyers can make a bid in the comments of a post with items up for donation, and then the items will be dispatched to the highest bidder once proof of donation is received. People have until 11pm AEST on Saturday, 11 January to make a bid.
Here are some of the people who have posted items up for auction via #AuthorsForFireys.
Trent Dalton, author
Signed copy of Boy Swallows Universe in French
A visit from Trent Dalton to your house with a bottle of champagne and book reading
Preview of his next book, All Our Shimmering Skies.
Leigh Sales & Annabel Crabb, journalists
Signed copy of Sales' Any Ordinary Day and Crabb's The Wife Drought
4 tickets to their podcast show Chat 10, Looks 3
Drinks with them backstage before the show
Kevin Rudd, former Prime Minister
His books Not for the Faint-Hearted and PM Years
Signed 'Kevin07' shirt
Signed handballs
Signed Apology text
Play handball with Kevin Rudd or chat over tea and Iced Volvos
Hannah Kent, author
Signed copy of a special edition hardback of her book Burial Rites
Signed copy of Burial Rites in Icelandic
Winning bidder's name to appear in her third novel
Skype chat with Hannah Kent to talk about your writing project
My fourth #AuthorsForFireys auction item is a skype chat with me to talk about your writing project! I'll read 10,000 words of your work beforehand.

Bids in comments.

Auction ends Jan 11 AEST. All proceeds to CFA. On provision of donation receipt, I'll DM you with details. pic.twitter.com/q9XmX3YiuC

— Hannah Kent (@HannahFKent) January 5, 2020
Thomson's cap and vest
Famous fast bowler Jeff Thomson has also donated his baggy green and flannel vest – worn while playing in the 70s and 80s – to be auctioned, with all profits going to the NSW Rural Fire Service. The items will come with a signed letter of authenticity and a lunch with the cricketer.
Scott McLaughlin's helmet & race suit
Supercars champion Scott McLaughlin has donated one of his 2017 helmets and race suits to be auctioned by Sunday, 12 January, with all proceeds going to the Red Cross and wildlife charity WIRES in an even split.
He told Facebook followers he would personally match the helmet sale with another donation out of his own pocket.
Phoebe Waller-Bridge's red carpet outfit from the Golden Globes
Across the pond, Brit and creator of comedy show Fleabag, Phoebe Waller-Bridge, pledged to auction her red carpet outfit from the 77th annual Golden Globe Awards to help relieve bushfire-affected communities in Australia. Her pant suit was designed by Australian expatriate brand Ralph & Russo.
The Golden Globes weren't short of mentions to the bushfire crisis, with Russell Crowe missing the ceremony altogether to stay in Australia and protect his family and home. A video he took shows his firefighting ute, complete with his Golden Globe trophy riding shotgun. Both Crowe and fellow Aussie Cate Blanchett used their speeches to link the worsening fires to climate change.
A warning to do your research before donating to bushfire relief
Government agency Scamwatch warned that anyone thinking about donating should do their research to make sure you are giving to a legitimate organisation.
The agency said it received many reports of scams targeting people after the 2009 Victorian bushfires, and other media have reported that heartless scammers are active again during this crisis.
When it comes to auction donations, it could be worthwhile checking you have a legitimate auction page provided to you by the seller.