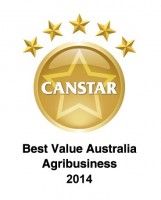 Each year Canstar assesses the agribusiness products and services offered by Australian financial institutions and this year Canstar is pleased to announce
Commonwealth Bank
as the winner of the Canstar Agribusiness Award.
Canstar caught up with Geoff Wearne, Executive General Manager Regional and Agribusiness Banking, Commonwealth Bank, for a Q & A on market trends and product features.
Q: Access to finance is essential for any type of business, but agribusinesses do need a specialised approach. What are some of the most important service features that your agribusiness clients tell you are important to them?
A: Accessibility is a vital feature of bank service for farmers, who work in a highly specialised sector where they are not in major cities, their businesses are seasonal and their work hours are unconventional. Along with our extensive branch and agribusiness adviser network, we support these customers with initiatives like video conferencing facilities in our branches, developed especially to ensure customers can access the best specialist advice the bank has to offer. The system allows face to face interactions between customers and advisers even when they are in different locations.
Our agribusiness banking specialists across the country support Australia?s leading agribusinesses with a great depth of industry knowledge and insight. Our finance products are designed to meet the specific needs of agribusiness, where seasonal cash flow can fluctuate and risk management is always important.
Q: What are some of the main challenges facing the Australian agribusiness sector currently?
A: Our recent Agri Insights survey of 1,400 farmers indicated that overall, farmers are actually quite optimistic about the year ahead, but of course there are still challenges in the sector. In a separate research project we conducted last year, we asked farmers specifically about the opportunities and challenges they saw for the year ahead, and managing input costs was the most frequently mentioned challenge.
We know farmers are also concerned about how to generate the best possible returns for their products, and the weather is also an ongoing challenge for agribusiness, with many areas still feeling the impacts of drought.
Our aim is to work in partnership with customers to understand their business challenges and help them create finance strategies to achieve sustainable and profitable businesses over the long term.
Q: What do you see as some of the main current opportunities for the sector overall?
A: Some of the current opportunities for the Australian agribusiness industry are coming through the development of markets in Asia and other regions. This was clearly reflected in research we conducted in late 2013 with 1,000 farmers across the nation. The research found close to one in three farmers consider overseas demand a significant opportunity.
We also know from our research and from talking with our customers that there is opportunity for technology and innovation to help farmers boost productivity and profitability. We?re working with customers to help them implement the business changes they need to capitalise on these opportunities.
Click here to read Canstar's 2014 Agribusiness Awards full report.