Each year Canstar researches and rates the agribusiness offering provided to the agricultural sector by our financial institutions. In 2015 the Commonwealth Bank has again proved that consistency of products and services to its rural customers pays dividends. It has taken out the Canstar Bank of the Year – Agribusiness, repeating its feat of last year. The Commonwealth Bank also won this accolade in 2012.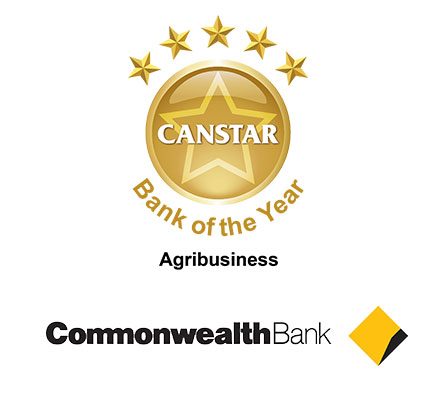 Its agribusiness finance, including term lending, overdrafts and credit cards were outstanding, as was Commonwealth Bank?s deposit products for the rural sector.
In light of the win, we caught up with Geoff Wearne, Executive General Manager Regional and Agribusiness Banking, Commonwealth Bank, for some insights into current agribusiness opportunities and challenges.
Q: Agribusiness can be a more challenging industry than most; what are some of the tailored products they require? How important is it for your managers to have a good understanding of the clients? businesses?
A: For our customers who make their living from the land or the sea, access to financial solutions to bridge seasonal cash flow gaps and grasp new opportunities, is essential.
We help customers create a safety net for unexpected expenses with our Business Overdraft, providing the flexibility to withdraw cash up to their approved limit as they need it.
Helping our customers manage their cash flow is a key area of focus and our Agribusiness Line of Credit gives our customers immediate access to capital over the medium and longer term. This flexible facility allows them to make repayments at their own pace and redraw funds up to the approved limit at any time. We also have Grain Inventory Finance to unlock the value in our customers? grain inventory. This can provide a boost to their cash flow, and allow them to repay the facility when they sell their crop.
Our Better Business Loan helps our customers looking to expand their enterprises. They can tailor their loan to suit their business, with interest-only facilities available, redraw options and payment restructuring considered if circumstances warrant it. Or they can choose a variable rate loan to take advantage of our fee-free redraw when they need access to extra cash.
Our Market Rate Loans provide customers with a convenient and flexible loan that helps to keep cash ?on tap? and allows them to take advantage of transparent market rates.
For our agribusiness executives it is paramount that they have a deep understanding of their customers? needs and their industry to support them in their future success. Our agribusiness executives provide more than innovative financial solutions – they provide a high level of customer service through targeted and informed insights and being accessible to our customers, wherever they are and whenever they need us.
Q: What are some of the real agri opportunities that your analysts are seeing right now?
A: The April results of CommBank?s bi-annual Agri Insights Survey with 1,600 Australian farmers? supports what our analysts are hearing and seeing in their markets. Our research showed that farmers prefer a proactive approach to farm profitability that includes focusing on product quality over cost management and actively adjusting their farm management strategy to meet the needs of the market.
Farmers in the 35 to 44 year age bracket are the most driven to try new innovations, with almost half of that group reporting they are usually among the first in their farming region to try out new ideas. Women are slightly more likely than men to choose more innovative practices.
The survey reveals that most farmers use a combination of sales approaches to get the best return for their product, with a smaller number preferring to stay with a tried and true method that has served them well in the past.
Q: Conversely, what are some of the biggest broad challenges?
A: Our April Agri Insights report also showed that weather and pricing were both challenges and opportunities depending on the industry.
Sheep for Lamb
More farmers are willing to build stock now that price pressures experienced during the dry periods have abated. There are exceptions to this in north-western Victoria and, to a lesser extent, in parts of South Australia where dry conditions have persisted.
Beef Cattle
Survey results are consistent with price indicators, like the Eastern Young Cattle Indicator, that suggest fewer cattle are being sent to market for sale. Rainfall in Australia?s summer crop regions was a catalyst for the pricing shift.
Dairy
There is a high degree of optimism despite the fall last year in global dairy prices, demonstrating the value of diverse sources of demand – the domestic market continued to pay well despite the downturn offshore.
Sugar Cane
Several factors are supporting sugar cane growers to take a long-term view. One is that more land is being released from forestry schemes; another is that there is still some rebuilding after weather issues and finally, some mills are offering incentives to plant.
In addition to these insights we found that there were also challenges and opportunities with farmers? investment and people investment intentions:
Intentions around off-farm investment have softened slightly while fewer farmers say they will pursue off-farm employment.
The number of farmers planning to increase employee numbers or boost family involvement in their farm is offset by intentions of farmers to decrease their own involvement in their farm business over the next 12 months.
Q: What is Commonwealth Bank?s overriding philosophy when managing agribusiness relationships?
A: Agribusinesses are the heart and soul of the Australian economy, and at Commonwealth Bank, we?re passionate about supporting them. The needs of our customers are at the centre of everything we do, from specialised financial solutions to accessible branches and staff. We understand the challenges our customers face – and the opportunities. Our vision is to excel at securing and enhancing the financial wellbeing of people, businesses and communities throughout regional Australia.