Busting the "entitled Gen Y" myth, research shows Australia's children are 21% more likely than previous generations to have to do chores to earn pocket money.
The 50 Years of Pocket Money report released this month by Teachers Mutual Bank found that 81% of Australians believe children today should do chores to receive pocket money. This is compared to 67% of adults who had to complete chores to earn their pocket money when they were a child.
This matches figures released in CommBank's 2016 Common Cents survey, which showed that 2 in 3 primary school children receive pocket, and 82% do chores to earn it.
Aussie kids not getting a free ride
More kids are earning pocket money than before – 87% of children earn pocket money today, compared to 70% of adults surveyed having earned pocket money when they were a child.
But the survey shows that the children of today are not getting a free ride. Helping with the laundry and looking after the family pet are two chores that are becoming increasingly common for Aussie kids.
Just 9% of adults said kids should receive pocket money without having to work for it.
In contrast, parenting expert Michael Grose says children need to learn that they must contribute positively to the family – by doing chores – without getting paid for their efforts.
"Getting paid for help defeats this idea," he says. "It teaches kids to think, 'What's in this for me?'"
Once kids have earned their money, they aren't necessarily free to spend it on Brain Blaster lollies – 85% of Australians surveyed said parents should have some influence on what kids do with their money. Over half (56%) of adults surveyed said they remember their parents giving them guidance on what to spend their money on when they were children.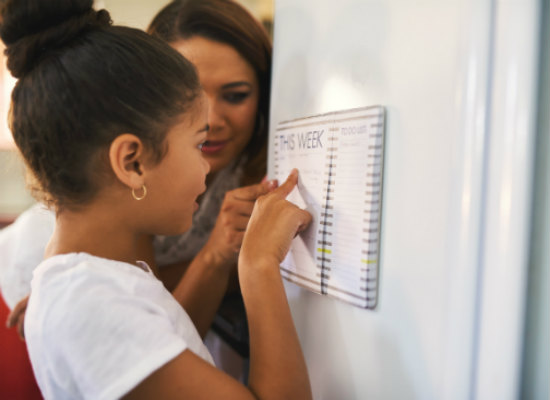 Those most likely to deny children any pocket money at all are those in an age bracket likely to have primary school aged children (35 – 44 years old), which is known as an expensive time of life for families.
Beyond household chores, 57% of men and 53% of women believe pocket money should only be given if children are well-behaved. 27% say pocket money should also be dependent on getting good grades in school or extra-curricular activities such as music lessons or sport.
Steve James, CEO of Teachers Mutual Bank, says the results are good news for the financial futures of the next generation.
"Our report has shown that Australians are committed to educating children about financial literacy, and the value of being rewarded for hard work," says Mr James.
"It is refreshing to hear that parents are setting expectations to ensure their children develop good financial habits."
Cash still king
However, even this may be changing, with 23% of Australians paying an allowance into a bank account for their children. This allows kids to decide whether to use the 'tap and go' features to spend the money on their bank card or save it for the future.
The good news is that Aussie kids seem to have a relatively good saving habit. Almost half (47%) of children surveyed in 2016 by CommBank already save all of their pocket money each week.
To meet the push for a cashless pocket money option, Teachers Mutual Bank recently began a pilot program called Spriggy. Spriggy is a mobile app that comes with a reloadable Parent Wallet and prepaid Visa debit card for children under 13.
Parents simply transfer money into the wallet, then allocate some or all to the prepaid card, which can be used to make purchases wherever Visa is accepted. Parents can monitor their children's spending using the app.
Teachers Mutual Bank members who sign up before 14 February 2017 receive the first year's subscription fee ($30/year per child) free of charge.
Chores that are kid-friendly
The top pocket money chores identified in the 2016 survey included:
Tidying the bedroom (85%)
Setting the dinner table or cleaning up after dinner (77%)
Taking out the rubbish (67%)
Looking after pets (66%)
Cleaning the house (50%)
Children who have pestered their parents into buying a dog or cat or guinea pig or fish can now be responsible for feeding, walking, and washing their pet. Kids who live on a farm often get to feed the animals as their daily chores: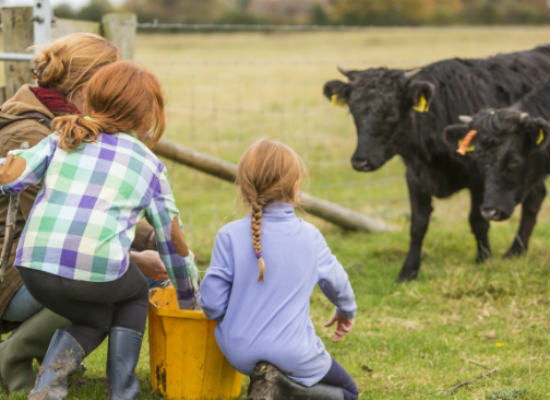 Reflecting the changing landscape of home ownership from houses on acreage to houses on a small block, townhouses, units, and small apartments, Australian kids today are less likely to mow the lawn or help with the gardening.
Meanwhile, doing the laundry was once a task not for children – being a time-consuming and labour-intensive chore – but today 66% of families give this job to the kids. These days this chore mainly involves putting clothes in a washing machine and pushing a few buttons, then hanging them out to dry or even simply putting them into the automatic dryer.
How to make chores fun for kids
Keep a list, and give a reward that is more than just pocket money earned per chores done. For example, you could have a weekly chart where a gold star gets added for every chore done.
By helping your kids with the chores the first few times you do them, you can instil a sense of fun and importance in your child so that they want to keep doing the chores. Even doing the dishes can be fun if you treat the bubbles with the right amount of enthusiasm.
A task like doing the vacuuming can be something your son is keen to do if he is persuaded that it is an important thing that only a true "man of the house" would do.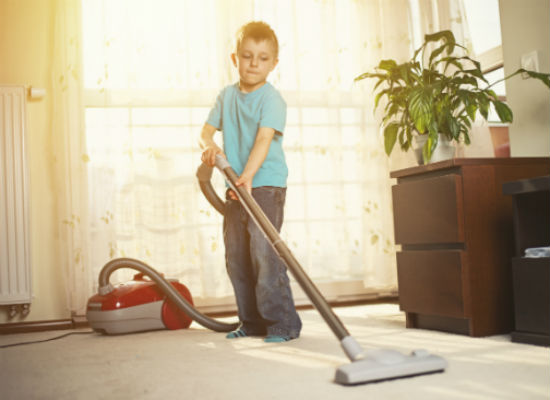 The Heritage Bank survey in 2015 found the gender pay gap starts young. Girls in the survey earned more than 10% less per week to do the same amount of chores. Since 82% of Aussie parents agreed that the way children receive pocket money has a direct impact on how they spend and save money, parents are advised to keep things fair and equal when divvying up cash for the chores.
The market research survey done by Westpac in creating their award-winning mobile app, Pay Pig, found that on average, boys earn more pocket money than girls. Boys also do chores that take less time, performing 2.1 hours of chores per week on average compared to 2.7 hours per week for girls.