According to research by the Insurance Council of Australia and Smart Traveller, Australians are exposing themselves to the risk of underinsurance when travelling. So, what are the possible risks of shopping around for price alone when considering
travel insurance
, and what are the key factors to consider when comparing policies?
Canstar
investigates.
It's no secret, Aussies love to travel. More than 822,000 of us headed overseas in May alone, according to Australian Bureau of Statistics' original terms data.
When it comes to popular international destinations, most Australians travelled to our neighbours in New Zealand and Indonesia, while others ventured further away to America.
According to Tourism Research Australia, some of our most popular domestic travel locations recently have been to the North Coast of New South Wales, Melbourne and the sunny Gold Coast. But are enough Aussies doing their research on travel insurance?
The answer is no, according to Smart Traveller and the Insurance Council of Australia, who found in 2017 that one in ten people went overseas without any travel insurance on their most recent trip. A third of travellers said they chose the cheapest travel insurance quote available, without considering other factors.

Canstar's Group Manager of Research and Ratings Mitch Watson said it was important for Australians to consider more than just price when comparing travel insurance policies.
"Forgoing cover for a few dollars may just push the financial burden onto family and friends should a traveller run into trouble overseas," Mr Watson said.
He said cheap didn't necessarily mean low cover either, as there were some good deals on the market with a high level of cover.
"It pays to do your homework and shop around," he said.
If it's not just about price, what else should I consider?
Before you pick the first cheap insurance policy you see, stuff some clothes in your bag and jet off to your dream destination, there are a few things to consider.
Medical cover, cover for lost or damaged luggage and cancellation cover in your travel insurance policy could give you peace of mind in the event that something goes wrong.
Canstar's Research team found around 60% of travel insurance products on the market offer unlimited overseas medical cover for couples, families or singles. It's a good idea to assess your likelihood of requiring medical cover given your travel destination and likely activities in order to ensure you have adequate cover for your circumstances. For instance, someone planning to bungee jump in Bali might need a different level of cover compared to someone going on a cruise through Europe.
The value of your luggage, in both dollar and sentimental terms, is also something to think about. Terms of cover for luggage can vary significantly from provider to provider. With a single traveller looking at minimum luggage cover of $500 and maximum of up to $25,000, you can certainly make a case for taking the time to consider the value of your luggage and compare policies.
Then there's cancellation cover – which can be handy if something unexpected pops up that stops you from going on the trip. Canstar's Research team found nearly 50% of products in the market offer unlimited cancellation cover. While the price of a low-cover, cheap policy might be alluring at first, Canstar data found the market minimum cancellation cover might only cover a single person up to $750. For someone travelling to London, for example, that would only cover about half the flight cost. The market maximum cancellation, on the other hand, would cover singles up to $250,000.
With such significant differences in cover, it's worth weighing up what you need to be covered for your trip and compare your options to find the right insurance policy for you.
2018 Travel Insurance Star Ratings
After analysing 287 products from 92 providers, Canstar has announced the winners of the 2018 Travel Insurance Star Ratings. These Star Ratings involved a sophisticated ratings methodology, unique to Canstar, which compares both cost and features across travel insurance policies for senior travellers, international travel, domestic travel and cruises.
The 5-Star rated products all offer travellers medical, cancellation and luggage cover for travellers. They were also found to be up to 32% cheaper than the market average.
The market average for a family's travel insurance quote, for instance, was around $255 compared to the 5-Star average quote of around $176. The highest average quote for 5-Star product premiums was around $192 for single seniors aged 72, and the lowest was around $91 for singles aged 30.
"There are policies with lower levels of cover that may be cheaper, however, travellers need to consider whether they are taking too great of a risk by foregoing this cover," Mr Watson said.
The winners of our 2018 Travel Insurance Star Ratings are listed below in alphabetical order.
Holiday Rescue – Outstanding Value Domestic and Cruise Travel Insurance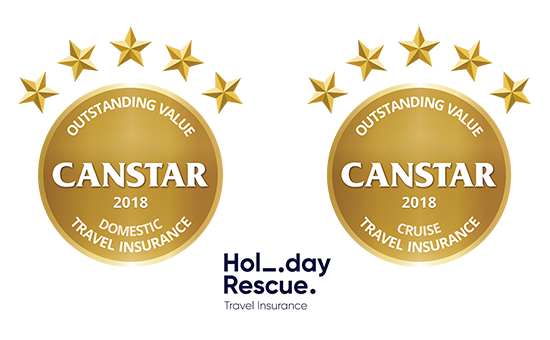 Holiday Rescue was awarded Outstanding Value in both the domestic and cruise travel insurance profiles in the 2018 Travel Insurance Star Ratings.
Canstar Research was impressed by the strong feature offering from Holiday Rescue as well as having premiums significantly below the market average. Some of the standout features offered by Holiday Rescue included $5,000 of cover for cancellation and emergency arrangements, as well as coverage of frequent flyer points lost to cancellations.
Huddle – Outstanding Value Seniors Travel Insurance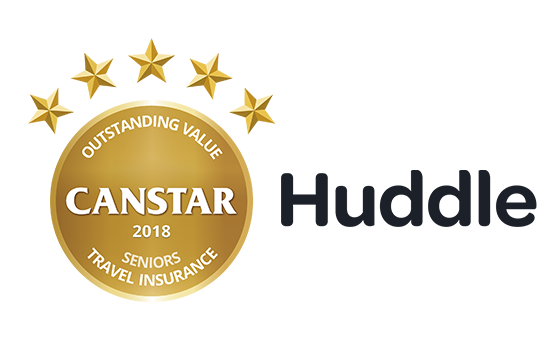 As a new entrant to the market in 2018, Huddle received the award for Outstanding Value Seniors Travel Insurance in this year's Star Ratings.
Canstar Research found Huddle led the market in providing travel insurance to seniors going on a cruise, particularly in Australia and Fiji with premiums 46% and 58% cheaper than the market average, respectively. Overall, its insurance policies offer a range of features that scored above the market average.
Woolworths – Outstanding Value International Travel Insurance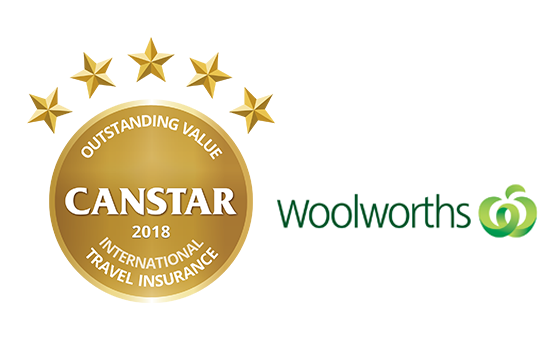 Woolworths was awarded Outstanding Value for international travel insurance in this year's Star Ratings.
The Canstar Research team said Woolworths received this award on the back of the improved performance of its basic policy, which is now the top performing travel insurance policy provided by Woolworths according to our research. The travel insurance provider offers consumers premiums around 50% cheaper than market averages. It also offers unlimited hospital and medical cover as well as competitive coverage of luggage and personal effects.
World2Cover – Outstanding Value International, Domestic, Cruise and Seniors Travel Insurance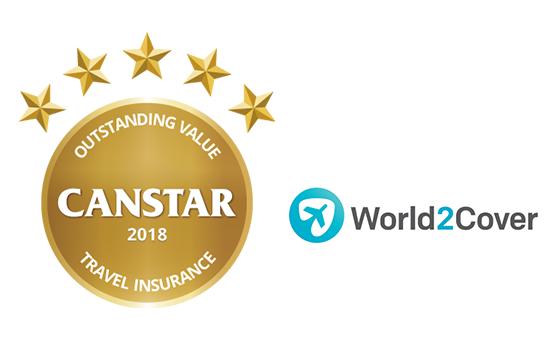 The Canstar Research team found World2Cover to be a standout performer in this year's Travel Insurance Star Ratings, being recognised for providing Outstanding Value travel insurance across the four categories analysed – international, domestic, seniors and cruise travel insurance.
The Research team said World2Cover's performance in this year's Star Ratings was primarily driven by a highly competitive feature suite, having achieved one of the top feature scores for cruise travel insurance. Its robust product offering was bolstered by competitive premiums which were up to 39% cheaper than the market average for mature singles travelling within southern and central Asia.
Zoom Travel Insurance – Outstanding Value Domestic Travel Insurance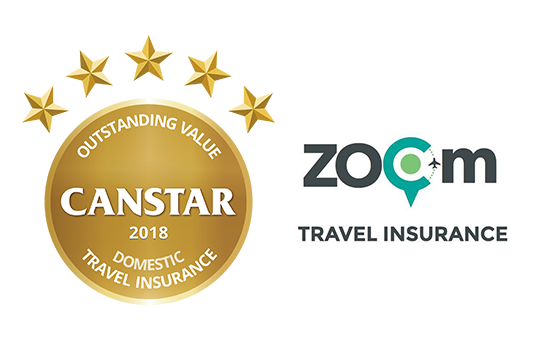 Zoom Travel Insurance received the award for Outstanding Value Domestic Travel Insurance in this year's Star Ratings.
The Canstar Research team was impressed by the consistent offerings and performance from Zoom, particularly its zero excess products with highly competitive premiums. For example, Zoom Travel Insurance's premiums for couples travelling within Australia were around 42% lower than the market average.
For more information about the 2018 Travel Insurance Star Ratings award winner justification, please view the ratings methodology: