Travellers going through Australia's international airport security will now be able to avoid long lines thanks to new facial recognition technology being rolled out around the country, which may eventually replace the passport for some passengers.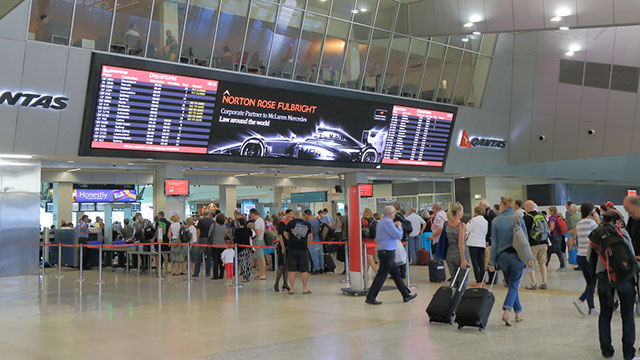 Minister for Immigration and Border Protection Peter Dutton announced today that the government has entered into a $22.5 million contract with Vision-Box Australia to introduce an automated and "contactless traveller" clearance process for people arriving at Australian airports.
The 3-year contract will deliver upgraded biometric technology to identify and clear people through security, with 105 SmartGates to be rolled out across Australia.
The project is intended to reduce the time people are waiting in queues at the airport, with an average of 40 million passengers and crew passing through borders at Australian airports each year.
This is expected to rise to 50 million people by 2020.
"The Government's investment in advanced state-of-the-art biometric systems continues to enhance existing border automation measures and further improves the efficiency and speed of border processing for legitimate travellers, who represent the vast majority of people crossing Australia's border," said Mr Dutton.
The government expects this system will eventually enable known travellers to self-process through the border without even producing their passport, relying wholly on facial recognition technology.
"Australia is committed to being a world leader in the use of biometrics at our border to facilitate legitimate travel, protect our community and prevent the activities of potential terrorists and criminals," said Mr Dutton.
Speaking to Channel 7's Sunrise earlier today, Mr Dutton said the SmartGates scanning system will not check for criminal records or whether people have misbehaved overseas, as that is "generally" picked up beforehand.
It will simply crossmatch against a person's passport information within a database.
Airports welcome new clearance technology at Australian borders
The Australian Airports Association (AAA) has welcomed the announcement of the new facial recognition clearance technology.
"The new border clearance technology in Australian airports is an excellent step forward for our customers, as it will further streamline the customs process, which after a long flight will be a relief for tired travellers," said AAA CEO Caroline Wilkie.
In recent years, airports have invested billions of dollars in aeronautical infrastructure, terminal upgrades and ground transport networks, with the aim of improving the travel experience for passengers.
"With the recent evolution of SmartGates at our airports dramatically improving border processing, the AAA sees this new investment as another important step towards a truly contactless clearance process," said Ms Wilkie.
The investment is part of the Turnbull Government's broader $123.6 million investment in improving the experience for passengers at the Australian border.