Co-author: Regina Collins
Australia offers plenty of festival fun throughout the year to suit any taste and budget. Here are a few to check out in 2017.
Aussies love celebrations with a passion, which might explain why we create so many unique events in this country.
Every year, the 'What's On' calendar is bursting with festivals that range from the iconic – think Byron Bay Bluesfest, Stawell Gift, WOMAdelaide, Noosa Food & Wine Festival…
…to the weird and wacky outback events – think Henley-on-Todd Regatta, World Championship Lizard Races, Deniliquin Ute Muster, and Birdsville Races.
Whatever your taste in entertainment, food, fun or sports, there are stacks of ways you and your family can enjoy the best Australian festivals on offer. After all, we have world-class beaches, the outback, and city celebrations just a stone's throw away.
Why not make it a resolution to try out a new festival or event in 2017 and expand your Aussie horizons?
Just don't forget your Australian domestic travel insurance policy – this will cover you for a range of potential disasters:
Lost or stolen belongings while at the festival and in case your bags don't make it onto the plane with you
Cancelling your accommodation or festival tickets unexpectedly due to events outside your control
Rental vehicle excess if you have an accident driving a rental car
Legal liability if you accidentally damage someone else's belongings
Compare Domestic Travel Insurance
Here are a few upcoming festivals in Australia to consider.
Orange F.O.O.D. Week, New South Wales
31 March – 9 April 2017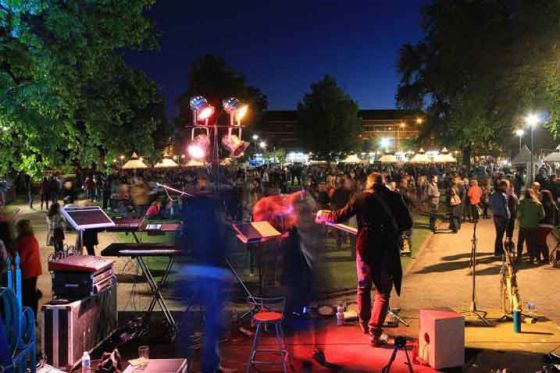 The shires of Orange, Cabonne and Blayney are known as 'The Food Basket' of New South Wales. Each year, F.O.O.D. Week (Food Of Orange District) supports local produce and 'fine food' with an annual event held over ten days.
2017 will be Orange F.O.O.D. Week's 26th anniversary – reason enough to make the trip and over-indulge in the 80-plus events during the festival. As if you need a reason!
The festival showcases the producers, their products, the local chefs and restaurants, and other enterprises that provide the region with its great reputation for fine food and wine.
You'll come away with lasting memories of a true gourmet experience – not to mention in-depth knowledge from the region's chefs, cooks, cafes, providores and producers.
For more details as they come to hand, visit www.orangefoodweek.com.au
Melbourne International Comedy Festival, Victoria
29 March – 23 May 2017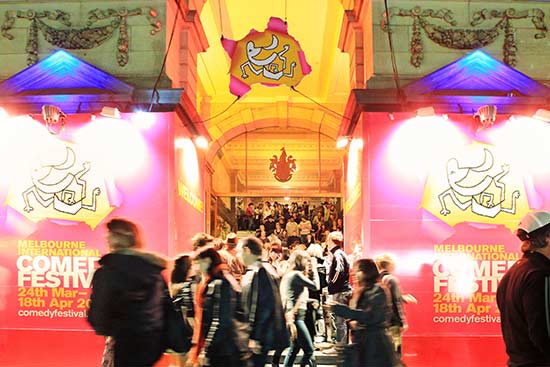 Combining both the world's best comedians with Australia's best comedians is always a good idea in our opinion, and the Melbourne International Comedy Festival does exactly that.
The Festival was launched in 1987 and has since grown to be Australia's largest cultural event. It recently celebrated its 30th year, with over 800,000 people showing up for a laugh.
With an average ticket price of just $27, and a wide variety of wheelchair accessible venues, the Melbourne Comedy Festival promises to be an extremely welcoming event that will guarantee you a night of fun.
Some of the international headliners for 2017 include Emily Heller, Larry Dean, Chris Henry, Brennan Reece, and Balloonatics – as well as local comedy heroes including Anne Edmonds, Aaron Gocs, Aboriginal Comedy Allstars, and Neel Kolhatkar.
For more information about the Melbourne Comedy Festival, check out their website at https://www.comedyfestival.com.au/2017
Ningaloo Whaleshark Festival, Western Australia
26 – 28 May 2017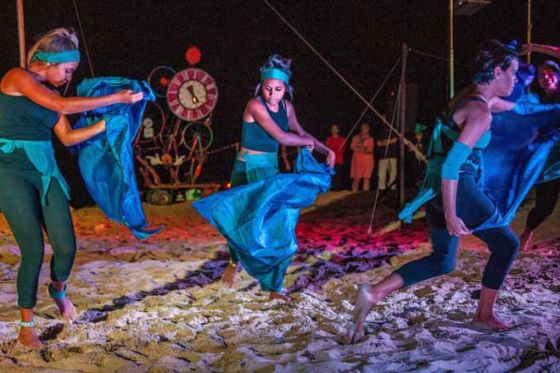 No, it's not an eat-fest – the Ningaloo Whaleshark Festival celebrates the yearly migration of whalesharks as they travel to the pristine waters of Ningaloo Reef at Exmouth in the west.
The Whaleshark Festival is for all ages and is possibly the only event – both nationally and internationally – in honour of that unique, spectacular creature, the whaleshark.
The highlight, of course, is the opportunity to spend a day out on Ningaloo Reef alongside the whalesharks in their natural habitat, under the guidance of Exmouth's swim tour operators.
The festival kicks off with free family movies and entertainment in the park. Other activities include market stalls, a film festival, art exhibitions, beach games, sports, and a family evening with live music.
To keep tabs on what's happening, go to http://www.ningaloowhalesharkfestival.org.au/
Alice Springs Beanie Festival, Northern Territory
23 – 26 June 2017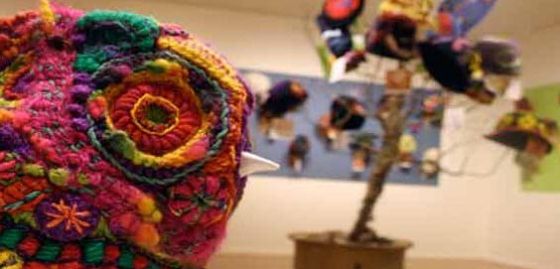 Only in the Territory could they have an event that celebrates the great Australian 'fashion' icon, the beanie.
Would you believe, more than 4,000 beanies are displayed and available for sale, with workshops and demonstrations throughout the weekend event!
In 2017, the Alice Springs Beanie Festival is celebrating two decades of warm and woolly friendship and creativity at the festival. This year's theme is 'Spirit of the Land' to recognise our different landscapes – desert, forest, coast, bush, and urban.
Truly a feast for the senses, the festival runs over a long weekend and has something for everyone. The opening night promises a carnival atmosphere at the Araluen Arts Centre, blending music, dance, food, and art. Throughout the weekend, workshops offer opportunities to share in the creativity and diversity of textile arts and crafts.
A favourite with the crowd is the beanie chase to find the perfect beanie in Beanie Central. So kit up and get ready for some wonderful cross-cultural experiences at this very different festival.
For more info, go to www.beaniefest.org
Echuca Moama Winter Blues Festival, Victoria
27 – 30 July 2017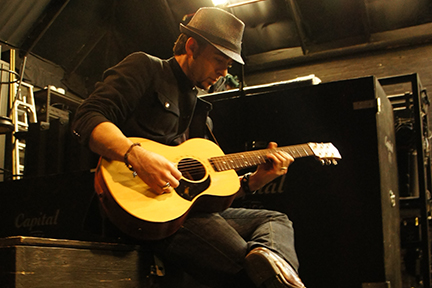 Bring on the winter blues – the Echuca Moama Winter Blues Festival has become a much-loved feature event on the nation's live music calendar.
On the last weekend in July, the cream of Australian Blues artists converge on Echuca Moama for a spectacular weekend of music and entertainment held in the clubs, hotels, restaurants, and on every street corner.
You can expect more than 40 blues and roots artists, 145 performances, filling 30-plus venues across Echuca Moama. The great appeal is that you can walk from venue to venue to see your favourite artists.
Did we mention the vast majority is free?
While you're in Echuca Moama, why not make the most of the magnificent Murray River and take a ride on a paddle steamer. Enjoy a glass of wine from the local wineries and a gourmet meal at any number of top restaurants. But be warned, accommodation books out early.
Keep up to date on www.winterblues.com.au
Carnival of Flowers, Queensland
15 – 24 September 2017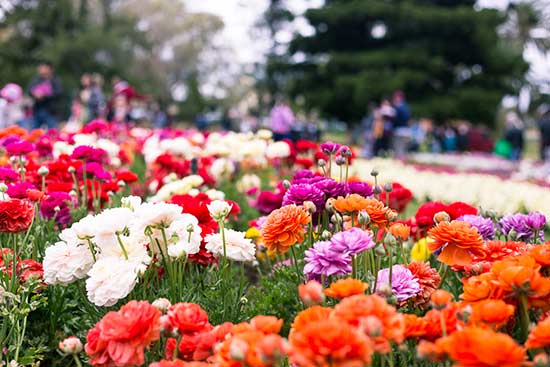 With 10 days of flower viewing and other events and competitions, the enthusiasm for the Toowoomba Carnival of Flowers continues to grow. Celebrating its 67th year, the award-winning carnival boasts spectacular gardens, country touring, live music, and local food and wine.
Best of all, it is free to attend many of the flower venues and events, including to visit the winners of the Chronicle Garden Competition for people's home gardens around the city of Toowoomba.
Since its inception in 1949, when roughly 50,000 people attended and the carnival ran a mere 3 miles down the street, the Toowoomba Carnival of Flowers has become firmly cemented as an annual event for fans from Queensland, interstate, and internationally.
You can also connect with the Carnival team via social media platforms such as Instagram and Facebook – simply use the hashtag #TCOF.
The program of events will be revealed on 26 May 2017 at https://tcof.com.au/events/
Floriade, Canberra
16 September – 15 October 2017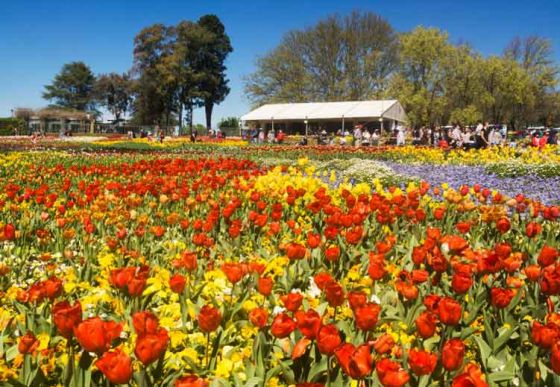 Floriade is the largest flower festival in the southern hemisphere and is a world-class floral extravaganza – and it is free to attend. It heralds the arrival of spring and since 1988 has been held alongside Lake Burley Griffin in Canberra's Commonwealth Park.
The displays involve more than 1 million bulbs and annuals (flowers that bloom only once per year), which bloom and change throughout the month-long event.
The colourful blooms create a stunning backdrop to an event overflowing with music, cultural celebrations, horticultural workshops, artistic displays, entertainment and recreational activities. Each week of the event is themed and showcases celebrity talks, tips and demonstrations.
After dark, the Floriade Nightfest takes over. This is a ticketed twilight event that features astonishing lighting shows, famous comedians, roving entertainment, and bustling night markets.
It's no surprise that Floriade attracts more than 480,000 people each year (Floriade, 2017).
Watch for details and 2017 themes at www.floriadeaustralia.com
Breath of Fresh Air Film Festival (BOFA), Tasmania
10 – 13 Nov 2017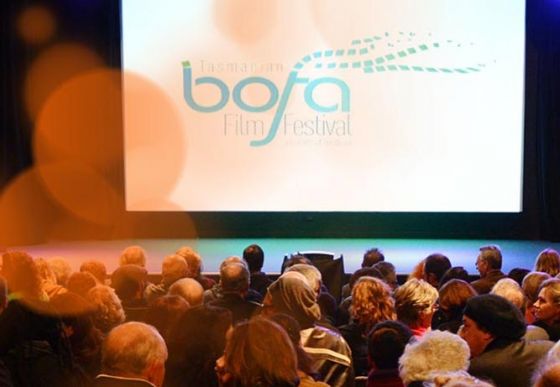 You may not have caught up with this one yet, but if you are a film buff, BOFA has much to offer.
Held at four venues in Launceston, the Breath of Fresh Air Film Festival delivers the world's best festival films including features, docos, foodie and family films, as well as eco and ideas films.
It's a mixed bag – including the quirky and bizarre – and exactly what film lovers crave.
BOFA is 5 days of glamourous red-carpet events, impassioned discussion with film makers about innovation and social change and, of course, incredible films. If you're keen on a trip to Tassie and are looking for an excuse, this is it.
The programme for 2017 is yet to be announced, so keep an eye on www.bofa.com.au
Millennials Name Tasmania as Destination of Choice
The range of festivals Australia has to offer is impressively wide; there's definitely a festival for everyone! But regardless of which festival you decide to go to, the one thing you'll need before you head to any of them is travel insurance.
To assist you with comparing travel insurance products for your trip, we have formulated a table that highlights 5 products that are currently on offer in the market, sorted by our star rating (highest to lowest), for single travellers to Australia.
Use our comparison tool to find which domestic travel insurance policy is best for your trip away: