HSBC Australia's Everyday Global Account has been awarded one of Canstar's 2018 Innovation Excellence Awards for being the first of its type in the market to allow customers to 'pay like a local' wherever they are.
HSBC Australia's Everyday Global Account was one of a select number of Australian products within the financial services industry recognised and celebrated by Canstar through its annual Innovation Excellence Awards for making life easier for consumers. The HSBC transaction account was developed to make it easier for customers to transact in foreign currencies without worrying about overseas charges and changing foreign exchange rates.
Canstar Research noted while it is not the first transaction account in the market to offer fee-free transacting while overseas, it is the only one that also gives customers the ability to buy and store multiple currencies in the account, providing consumers with the additional benefits afforded to travel money card users.
The Everyday Global Account comes with a Visa Debit card and combines multi-currency capability with full transaction account features and no fees for international transactions, currency conversions, or local and overseas ATM withdrawals (HSBC and non-HSBC ATMs). It is worth noting non-HSBC ATMs may still charge operator fees.
The account can store these 10 different currencies:
Australian dollar (AUD)
US dollar (USD)
British pound (GBP)
Euro (EUR)
Japanese yen (JPY)
Chinese yuan (CNY)
Canadian dollar (CAD)
Singapore dollar (SGD)
Hong Kong dollar (HKD)
New Zealand dollar (NZD).
At the point of sale, the account self-selects the supported currency and doesn't charge fees even if the card is used to make a purchase in a currency outside of the ten stored ones – in which case it conducts a currency conversion from the Australian dollar account.
When converting currencies, the account uses HSBC's real-time FX rates which update every 30 seconds.
The Everyday Global Account Visa Debit Card is also compatible with Apple Pay, Google Pay and payWave where accepted overseas.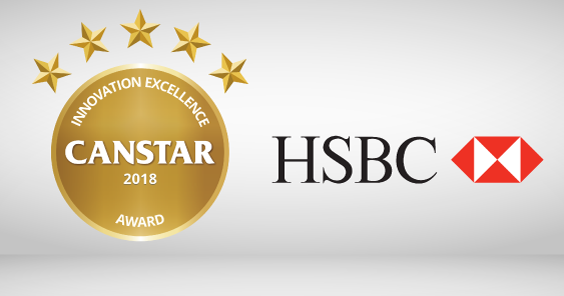 Canstar's Innovation Excellence Awards methodology
Every year Canstar invites Australian financial institutions to apply for Canstar's Innovation Excellence Awards, putting forward their most progressive products.
When assessing each product, Canstar Research gives a 60% weighting to the degree of innovation, which largely measures how unique and disruptive the product or service is within the current market. The remaining 40% weighting examines how many consumers within the target market are affected, the product's affordability and ease of use, and the extent to which the innovation improves or affects a consumer's daily life.