Are you looking for a competitive
savings account
or term deposit to help you reach your savings?
While the RBA's rate cuts have led to reductions in home loan interest rates that have benefited a number of home-buyers in Australia, in many cases it is savers who have taken a hit instead.
Since back-to-back cash rate cuts in June and July, we have seen interest rate reductions across a number of savings accounts and term deposits on Canstar's database.
In total, since the second RBA rate cut in July, there have been more than 60 interest rate decreases on flexible savings accounts – those where no conditional bonus rates apply – by an average of 0.24 percentage points each, according to Canstar's database. There have also been 16 cuts to base interest rates and 39 to bonus interest rates for savings accounts that offer an ongoing bonus rate if conditions are met – at an average of 0.23 and 0.25 percentage points, respectively.
Interest rate falls have also occurred on term deposits, with a total of 70 rate reductions on 12-month term deposits since July on Canstar's database, at an average of 0.38 percentage points.
Canstar finance expert Steve Mickenbecker said Aussies who rely on a decent return from their savings have to "work their money hard" and seek out a good interest rate, not just necessarily stay where they've always been.
However, although interest rates are at an historic low, Canstar's research has shown there are often still noticeable differences between products in both rates and features, meaning it can be a good idea for consumers to do their research to try and find a savings or term deposit product that offers great value and suits their needs.
2019 Savings Award
To help consumers narrow their search for savings accounts and term deposits that offer outstanding value, Canstar has announced two Award-winning providers of savings products in this year's Savings Award.
To determine the winners, Canstar Research analysed 168 savings accounts and 85 term deposits from 25 banks and 45 customer-owned institutions on our database. The team assessed the value these products offered across a wide range of consumer profiles with different saving behaviours.
Recognition was also given to institutions that armed customers with savings tools that could assist with budgeting and reaching savings goals.
The recipients of Canstar's 2019 Savings Award are listed below.
Bank of the Year – Savings: UBank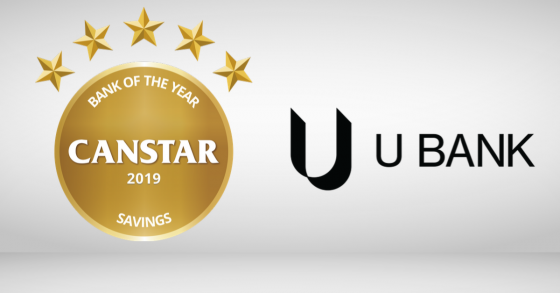 For the fifth consecutive year, UBank has won Canstar's Bank of the Year – Savings Award in 2019.
According to Canstar Research, UBank was a top performer in the market for both flexible (no restrictions) and bonus (some stricter conditions for higher interest) savings accounts, while maintaining a robust term deposit offering.
Canstar Research made particular mention of UBank's USaver account for offering outstanding value for customers. They said when customers bundled the USaver with UBank's fee-free USaver Ultra transaction account, they were offered a high total interest rate of 2.41%, made up of a base rate of 1.35% and a bonus rate of 1.06%, at the time of writing.
The research team said the only requirement to receive the bonus rate on this account was to deposit at least $200 into the linked Ultra account per month, such as a salary, and to keep your balance below $200,00 across your savings and Ultra account including any joint accounts. Customers also have the flexibility to withdraw from their savings account without worrying about losing the bonus interest.
UBank's USaver, with the Ultra account attached, was recognised for its outstanding value earlier this year, when it received a 5-Star Rating in the Flexible and Regular Saver profiles of the Savings and Transaction Account Star Ratings.
For customers wanting to lock in their savings, Canstar Research said UBank offered term deposits with an above-average interest rate of 1.8% for various term lengths, at the time of writing, and also offered a loyalty bonus of 0.10% for customers who rolled over their UBank term deposit.
Canstar Research also highlighted UBank's savings tools, including its sweep facility. This tool automatically moves customers' money between their linked transaction and savings accounts to maintain a pre-set maximum or minimum amount in the transaction account. This could mean topping it up from the savings account when it drops below the customer's threshold, or transferring excess cash into the savings account to help maximise potential interest earnings.
The research team also noted the value of UBank's in-app tool Free2Spend, which provides a recommended spending limit that's automatically adjusted daily based on a customer's income and expenses and is designed to help them track and budget their savings.
Customer-Owned Institution of the Year – Savings: CUA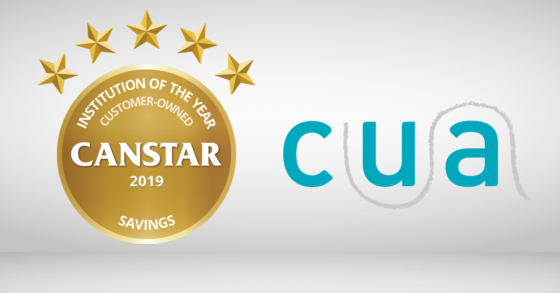 Out of the 45 customer-owned institutions assessed, CUA has been named the winner of the Customer-Owned Institution of the Year – Savings Award, for the fifth year running.
Canstar Research noted CUA's competitive interest rates and flexible account terms as key reasons behind its win.
The research team made particular mention of the outstanding value on offer from CUA's eSaver Rewards account, which received a 5-Star Rating in the Regular Saver profile of Canstar's Savings and Transaction Account Star Ratings earlier this year.
They said this account offered customers a competitive interest rate of 2.25%, consisting of a base of 0.05% and a bonus rate of 2.2%, at the time of writing. To secure the bonus rate on your savings account, the research team said customers needed to deposit $1,000 or more each month into their CUA transaction account, and could dip into their savings at any time without losing the bonus rate.
Canstar Research said this flexibility made it easy for customers to earn interest and save while also being able to freely use the money in their account when they needed to.
For more information about the 2019 Savings Awards results and how they were calculated, please view the ratings methodology.
Cover image source: ArthonMeekodong (Shutterstock)