Searching for a safe and reliable place to park your savings? Canstar's 2019 Term Deposit Award reveals some of the most impressive term deposit providers available on the market today.
After analysing a total of 79 products from 68 providers, Canstar has announced the winners of the 2019 Term Deposit Award.
A term deposit is a cash investment held at a bank, building society or credit union, where money is invested for an agreed rate of interest over a fixed period of time, or term.
Canstar's Ratings Manager Joshua Sale said the past 12 months had been a dynamic period for term deposit interest rates.
"Late last year, rates were trending upwards," Mr Sale said.
"Since the Reserve Bank of Australia's official cash rate cut in June, the majority of term deposit providers have lowered their rates.
"That said, they remain a popular choice for risk-averse investors and there is still good value out there for those who look around."
Canstar's 2019 Term Deposit Award involves a sophisticated ratings methodology, and recognises institutions that offer outstanding value term deposit products across interest rates, terms and features.
The Award was given to one bank and one customer-owned institution that Canstar Research identified as providing outstanding value to consumers.
All institutions were assessed on the comparative pricing and features attached to their account offerings.
You can compare a wide variety of term deposits here.
Some of the highest term deposit rates on Canstar's database
The following table displays a snapshot of term deposits with a term range between 12-24 months with interest paid as specified in the table below. The results shown are based on an investment of $100,000 in a personal term deposit and are sorted by the highest advertised interest rate for a 12-month term, and finally by lowest payment frequency. For more information and to confirm whether a particular product will be suitable for you, check upfront with your provider and read the Product Disclosure Statement before making a decision.
2019 Award Winners
Bank of the Year – Term Deposits: Arab Bank Australia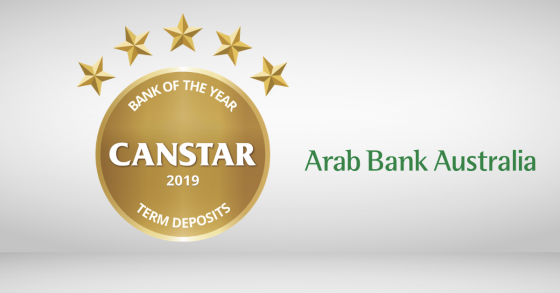 Arab Bank Australia describes itself as part of the global, 600-branch-strong, eight-decade-old Arab Bank.
Mr Sale said an analysis of the bank's term deposit offerings showed it had been "extremely competitive", offering 0.2 percentage points above the market average interest rate for the ratings period.
"Arab Bank's average interest rate led the way in 8-13 month terms, during the Awards' assessment period. Despite recent changes to its rates, Arab Bank is still offering rates around 10% higher than the average of other banks at the time we finalised our ratings," he said.
This is the first Canstar win for the bank.
Customer-Owned Institution of the Year – Term Deposits: Gateway Bank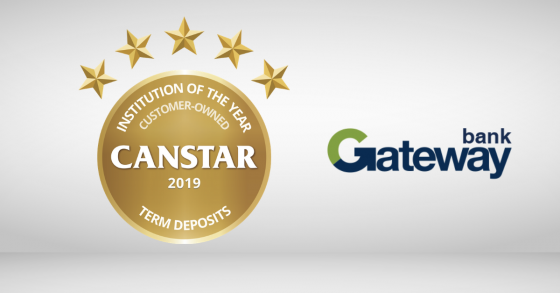 Gateway Bank is a customer-owned bank (meaning a bank where customers are also shareholders), with more than 30,000 members, headquartered in Sydney.
Mr Sale said the bank's win this year was primarily due to "its competitive rates across all terms, which were above what was on offer from their competitors for the majority of the ratings period".